Research Highlights

Trials Affirm Best Management Practices in Louisiana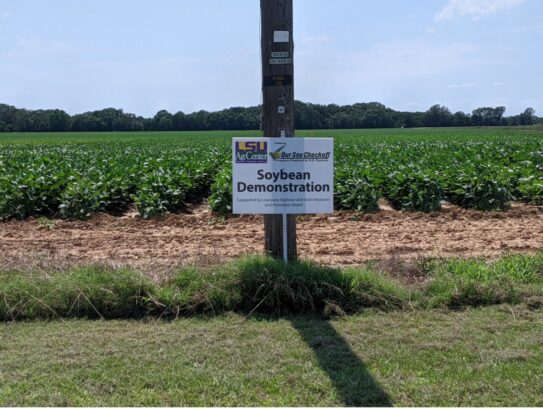 By Laura Temple
Every soybean variety offers a combination of yield potential and defensive traits. Farmers combine that information with performance data to select the best varieties for their fields. Then, throughout the season, they manage factors they can control to maximize yield and profit.
In Louisiana, much of the performance data and management recommendations come from variety trials managed by David Moseley, state soybean specialist for the Louisiana State University AgCenter. Moseley conducts official variety trials at university research stations, complemented by on-farm strip trials throughout the state. With support from the Louisiana Soybean and Grain Research and Promotion Board, he screens for a variety of characteristics and augments these trials with studies focused on planting and fertility best management practices.
"Results from these trials help farmers consider how to spread risk in their soybean fields," Moseley says. "While yield will always be their top priority, this research provides additional information to maximize and protect that yield potential in the field."
His trials account for field conditions throughout Louisiana. As products and technologies advance, he continues to examine accepted management practices to identify potential improvements. He also tests new products and practices to provide unbiased research about what works.
"If a product or practice doesn't make a difference, farmers should not spend time and money on it," he says.
Phosphorus Fertility
Moseley describes some Louisiana soils as highly alkaline, with pH ratings of 8 to 8.1. In those environments, phosphorus, or P, becomes less available to soybeans.
"My fertility trials look at rates, application timings and additives to improve P availability," he explains. "Overall, the trials confirm that applying P can make a difference in soybean yield in alkaline soils with low available P. Compared to untreated checks, the largest difference in yield after adding P was 17 bushels per acre one year, and 11 bushels the next."
He examined a range of P application rates, including rates above and below the current standard, but found that applying the recommended rates at planting still provides the best yield response for the value. At-planting applications provided the highest yield increase, though split applications produced similar results. However, Moseley also found that if P wasn't applied at planting, an application during reproductive growth stages increased yield compared to untreated soybeans.
"My team has also looked at including additives with P fertilizer, like humic acid," Moseley says. "Currently we just have one year of data, but we haven't seen significant improvements with most additives. One product may make a difference, but we need multiple years of data to make that recommendation. So far, we haven't found any better options than to follow the recommended P application rate at planting."
Planting Practices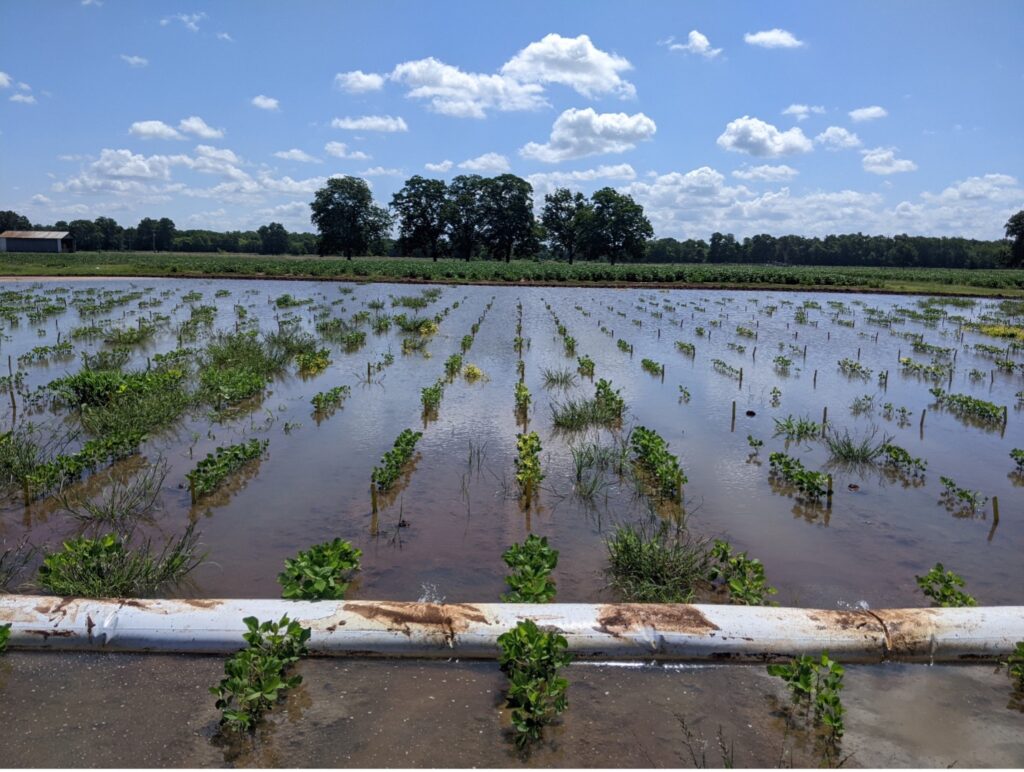 As he evaluates varieties from different maturity groups, Moseley is examining planting dates and populations.
"In general, Louisiana farmers see the best yields when planting soybeans between April 1 and April 20," he summarizes. "At that point, yields tend to be consistent regardless of planting population."
However, he has found that increasing planting rates for later planting dates tends to compensate for yield lost to that later timing.
His trials also have linked growth stages of different maturity groups to calendar dates.
"We've been able to verify that in most cases, the timings in the Soy Stage app from the University of Arkansas apply to Louisiana soybeans within a few days," Moseley says. Farmers can use the app to time applications for specific soybean growth stages.
Choosing Characteristics
As part of the Louisiana variety trials, Moseley screens soybeans for several characteristics besides yield that can help plants withstand the pressures they face. Farmers can use this information to select the best varieties to withstand challenges in specific fields. For example, he collaborates with other scientists to look at nematode resistance, flood tolerance and how mature soybeans handle weathering damage.
To understand soybean quality, he also screens for protein and oil content, taking into account planting dates ranging from March to July.
"Typically, yield and protein have an inverse relationship," Moseley explains. "As yield increases, protein content tends to decrease. That's what I've observed across most of our trials."
However, in 2021, he found an aberration at the earliest planting date. Across varieties and locations, soybeans planted in March had higher protein content and yield than those planted in July.
"Perhaps that difference can be attributed to less heat stress because of the earlier planting date," he says. "However, we need multiple years of data to see if this points to a trend that could impact soybean yield and content."
Because so many of these factors depend on weather, Moseley encourages farmers to consider potential risks and select multiple varieties and management practices to spread those risks each year. His ongoing assessments of fertility and planting practices, as well as varieties, provide information to help farmers do just that.
Additional Resources
Published: Apr 3, 2023
The materials on SRIN were funded with checkoff dollars from United Soybean Board and the North Central Soybean Research Program. To find checkoff funded research related to this research highlight or to see other checkoff research projects, please visit the National Soybean Checkoff Research Database.