Research Highlights

Weathering Well: Variety Screening to Protect Harvest Quality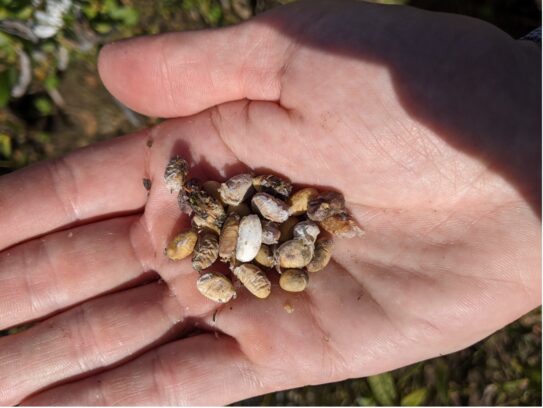 By Laura Temple
As soybean plants reach maturity, the membrane that connects each seed to the pod starts to detach, an early step in the plant dying and drying out for harvest. After this point, the soybean seeds no longer have access to the plant's resources.
"The plants no longer protect the drying soybean seeds, making them vulnerable to weather events," explains David Moseley, state soybean specialist for the Louisiana State University AgCenter. "Too much rain after soybeans start drying down can cause the seeds to turn brown, reducing quality."
This mature seed damage, or weathering, commonly occurs under storm conditions in late summer and early fall, especially in climates like Louisiana's. That damage reduces the USDA grade for the crop, causing grain elevators and other customers to dock payments.
"In 2022, Louisiana suffered from drought conditions much of the season, followed by rain for 18 out of 21 days in August and September," Moseley says. "Louisiana soybean farmers lost approximately $300 million in value to weathering damage to about two-thirds of the acres in the state. My understanding is crop insurance covers more yield loss than loss from damage. However, many parishes were declared disaster areas, which could provide the farms some assistance."
He believes some soybean varieties may have the genetic potential to withstand weathering better than others. To find out, he collaborated with other LSU AgCenter scientists and graduate students to evaluate differences in mature seed damage from excessive rain and humidity using the varieties submitted in the official variety trials. The Louisiana Soybean and Grain Research and Promotion Board invests soy checkoff funds in his trials.
At-Harvest Comparisons
To screen for varieties that handle weathering better than others, the research team designed the trial with two harvest timings. The first was a timely harvest with minimum damage from weathering. The second was a delayed harvest with sufficient weathering pressure to see differences in resistance among the varieties. Following both harvest timings, they compared soybean seed quality among the timely and delayed harvests.
"For example, out of 41 varieties in Maturity Groups 4.5 to 4.9, we found 10 that withstood weathering damage well," he says. "We still have much to learn about how the amount and duration of rain and humidity and other factors influence weathering. However, we now have some evidence there can be separation in varieties, indicating that genetics help withstand mature seed damage."
Moseley plans to continue screening varieties for resistance to weathering, while also determining ways to quantify the characteristic. That information will help soybean farmers manage the risk of damage from wet weather late in the season.
He notes that continuous rains, like those in 2022, can cause more weathering damage than one-time events like hurricanes. In those conditions, mature soybean seeds ready for harvest can germinate in the pod or rot.
"In our region, where weathering is common, resistance to that type of damage is one more factor farmers should consider when selecting varieties," Moseley continues. "While yield will always be the top priority, farmers need soybeans that also have resistance against local abiotic and biotic stresses. Weathering can be one of those issues."
Published: Apr 24, 2023
The materials on SRIN were funded with checkoff dollars from United Soybean Board and the North Central Soybean Research Program. To find checkoff funded research related to this research highlight or to see other checkoff research projects, please visit the National Soybean Checkoff Research Database.