Research Highlights

Shared Research Goals Leverage the Soy Checkoff
By Laura Temple
Soybean farmers work hard to produce a sustainable, profitable, high-quality crop every year. To support this goal, the soy checkoff funds countless state, regional and national research projects and trials. That research provides information to help farmers continuously improve.
At the same time, many organizations, government agencies and companies that have a stake in some element of soybean production work hard to meet their own goals. These groups invest a variety of resources in continuous improvement.
Often, these goals overlap.
The Iowa Soybean Association is capitalizing on these shared goals through its Research Center for Farming Innovation (RCFI). Launched in 2020, the RCFI combines agronomics, conservation and analytics to deliver farmer-led research. It also actively builds partnerships with outside organizations to leverage checkoff investments.
"We have approached public and private institutions to tackle issues where we share a common goal," says Roger Wolf, RCFI director for the Iowa Soybean Association. "So many of the issues farmers deal with are interrelated with technology, agronomy, natural resources, finance and more. Government agencies, organizations, agribusinesses and other companies in the supply chain often focus on sustainability and conservation issues, and we create synergy when we work together."
According to Wolf, applying for grants and developing programs to work with other groups has multiplied checkoff investments. RCFI currently has roughly a 2 to 1 ratio of non-checkoff to checkoff funds, which allows farmers to get more value from soy checkoff research investments.
"Partnerships enable us to bring additional resources to the table to help address and solve problems," he says.
While the soy checkoff provides base funding for a wide variety of on-farm research and trials, additional support from partners stretches that funding to accomplish more work. RCFI has secured grants and funding from diverse organizations, including local ag retailers, Bayer, EPA, the National Fish and Wildlife Foundation, the National Institute of Food and Agriculture, NRCS, the National Science Foundation, Syngenta, the Walton Family Foundation and many others.
"The key to successful partnerships is finding win-win solutions," Wolf adds. "Synergy is created when value is delivered to all parties."
With the combination of checkoff and leveraged funding, RCFI conducts hundreds of on-farm trials and research projects throughout Iowa, collecting data to share results with other farmers. These projects cover agronomics like incorporating cover crops into a system and monitoring pests. They also include edge-of-field efforts to improve soil, water and air quality. Grants and partnerships support a holistic, practical approach to these efforts.
To ensure RCFI research meets the needs of Iowa farmers, the team created regional roadmaps for different parts of the state. These roadmaps describe unique soil, geographical and cropping system characteristics and specific research objectives for each region.
"Our roadmaps are geographically specific, inventorying the status of soybeans and related agricultural systems across Iowa," Wolf says. "They guide how we invest in research and prioritize topics for farmers. This drives development of new projects. We know that what works in one location may not work in another given differences in soil, terrain, weather, drainage and other factors."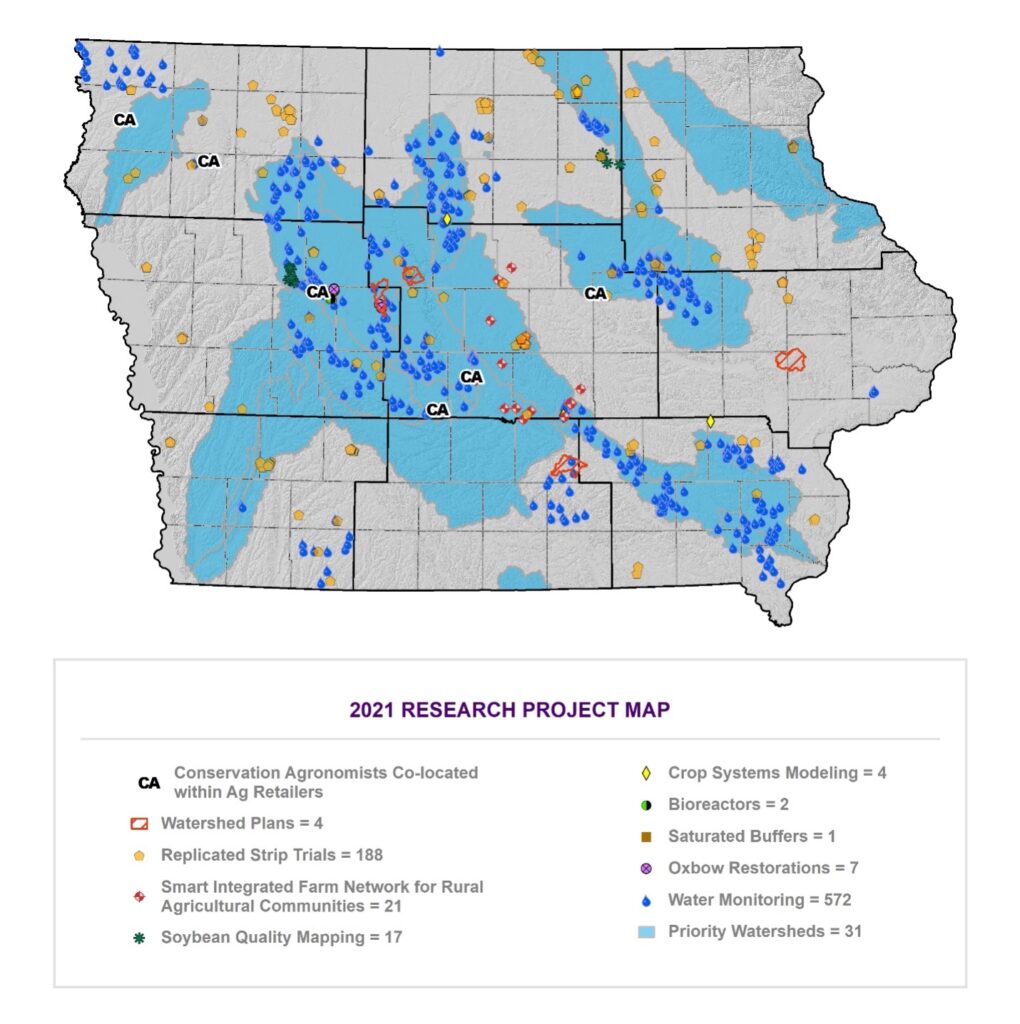 Collecting and analyzing data from all these projects provides real-world insight. Both local and state-wide results help farmers understand how to improve production, sustainability and profitability for their operations. The results also allow partners to gauge progress toward those shared goals.
For state soybean boards interested in leveraging soy checkoff funds to support research, Wolf recommends identifying area organizations with similar goals, both within and beyond agriculture.
"As we build partnerships, our goal is to eventually rely on one part checkoff funding, and four to five parts non-checkoff funding," Wolf says. "Similar opportunities exist throughout U.S. soybean production. Find ways to engage local farmers in conversations, and consider who the various influencers and trusted advisors are as potential allies to improve soybean production and use. Build relationships among stakeholders to build and broaden the pool of sponsors and supporters. Then, use this work to communicate how investments are improving the business climate for soybean production and use."
For more information about this project, funded in part by the soy checkoff, visit https://www.iasoybeans.com/research/about-rcfi.
Published: Jan 31, 2022