Research Highlights

On-Farm Research Results Support Farmer Decisions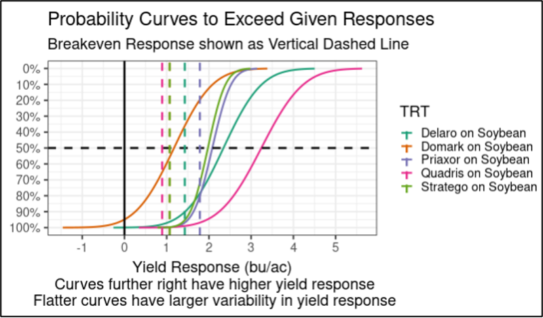 Partnerships Enable Data Accessibility
By Laura Temple
On-farm research trials test production practices under real-world conditions. Results from such trials can support farmers as they make decisions to continuously improve their operations. However, making that data widely available and empowering farmers and agronomists to understand potential economic outcomes of specific practices requires a technological infrastructure.
"Through the soy checkoff, Iowa farmers have been funding on-farm research to understand a variety of agronomic practices for years," says Joe McClure, who oversees on-farm research as co-director of the Research Center for Farming Innovation, or RCFI, for the Iowa Soybean Association. "It's farmer data, so it should be available. It is our job to get data from checkoff-funded on-farm trials to farmers."
RCFI leverages soy checkoff investments through additional public and private funding to develop partnerships and make meaningful data from thousands of on-farm research trials available through free, online interactive tools. These partnerships start at the individual trial and study level. For more than 15 years, Iowa Soybean Association has worked with industry and other partners to conduct on-farm product and practice comparison strip trials. Interactive web-based tools allow farmers to select specific practices and calculate probable financial outcomes using their own criteria for crop market price and practice implementation cost.
Although individual trial results have been available in an online reports database since 2012, the Iowa Soybean Association team recognized a clear need to aggregate and summarize results to maximize their value to farmers making decisions. In 2016, the Iowa Soybean Association began working with Iowa State University to develop an interactive online tool incorporating a variety of analyses of study results from the growing database. Thanks to this partnership and ongoing work, the USDA National Institute of Food and Agriculture, or NIFA, awarded a grant from the Agriculture and Food Research Initiative, or AFRI, to improve the accessibility and performance of the tool.
"We continuously seek to strengthen the value farmers receive from checkoff investments by partnering with industry, state and federal funding," McClure explains. "These partnerships allow us to conduct and share on-farm research about practices like cover crops, seeding populations, row widths, fungicide use and much more."
Capturing Reliable Data
The Iowa Soybean Association maintains a database of detailed on-farm trials and results. Collected data goes back to 2006 and includes more than 4,600 individual trials representing hundreds of studies, according to Suzanne Fey, an analyst for the association.
"Our agronomists work with cooperating farmers to develop and complete trials," she says. "At the end of the season, those agronomists verify the results or determine if they were compromised in some way."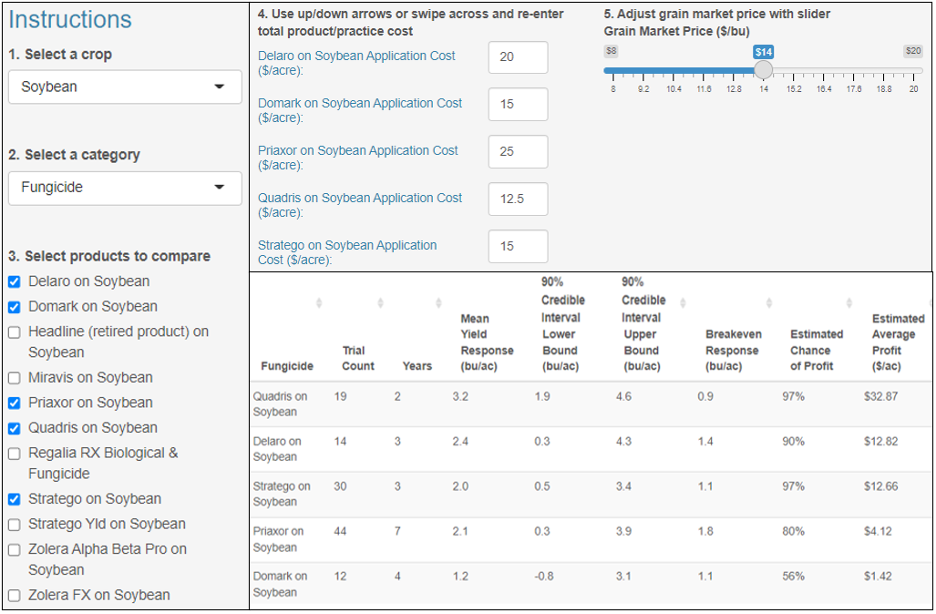 Participating farmers receive individual reports about their trial results, which are published anonymously in the online reports database. To share information derived from those results more broadly, Fey's team works with Iowa State University researchers to summarize data from select studies. She explains that for statistical accuracy, the team determined that a minimum of six verified trials of the same design are required to constitute a study from the Iowa Soybean Association.
Fey and McClure note that these studies investigate practices in both soybeans and corn, since most Iowa farmers raise both crops. The team relies on partnerships and outside sources to fund corn research.
"This research provides farmers with actual yield response information to treatments ranging from pest control products to seeding rates," Fey explains. "Over time, we've developed two decision support tools for farmers that pull from 31 soybean studies and 25 corn studies. As new studies and summarizations are completed, the information will be added to both tools."
Making Data Available
Thanks to partnership funding and ongoing work with Iowa State University, farmers can access those tools to inform production decisions for free from the RCFI webpage.
The AFRI grant from NIFA funded the Economic Viewer of On-Farm Studies, or EVOS, which enables comparison of practices or products on soybeans or corn by general category, such as fungicides or nitrogen stabilizers. Users can adjust default implementation costs and grain market price to estimate the potential financial impact of each selected study within the category.
"We created a flexible tool because prices and markets for crops and inputs change," Fey says. "EVOS helps farmers better understand potential benefits of specific practices under their choice of projected economic conditions, based on actual trial results."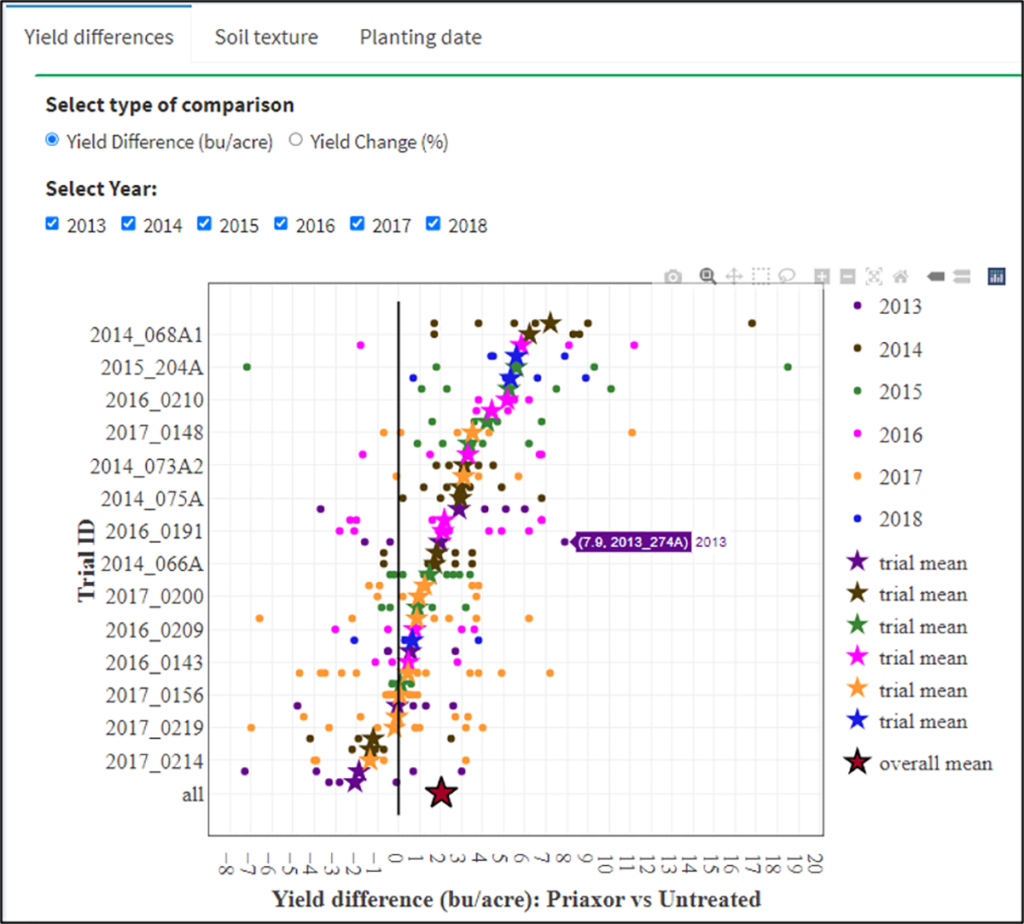 For detailed information including trial locations, soil, weather, statistical analyses and field scouting within each study, farmers can access the Interactive Summaries of On-Farm Strip Trials tool, commonly called ISOFAST. This tool provides individual and aggregated summaries of trials across locations and years. ISOFAST summaries serve as the foundation for the more nimble EVOS tool.
"Working with Iowa State University beginning in 2016, ISOFAST was the first tool we developed," explains Fey. "It summarizes data and it can also be used to select individual trials based on general location to see seasonal weather conditions for specific trial years, as well as the yield response for each treatment replication within the trial."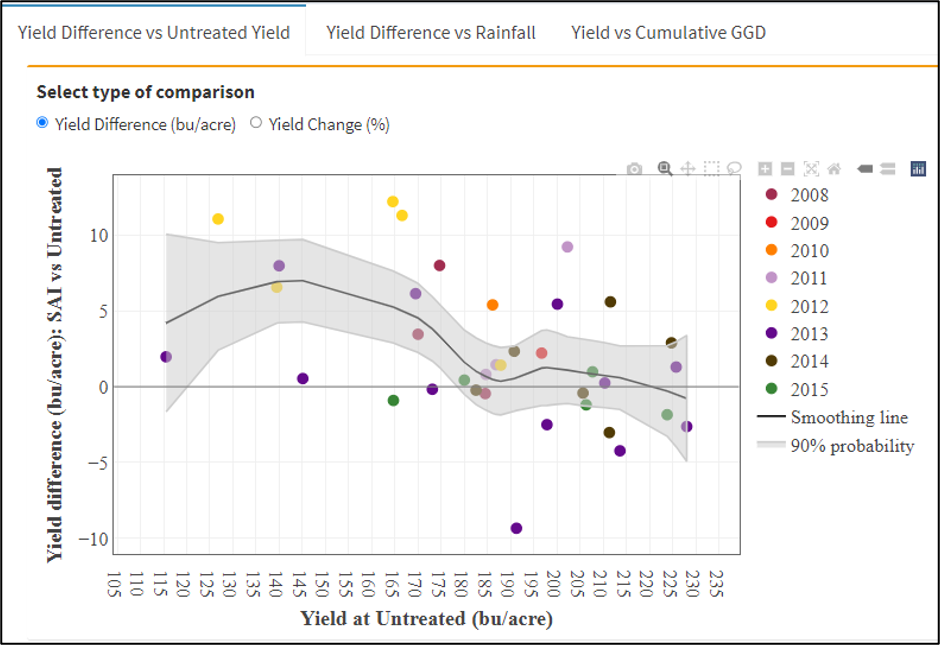 She notes that ISOFAST pulls summaries of more than 2,000 trials from the results database. This volume of data causes the tool to run slowly, but the team is working to improve its design and performance. This short video explains how to explore this tool.
"EVOS includes a tab containing summaries from ISOFAST for the studies selected," Fey adds. "But to follow a specific trial, visitors will need to go to ISOFAST."
Ongoing Improvements
Like any software application, McClure says the RCFI plans to continue enhancing the user experience, accessibility and performance of these tools.
"We have currently developed version 2 of these tools, and we will continue to make them better," he says. "For example, one goal is to convert data from the farm, such as combine yield data, into useable information in our tools as quickly as possible so farmers have access to the most recent trial data."
While the tool focuses on data from Iowa studies, he notes that many farmers can find value in the available data, regardless of where they live. The team is also willing to explore additional partnerships that would expand these tools to include data from trials in other states.
For more information about these tools, funded in part by the soy checkoff, visit https://www.iasoybeans.com/research/results.
Published: Jan 30, 2023