Research Highlights

Scaling Up Drainage Water Recycling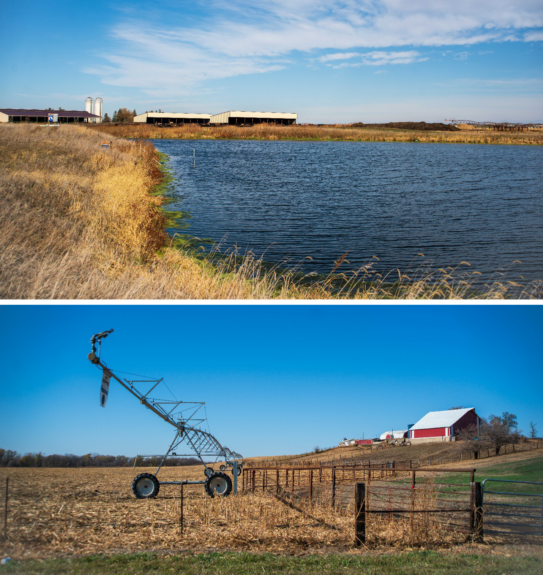 By Laura Temple
Farmers have a love-hate relationship with rain. Sometimes they love it. Sometimes they hate it. Too much or too little rain at the wrong time hurts yields.
"In the Midwest, farmers often have to deal with both too much and too little rain in the same season," says Chris Hay, Ph.D., senior research scientist with the Iowa Soybean Association. "Trends of more rain in bigger events in the spring and longer, more frequent periods of drought in the summer are expected to continue."
In-field drainage systems, primarily using tile, help many farmers manage receiving too much water. Soils drain more effectively, but as the water leaves the fields, it often carries nutrients that impact water quality downstream.
Irrigation systems help many other farmers manage not getting enough rain. They ensure crops receive water when needed, especially at critical growth stages. However, concern about long-term water supply is growing.
"Recycling drainage water can solve multiple water-related challenges," Hay explains. "Drainage water from fields can be stored and used for irrigation later in the season."
The Iowa Soybean Association's Research Center for Farming Innovation (RCFI) is exploring the potential for drainage water recycling at the farm level and at the watershed scale. Part of the work includes leveraging soy checkoff investments to partner with the Iowa Nutrient Research Center, Iowa Department of Agriculture and Land Stewardship, Iowa State University, the EPA and others. This collaboration helps interested farmers implement drainage recycling systems.
Water Storage and Use
Hay says both soils and the landscape can store water from tile or surface drainage. Water control structures in the drainage system can hold water in the soil when full drainage isn't needed. These structures can divert drainage water into other elements like saturated buffers to treat the water and slow its movement. Ponds, reservoirs or wetlands can store water in the landscape.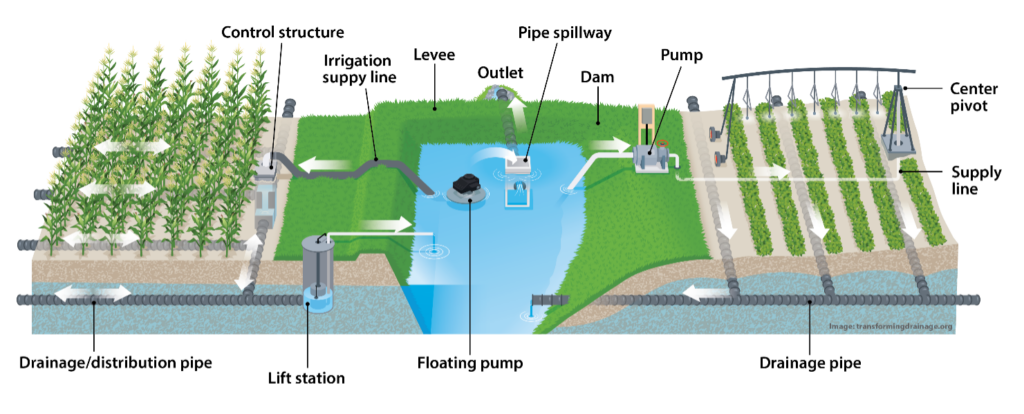 When it is needed, pumps return that stored water to the crop through any type of irrigation system. Options include sub-surface systems that complement tile drainage, surface irrigation or center pivots.
Hay is setting up and monitoring drainage water recycling systems in Iowa. In 2021, he aided the installation of a system in the North Racoon Watershed, which stretches from northwest Iowa toward the center of the state. Another farm in the Des Moines River Watershed started recycling drainage water during the 2023 season.
Benefits of Water Recycling
Since "rain makes grain," farmers expect irrigation to improve crop yield. At the same time, recycling drainage water reduces the loss of nutrients like nitrogen (N) and phosphorus (P) associated with water flowing from fields.
"Modeling research anticipates that recycling drainage water will reduce nitrates in runoff by 24 to 37%," Hay says. "It also expects a 21 to 39% reduction in P load, which is similar to the improvements offered by other practices like cover crops."
Hay and partner organizations are monitoring sites to confirm how real in-field systems align with the modeling. The system established in 2021 used 10 inches of irrigation water in 2022, its first full season of operation, which is above average. The water released from storage after the season showed above-average nutrient reduction.
"We measured a 33% reduction in nitrate concentration just from storage in the reservoir, and by recycling water to the field, we saw a 72% reduction in the nitrate load released to the river," he reports. "We don't expect this to be typical, but it shows the promise of this type of system."
In addition to studying recent sites, he monitors yield from a central Iowa system that includes a reservoir and center pivot irrigation, installed in 2015.
"In this system, it is hard to measure water quality," Hay notes. "However, the field under irrigation has averaged a 35 bushel-per-acre corn yield increase since 2016. Plus, its yields have been more consistent within the field compared to the control rainfed fields with similar soils and management. It's been planted in continuous corn, so we don't have soybean yield data yet, but the trend is encouraging."
Watershed-Scale Feasibility Research
With promising data coming from the field and modeling, RCFI started a new drainage water recycling project in 2023. Working with a consulting engineering firm with drainage water storage expertise, RCFI is investing soy checkoff funds in spatial analysis of four key Iowa watersheds. That analysis will determine where drainage water recycling systems would fit and provide the most benefits to both farmers and water quality.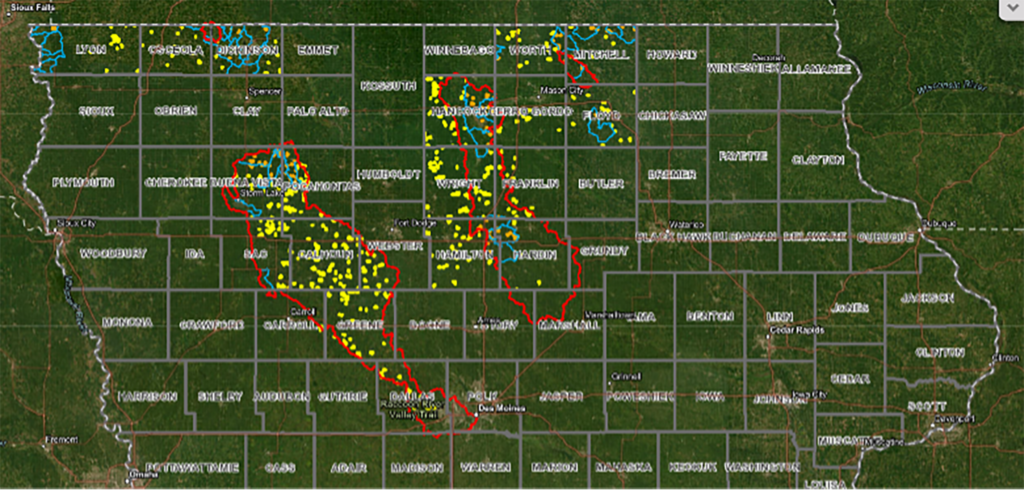 "First, we hope to identify locations where water can be stored in the landscape," Hay says. "We expect that sharing these findings, combined with results from the individual systems we've helped establish, will attract more interest in drainage water recycling."
Through this analysis, the RCFI team will identify desirable and undesirable landscape characteristics for these systems. Iowa State University researchers plan to incorporate those findings into the Agricultural Conservation Planning Framework, an online geographic information systems, or GIS, tool designed to help farmers plan conservation improvements.
In addition, following the spatial analysis, RCFI will reach out to interested farmers and to organizations willing to invest in water quality improvements.
"Based on our initial economic analysis of these systems, we've found that irrigation systems will likely pay for themselves," Hay explains. "However, building water storage is expensive. We can help farmers leverage funds from other sources interested in the water quality benefits to defray storage construction costs."
For more information about these tools, funded in part by the soy checkoff, visit https://www.iasoybeans.com/research/results.
Additional resources:
Published: Aug 28, 2023