Research Highlights

Soybean Pests in North Dakota Can Be Elusive: Be Prepared (Part 1 of 2)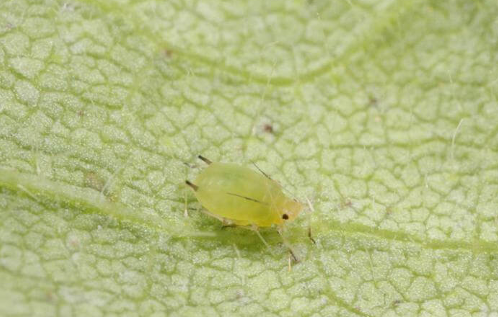 By Carol Brown
Several soybean pests are closely monitored in North Dakota under Janet Knodel's watch. This North Dakota State University professor and extension entomologist leads the NDSU Integrated Pest Management Crop Survey. She and her crop scouts traverse the state checking pest populations through checkoff support from the North Dakota Soybean Council and North Central Soybean Research Program. This first article of a two-part series focuses on soybean aphids and grasshoppers. Part 2 will feature Knodel's findings when scouting for the soybean gall midge in North Dakota.
The soybean aphid is a persistent pest across all Midwestern soybean-growing states, and there is considerable research exploring how to help control or mitigate it to prevent yield loss. Knodel has been keeping track of soybean aphid populations in fields across the state annually and knows where the aphid populations have been the highest. She has also been testing current and new insecticides for control against soybean aphid.
"In 2017, we were receiving a lot of complaints from farmers in eastern North Dakota that the pyrethroid insecticides were not performing well for soybean aphids," Knodel explains. "We sampled fields in approximately nine counties and found 70% of the samples had soybean aphid populations that tested resistant to pyrethroid insecticides."
Knodel is part of a multi-state project exploring insecticide resistance in soybean aphids, led by Robert Koch at the University of Minnesota. The NCSRP-funded project included aphid research in Minnesota, Iowa, South Dakota and North Dakota.
"Growers are now aware that the pyrethroid insecticides probably won't do a good job, especially if they are located in the eastern counties, near the Red River Valley," says Knodel. "Additionally, we lost Lorsban, chlorpyrifos, which was the 'go-to' insecticide if a pyrethroid wasn't used."
In August 2021, the Environmental Protection Agency revoked the use of Lorsban insecticide on all field crops grown for food use. As a result, Knodel's team is evaluating the effectiveness of new insecticides that are specific to aphids and safer for beneficial insects. She says soybean farmers are lucky to have alternative insecticides for aphid control, as other crops, such as canola and sunflower, have no new insecticides or modes of action for control of their key insect pests.
"There are three new modes of action specific for this group of piercing–sucking insects like aphids and leafhoppers," comments Knodel. "The products Transform WG (Group 4C), Sivanto Prime (Group 4D) and Sefina (Group 9D) belong to unique modes of action that are different from the pyrethroids."
The multi-state research team developed a fact sheet that provides recommendations to growers for managing insecticide-resistant soybean aphids. Knodel says the fact sheet summarizes ways to help prevent insecticide resistance and tells the story of what was learned from previous aphid management.
"We were over-using our pyrethroids and as a result, aphids are very adept at developing resistance because they have more than 10 generations of aphids each summer," she says. "Because of that, they can quickly evolve resistance. Aphids reproduce fast and they give birth to live young, so if the parent is resistant, so are the young."
In 2018, drought came to North Dakota along with high temperatures, reducing soybean aphid populations to levels that did not negatively impact farmers' profits. By 2022, after scouting fields for four years in a row, the NDSU Extension IPM crop scouts found no soybean aphids in 87% of the surveyed fields due to the ongoing drought. In 2021, there were no soybean aphids observed in 91% of the scouted fields, 96% in 2020, and 93% in 2019.
However, in late summer 2022, soybean aphids started to increase sporadically. Most of the fields that had soybean aphids were located in the eastern part of the state. Soybean aphids reached the economic threshold level in two fields: one in Barnes County and the other in Ward County, with an average of more than 250 aphids per plant, 80% of plants infested with one or more aphids and increasing population levels.
Since the aphid population collapse, North Dakota farmers haven't needed to spray for them. But as the drought eases and temperatures lower, the soybean aphid will return, as was observed late August of 2022.
Through the results of this research, growers will be able to make science-based decisions on which insecticides to use for soybean aphid control that will also decrease the risk for the development of insecticide-resistant soybean aphids. Growers also need to consider which insecticide will avoid flaring secondary soybean pests such as spider mites, be more benign against beneficial arthropods, and be economical for their bottom line.
Grasshopper Populations Increasing
As Knodel and the IPM crop scouts look for soybean aphids, they also scout for grasshoppers, another key pest of soybeans. In August 2021, they noticed a sharp increase in grasshopper populations throughout the state and decided to shift focus. Grasshoppers became a major economic insect pest in most field crops, including soybeans, due to the drought in 2020 and 2021. Farmers were spraying insecticides more than three times a season to reduce infestations and crop damage, especially in western North Dakota.
"We began testing insecticides that are registered for soybeans for efficacy against grasshoppers, both at the immature stage called nymphs, and the adult stage," says Knodel. "This ended up being valuable information for growers, especially with the high populations we were seeing, as we previously couldn't recommend what was effective for grasshopper control."
She and her team found that all the insecticides they tested provided control of adult grasshoppers (Table 1). Low and high application rates provided good control; however, high rates usually provided a longer residual, which is important since grasshoppers often reinfest fields during outbreaks.
This checkoff-funded project also includes scouting for soybean gall midge, which is an invasive soybean pest that is spreading from other states. Part 2 of this series will focus on Knodel's search for the soybean gall midge in North Dakota.
Additional Resources:
National Database Research Project: Soybean Entomology in the North Central Region: Management and Outreach for New and Existing Pests
North Dakota IPM Soybean Crop Survey website
Article: Options for Soybean Aphid Control Manage Resistance
Published: Dec 12, 2022