Research Highlights

Options for Soybean Aphid Control Manage Resistance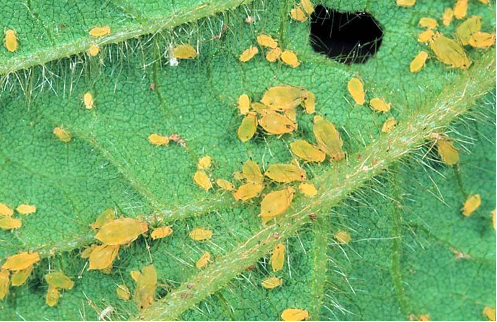 By Laura Temple
Though soybean aphids are an invasive species in North America, they have been present for more than 20 years. During that time, management options have changed.
"When aphids first appeared, they were relatively easy to control with foliar insecticides," says Erin Hodgson, professor and Extension entomologist for Iowa State University. Her career began with the arrival of soybean aphids, and she has been studying them since. "As a new pest, soybean aphids tended to be over-managed, and pyrethroids served as a quick, effective, affordable tool. But current trials show pyrethroids are less effective than 10 years ago."
Hodgson manages the nation's largest soybean aphid efficacy evaluation program with 20 to 30 replicated treatments each year, funded in part by soy checkoff investments from the Iowa Soybean Association. Her current plots are investigating foliar insecticides sprayed directly onto leaves, other tools and multi-pronged approaches to soybean aphid management.
In 2021, her team documented a population of pyrethroid-resistant soybean aphids at the Iowa State University research farm in northwest Iowa. She notes that resistant aphids have also been found in Minnesota and northern Iowa, though farmers are often not aware that insecticides are much less effective because of it.
Hodgson acknowledges other factors behind her investigation into a wider variety of control options.
"With the announcement that chlorpyrifos residues will no longer be tolerated in crops, that removes a common backup product to pyrethroids for aphid control," she says.
Fortunately, she has found evidence for promising chemical and cultural control options that can help farmers fight soybean aphids.
New Insecticide Modes of Action
Hodgson often incorporates new products or improved formulations into her trials before they are commercially available. That includes insecticides with new active ingredients that work differently than many products currently on the market.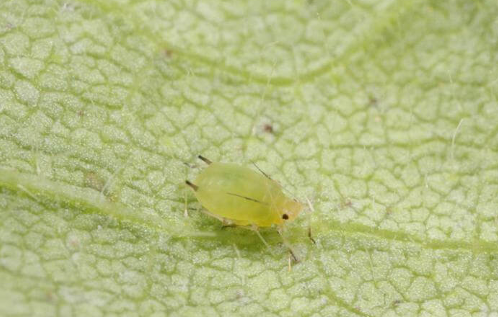 "New chemistries target piercing-sucking insects like aphids and leafhoppers that live on a liquid diet," she explains. "They cause the insects' mouthparts to go soft, so that their piercers become like a wobbly spaghetti noodle. This prevents them from feeding on the crop."
Hodgson adds that aphids can be found in the crop a bit longer following these treatments compared to more familiar nerve poisons. However, they are unable to feed, which prevents additional crop damage. These treatments do not impact other insects, like chewing insects, leaving predators of aphids in the field and supporting integrated pest management (IPM).
Growing Availability of Soybeans with Resistant Genetics
Soybean breeders at universities and the USDA have been screening soybean germplasm for quite a while to identify genes linked with natural resistance to aphids. Many genes have been identified, and soybeans with aphid-resistant genetics are being developed through traditional breeding.
"Host-plant resistance has proven to be extremely effective in our trials," Hodgson says. "Aphids don't thrive in those plots. Different genes provide varying types and levels of natural resistance. As those genes are mixed and matched, the varieties developed can be matched with insecticide treatments for very effective treatments in areas prone to annual infestations."
Hodgson notes that with changes in insecticide availability, more commercial seed companies are incorporating these genetics into soybean varieties suited for northern regions that experience consistent aphid pressure. As these genetics become integrated into high-yielding varieties, farmers will have more options to manage soybean aphids.
Influence of In-Field Interactions
While Hodgson's main focus is on aphid control options, she also monitors secondary insect pests in the plots each year. She wants to understand interactions between fluid feeders like aphids and chewing pests.
"Soybeans can harbor many different pests," she says. "In recent years we've seen thistle caterpillars and fall armyworms. Even at low levels, these pests can add to the damage done by other insects."
Hodgson also works with plant pathologists to observe interactions between insects and diseases, all to provide more information for farmers as they make decisions.
"We've seen that aphids don't thrive in soybeans infected by soybean cyst nematode (SCN) or brown stem rot," she adds. "Farmers can make more informed management decisions when they know aphids tend to be less of an issue in fields that may have other types of pest pressure."
Hodgson observes pests through the season to see if other unexpected factors influence aphid pressure. For example, she has included a wide variety of seed treatments in her trials for years, including new active ingredients. However, repeated observation shows that they no longer have an effect by the time aphids appear.
Her team offers the following recommendations for soybean aphid control:
Strongly consider using varieties with genetic resistance in fields where soybean aphid populations are persistent if agronomic traits are appropriate for the area.
Plant early in fields consistently infested with soybean aphids.
Scout, especially during the R1 to R5 growth stages.
Evaluate foliar insecticide efficacy three days after application to ensure adequate control.
Realize that late-season infestations occurring after R5 may not impact yield as much as earlier infestations.
Published: Aug 8, 2022
The materials on SRIN were funded with checkoff dollars from United Soybean Board and the North Central Soybean Research Program. To find checkoff funded research related to this research highlight or to see other checkoff research projects, please visit the National Soybean Checkoff Research Database.