Research Highlights

Herbicide Resistance Demonstrates Need for Fresh Perspectives on Research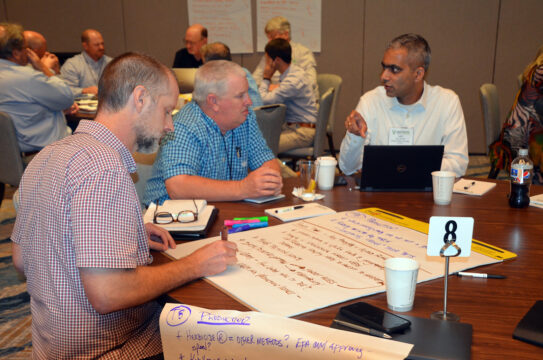 By Laura Temple
Dr. Kevin Bradley, state Extension weed scientist and professor in the Division of Plant Sciences at the University of Missouri, began his career in 2003, just as a few weeds began to show signs of resistance to glyphosate herbicide.
"At that time, I didn't realize how herbicide weed resistance would shape my career," he told a group of soybean farmers, researchers and industry representatives during the inaugural Soybean Research Forum & Think Tank in August 2021. "Years later, most of my research and Extension efforts focus on developing strategies to manage herbicide-resistant weeds."
His experience has given him a unique perspective on the framework of research needed to allow the soybean industry to thrive in the future. He walked through the development of significant herbicide resistance, especially in the past two decades, pointing out the approach to research for solutions.
"As we addressed herbicide resistance, especially glyphosate weed resistance, the industry was preconditioned to look for herbicide chemistry solutions," Bradley said. "Based on our experience and current challenges of weeds with resistance to multiple herbicides, it's clear we need a new mindset.
"We need to think differently."
When it comes to weed control, Bradley described innovative research exploring the potential for practices like cover crops, harvest weed seed control, seed destruction technologies and bioherbicides. Some research for these concepts is already underway in the United States. He also highlighted less familiar concepts and ideas coming out of Australia and other regions, like weed electrocution and robotics.
"We don't know how much a part of our future these technologies will be, but that's why we do the research," he said. "We don't know what concepts will work, but as an industry, we need to look into a variety of ideas."
He encourages soybean farmers, researchers and industry members to learn from the collective experience with resistant weeds and consider how to apply fresh perspectives to other areas of soybean production research.
A new research mindset would improve knowledge and advances in soybean genetics, ag technology, yield, quality, pest management and more. The goal the soybean industry better manage issues as they arise by investigating innovative ideas.
The Soybean Research Forum & Think Tank was a first collective step in that direction. The themes and ideas discussed there have been incorporated into a white paper developed to provide research direction in working together toward a stronger future for the soybean industry.
Learn more of the event from Twitter: #SoyThinkTank.
Published: Nov 29, 2021