Research Highlights

Cover Crops Suppress Problem Weeds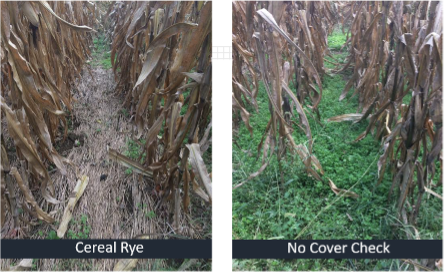 By Laura Temple
Cover crops play a key role in weed management. Research from Virginia Tech, supported by the Virginia Soybean Board, took a close look at how cover crops suppress winter annuals while they are growing. It also measured how terminated cover crop residue suppresses in-season weeds.
"Several years of research has shown how high biomass from cover crops suppresses weeds," says Dr. Michael Flessner, associate professor and Extension weed science specialist for Virginia Tech. "We looked at a variety of cover crop options and how they impact weed density both before and after planting cash crops."
He noted that incentives for planting cover crops drive use of the practice throughout the Mid-Atlantic region. His research helps farmers understand how to maximize the value cover crops can provide.
Cover crop treatments in his trials included cereal rye, crimson clover, forage radish and hairy vetch, combinations of cereal rye with each of the other species, and 3-species mixes including cereal rye, forage radish and each of the legumes. Flessner compared the cover crops to a herbicide burndown treatment with flumioxazin (Valor).
Winter Weed Suppression
Flessner noted that on average, cover crops provided good suppression of winter annuals. Cover crop were more effective at reducing the biomass of winter weeds than the herbicide treatment. Including cereal rye provided the highest reduction in winter weed growth.
He also looked closely at horseweed, or marestail, a common problem winter annual in the Mid-Atlantic.
"We have ALS- and glyphosate-resistant horseweed, which create problems in soybeans," Flessner says. "With cover crops, we saw a significant reduction in horseweed density. The horseweed that did grow were fewer and smaller, allowing herbicides to work better."
Farmers commonly ask Flessner about the need for a burndown herbicide in the fall when planting cover crops to help control winter weeds.
"In our preliminary trials, we found that if horseweed is a problem, a fall burndown herbicide like paraquat can be helpful," he explains. "However, if horseweed is not a problem in the field, a fall burndown is not needed."
Biomass Reduces In-Season Weed Pressure
After planting, Flessner's trials found that cover crops continue to provide weed suppression.
"Allowing cover crops to produce 6,000 to 7,500 pounds of biomass per acre provided about 70 percent weed suppression from the time the cover was terminated until the first post-emergence soybean herbicide application," he says. "That's a period of about six weeks."
Flessner's team terminated the cover crop before planting. "In our trials, we terminated once cereal rye reached flowering, and planted about two weeks later," he says.
Planting into the dry biomass left from the cover crops then provides weed suppression until a planned post-emergence soybean herbicide application.
"More cover crop biomass adds to the benefits they provide," Flessner explains. "With enough biomass for weed suppression, the soil will have gotten all the other benefits of cover crops, as well."
The higher the biomass, the better the suppression of common summer annuals. His trials showed that six weeks after cover crop termination, the amount of biomass correlated to improved suppression of common weeds like redroot pigweed, pitted morning glory and large crabgrass. He found similar results for Palmer amaranth and common ragweed, weeds that have shown ALS and glyphosate resistance.
How can farmers ensure their cover crops produce enough biomass to effectively suppress weeds?
"We planted cover crops in the fall of 2019 and 2020 with different timings to intentionally observe biomass production," he explains. "Planting cover crops earlier allows them to develop more biomass – and our untreated checks showed this was true for weeds, too."
Regardless of termination method – herbicide burndown, rolling, or both, biomass repeatedly proved to be the key factor in weed suppression.
"While we still recommend residual pre-emergence herbicides to provide multiple modes of action to prevent the development of weed resistance," Flessner adds, "our future research will investigate if cover crops allow reductions in herbicide inputs without reducing weed control or increasing the potential for the development of resistance."
Published: Jul 26, 2021