Research Highlights

Workable strategies for controlling horseweed and waterhemp in Michigan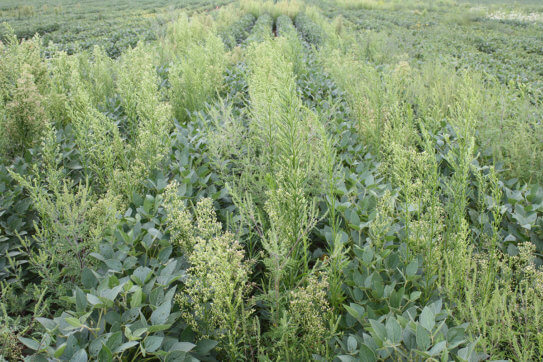 By Carol Brown
Someone once said weeds are just plants growing where you don't want them to grow. In Michigan and across the Midwest, waterhemp and horseweed are thought of more than that. Farmers have been battling these two prolific weeds in crop fields for some time.
"Waterhemp and horseweed or marestail, are by far, becoming the most serious weed management issues in Michigan," said Christy Sprague, weed extension specialist at Michigan State University (MSU). "Both of these weeds have been problematic throughout the Midwest for a number of years. Recently we have seen those weeds pick up in Michigan."
Researchers believe that multiple herbicide resistance and prolonged emergence are contributing to the increase in these weed species. Through two research projects supported by the Michigan Soybean Promotion Board, Sprague evaluated weed management strategies for waterhemp and horseweed including herbicide systems, a tillage technique and cover crops. The goal is to help soybean growers in Michigan and the North Central region reduce the presence of these invasive weeds in their fields and to prevent future outbreaks of herbicide-resistant populations.
Herbicide strategies
"We've examined herbicide management systems in some of the different commercialized soybean traits — Roundup Ready 2 Xtend®, LibertyLink®, and regular Roundup Ready® soybean systems — and found some pretty good control strategies for each," Sprague said.
As a result of her research, Sprague stressed the importance of herbicide timing to help control both waterhemp and horseweed in crop fields. Waterhemp doesn't begin to come up until mid- to late-May in Michigan, Sprague said, so farmers are not usually dealing with waterhemp during the early part of the planting season. However, they are continually seeing emergence of horseweed.
"We have observed horseweed emergence in the fall, early spring, and pretty much throughout the entire growing season," Sprague said. "In fact, in certain years, we have observed peak emergence as late as July."
To control waterhemp, it is important to first make sure weeds are controlled prior to planting, noted Sprague. Second, use a good pre-emergence herbicide with effective waterhemp control activity.
"There are a number of products that work well to give you a head start in reducing the populations you're trying to manage post-emergence," she said.
For LibertyLink users, Sprague recommends coming back and spraying with Liberty when waterhemp is about 3-inches tall. In some cases, Sprague recommends adding another residual product to catch the waterhemp that comes up later in the season as "Liberty will only control the emerged weeds."
Horseweed management is similar: control it prior to planting and use a good burn-down herbicide to combat the emerged horseweed. Sprague said it is important to include an effective pre-emergence herbicide with residual horseweed activity. Key pre-emergence herbicides include products that contain Metribuzin, Valor or some of the different Authority products. It is important to come back with an effective post-emergence product in heavily infested fields, she said.
Sprague and the MSU weed management team created fact sheets with recommendations based on their research. The fact sheets are on the MSU Department of Plant, Soil and Microbial Sciences Extension webpage.
Tillage trials
Sprague's team has been studying what happens to waterhemp seeds when they are buried deep in the soil by a moldboard plow. She had seen promising research done in other states using this technique for pigweed.
"It's a one-time tillage technique," Sprague said. "The main reason to use the moldboard plow is to flip the soil and bury the weed seeds. In past research, if we were able to keep the field free of weeds, where new seeds weren't being introduced, within four years we depleted that seed bank by 95 percent."
According to her research results in 2017, moldboard plowing and spring shallow tillage reduced the number of emerged waterhemp seeds by 2.5 times compared to a no-tillage treatment. Because of the lower waterhemp emergence the previous year, the following year's tillage didn't affect the number of emerged waterhemp plants. However, the moldboard plow treatment resulted in an earlier, more uniform flush of waterhemp in the spring than other tillage treatments: only 13 days to reach 80 percent waterhemp emergence compared to 29-30 days in the spring soil-finished and no-till treatments.
Cover crop control
Sprague also explored the use of cover crops as a strategy for horseweed control.
"We are seeing a shift in the pattern of horseweed emergence with more coming up in the spring than in the fall," Sprague said. "That becomes a problem when you're trying to control the weed throughout the season and it continues to come up."
Her research team evaluated combinations of cereal rye or winter wheat cover crops with pre-and post-emergence herbicide treatments for horseweed control in no-till soybeans. They compared the effectiveness of cover crops that were terminated a week before planting (early termination) to those terminated a week after planting soybeans — a practice called "planting green."
"We saw that planting green worked really well," she said. "We didn't see any detrimental effects on soybean yield from planting green. The cover crops really held down the biomass of the horseweed."
She saw positive results with both cover crops. The cereal rye produced more biomass and slightly higher weed suppression than the winter wheat. But, Sprague said, the use of either cover crop is more beneficial for weed suppression when compared to not using any cover crop. With the cooler Michigan climate, the cover crop growing season is reduced, and there may not be as much overall biomass than what's produced in areas farther south.
The study results showed that delayed termination of cover crops (planting green), general cover crop usage and residual herbicides provided early season suppression of horseweed that resulted in higher soybean yields.
Other resources:
2020 Weed Control Guide for Field Crops
MSU Extension weed management website: msuweeds.com
USB National Soybean Checkoff Research Database: Glyphosate-resistant horseweed (marestail) management in soybean
Published: Jan 2, 2020
The materials on SRIN were funded with checkoff dollars from United Soybean Board and the North Central Soybean Research Program. To find checkoff funded research related to this research highlight or to see other checkoff research projects, please visit the National Soybean Checkoff Research Database.