Research Highlights

Understanding Soybean Cyst Nematode HG Types and Races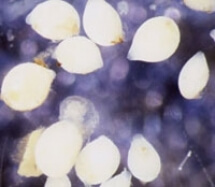 by Gregory L. Tylka, Soybean Nematologist, Iowa State University
Growing soybean cultivars that are resistant to the soybean cyst nematode (SCN) is an effective way to preserve soybean yield and limit increases in SCN populations in a field. The ability of SCN populations to reproduce on germplasm lines that are used in soybean breeding programs was measured and classified originally by the SCN race test, and more recently by the HG type test. The "HG" represents the first letters in the genus and species names of SCN, Heterodera glycines
Although nearly 15 years have passed since the HG type test was established, confusion still exists about the concept of SCN race and HG type. Questions from researchers and from agribusiness and extension professionals who advise farmers include:
When will there be a molecular test for HG type (or SCN race)?
How many HG types (or races) are there in a field?
Do seed treatments work against all HG types (or races)?
These seemingly logical questions of practical significance are unanswerable if one understands the concept of HG type and SCN race. To help illustrate the concept of HG types, we drew a comparison  between the current SCN HG type test and a hypothetical test for human food sensitivities that may provide a new perspective and make HG types more easily understood.
Sampling for a SCN HG Type Test
To help establish sampling guidelines, we conducted a study to determine how HG type test results might vary among SCN populations in independent samples collected from the same field or from areas of a field.
We found that to obtain the most meaningful information from an HG type test on an SCN population in a field, a soil sample comprising 100 or more soil cores should be collected from throughout all areas of a field. Samples composed of more than 100 cores may be particularly justified for large fields. The results indicated that there is likely no benefit to collecting and having HG types determined on SCN populations in multiple independent soil samples from different areas of a field.
Although the results of an HG type test can vary among SCN populations captured in multiple soil samples collected from a single field (or small area of a field), we found that the implications for managing the nematode with respect to selecting and growing SCN-resistant soybean cultivars are the same.
Published: Apr 18, 2017
https://soybeanresearchinfo.com/wp-content/uploads/2019/06/PHP-PS-16-0615.pdf