Research Highlights

Trials Identify Resilient Soybeans for Texas Gulf Coast Conditions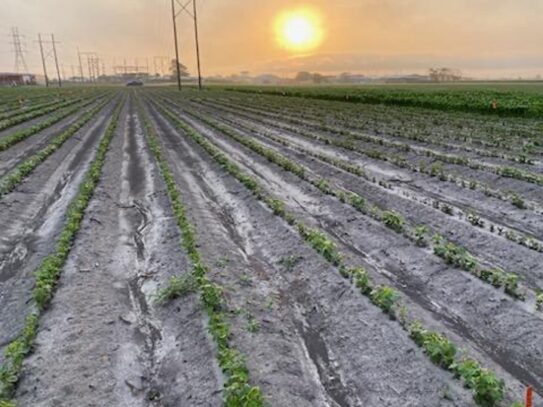 By Laura Temple
What will the next growing season be like? While farmers can't predict the weather months in advance, they can choose resilient soybean varieties most likely to handle whatever conditions they face.
"Unpredictable weather abounds along the Texas Gulf Coast," says James Grichar, senior research scientist for Texas A&M AgriLife Research. "In 2021, our variety trials received more than 50 inches of rain between the beginning of May and mid-August. But in 2022, drought meant the trials received less than 10 inches of rain all season."
To help soybean farmers select the best varieties for the area, the Texas Soybean Board supports variety and breeding line research trials in multiple locations, overseen by Grichar. He notes that a decreasing number of seed companies breed and sell soybeans for this unique region of Texas, so these trials also include public cultivars developed by the University of Missouri breeding program.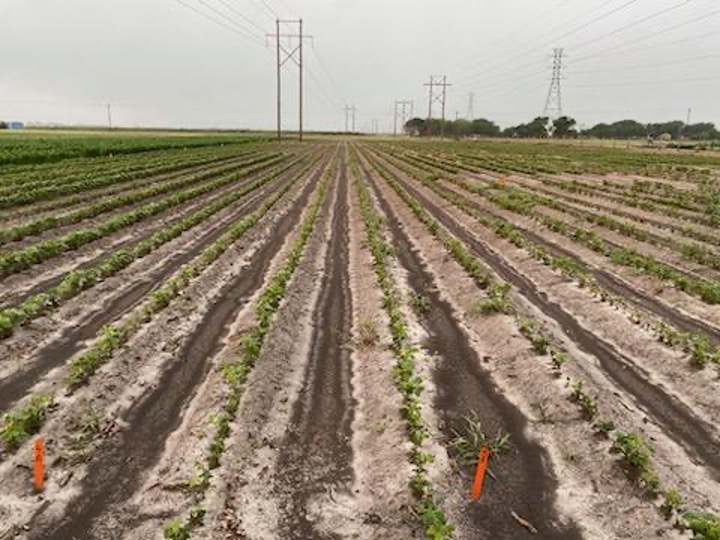 "Under the extremely dry conditions of 2022, three Liberty Link breeding lines from the Missouri breeding program held up well," he says. "They actually produced some yield, though it was small, unlike many of the other breeding lines in the trial."
Farmers in the Gulf Coast region of Texas typically plant soybeans from late Maturity Group 4 to early MG 5 in the mid-March to early April timeframe. While commercial varieties produced 40 to 66 bushels per acre in the 2021 variety trials, they produced basically nothing during the drought of 2022. The Missouri breeding lines demonstrated lower yield potential in 2021, with yields ranging from 29 to 49 bushels per acre. However, the Liberty Link breeding lines Grichar mentioned showed more resiliency in the 2022 drought, yielding 9 to 11 bushels per acre.
These trials also include two soybean varieties, Pamela and Lynda, bred specifically for the environmental conditions and day length in south Texas. The unique genetics that delay flowering under the short day-length conditions of south Texas allow the plants to reach sufficient height in 55 to 62 days before switching to reproductive growth. Most varieties categorized by maturity group make the switch from vegetative to reproductive growth based on day length, but at the latitudes in the Gulf Coast region and south Texas, day lengths cause soybeans from any maturity group to start reproductive growth before the plants are big enough to yield well.
"These varieties fit in some systems along the Gulf Coast and the lower Rio Grande Valley, but they don't meet the needs of all our farmers," Grichar says. "They yield in line with other public varieties."
Drought tolerance is another key characteristic that contributes to resiliency in soybeans in his area. Farmers in the area prefer for soybeans to grow about 36 to 40 inches tall, with the first pods set 3 to 4 inches off the ground for harvestability.
"Because of the threat of hurricanes, we prefer shorter-season soybeans that can mature and be ready to harvest before the hurricane season," he explains. "However, it can be a challenge to get soybean seed for MG 4.6 to 5.2 shipped to our area by mid- to late-March, when we can start planting."
Annual results from these trials are available online, so farmers can review the results as they choose resilient soybeans for the next season.
Published: Aug 21, 2023
The materials on SRIN were funded with checkoff dollars from United Soybean Board and the North Central Soybean Research Program. To find checkoff funded research related to this research highlight or to see other checkoff research projects, please visit the National Soybean Checkoff Research Database.