Research Highlights

Timing Ensures that Soybeans Benefit from Poultry Litter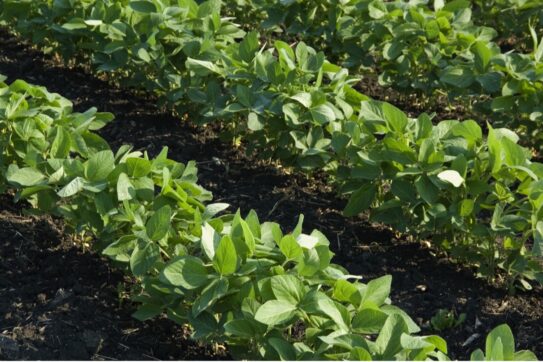 By Laura Temple
In regions where poultry litter is readily available, crop farmers value it as a fertilizer source. Even in soybeans, which fix their own nitrogen, litter builds soil organic matter content and improves soil health.
But does poultry litter benefit soybean directly?
Rishi Prasad, Assistant Professor and Extension Specialist, Crop, Soil and Environmental Sciences at Auburn University, and his team addressed this question. Their study focused on the release timing of nitrogen and other nutrients from poultry litter and how that impacted soybean yield and nutrient composition. This work was funded with a soy checkoff investment from Alabama Soybean Producers.
"We found that poultry litter can increase soybean yields, but application timing is critical because of how those nutrients are released," Prasad reports. "Although responses varied based on soil types, environment and applications rates, we found clear advantages to using poultry litter in soybean production."
The research compared three rates of poultry litter application, 1 ton/acre, 2.5 tons/acre and 5 tons/acre, to control plots with no litter. Plots at three research stations in Alabama allowed the team to see how it performed in a variety of dryland environments and soil types.
Nutrient release pattern
Farmers value poultry litter as an important slow-release source of nitrogen, phosphorus, potassium and micronutrients. Prasad's team collected bags filled with litter at the three applications rates from each plot treatment on day 0, 1, 5, 10, and then every 10 days through four months after the litter was applied to understand exactly when and how much of the organic nutrients in the litter were mineralized and made available to plants in the soil.
"We found that up to 37% of the total nitrogen that will be released from litter and become available in the first 30 days after application," Prasad says. "That means application timing is critical. The sweet spot is to apply litter about 2 or 3 weeks before planting, so that the emerging crop can get the most benefit."
His research showed that in the following 60 days, another 10 to 15% of litter nutrients are slowly released.
"By 3 months after application, many of the nutrients available in the litter will no longer be in the field," he explains. "Based on what we learned, we recommend applying poultry litter in early spring rather than the fall. In Alabama, winter rains can wash away those nutrients before soybeans are planted."
He also recommends that farmers test litter for nutrient content before application.
"A 3-3-2 fertilizer value is the rule of thumb for poultry litter, but actual nutrient concentration varies significantly depending on poultry practices like bedding material used and the number of flocks raised on it," he says.
Once famers know the total nutrient value of the litter, they can calculate what will actually be available in the 3 months after application based on Prasad's soil tests. (See chart.)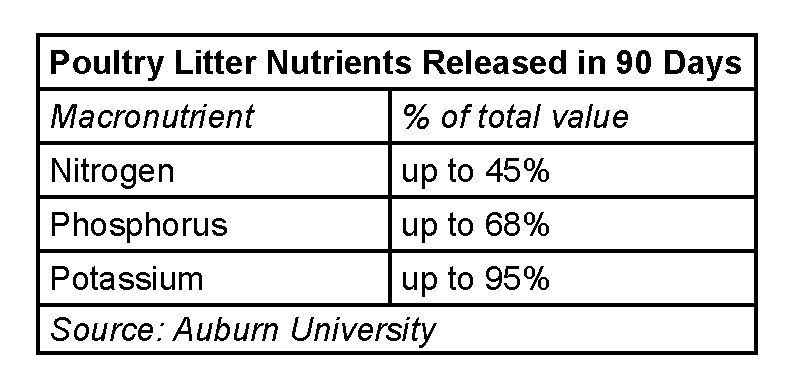 Yield boost
Prasad and his team found incremental yield responses to the use of poultry litter applied shortly before planting. Yield increases varied based on soil type and application rate, but the improvements were consistent.
Plots at the E.V. Smith Research Center near Shorter, Alabama, in central part of the state, experienced the highest yield bump. There, yields increased 6 to 10 bushels per acre.
"The application rate of 5 tons per acre yielded the greatest, but there was no significant statistical difference between application rates," Prasad says. "But we did see a visual difference with poultry litter during vegetative growth about 30 days after planting. Treated plots were greener and taller than the untreated control."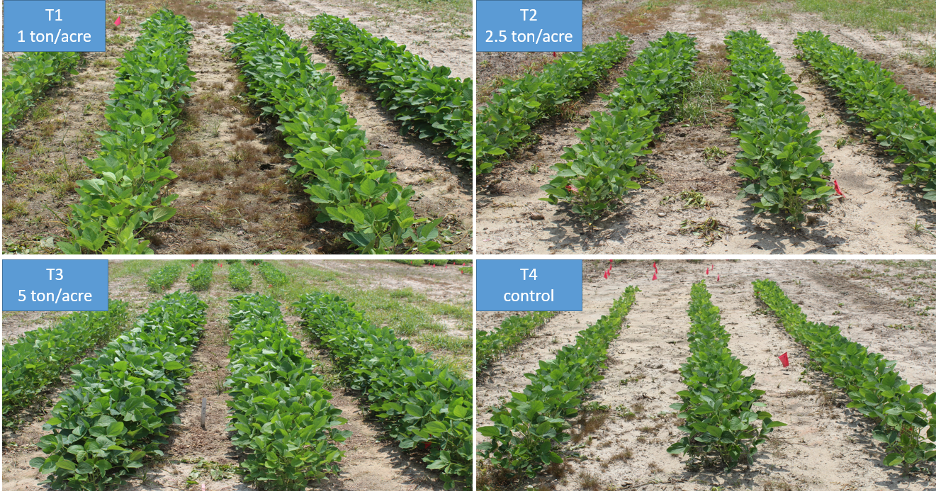 In the Coastal Plains soils and environment of southern Alabama, at the Wiregrass Research and Extension Center in Headland, yield responses were closer to 3 to 4 bushels per acre. Plots in the northern region, at the Tennessee Valley Research and Extension Center in Belle Mina, Alabama, saw similar yield responses.
Nutritional composition impact
"We also looked at the nutrient concentration of the harvested soybeans to determine if poultry litter influences nutritional composition," Prasad says. "While we saw some differences in different regions, our overall findings are that while yield increases with poultry litter application, nutrient contents are not compromised."
The results showed small statistical increases in potassium, boron or zinc content in harvested soybeans, based on location. For example, increased boron content was found in the central Alabama plots.
"Overall, we concluded that poultry litter – when applied at the right time – has great potential to improve soybean yields," Prasad says.
His team's findings reinforce the importance of practical research.
"Investing in projects and research pays off," says Colt Clemmons. He farms in Lauderdale County, Alabama, and serves as chairman of the Alabama Soybean Committee. "We are conscientious about the decisions we make to fund research and how investments like these benefit our fellow growers."
Published: Apr 12, 2021
The materials on SRIN were funded with checkoff dollars from United Soybean Board and the North Central Soybean Research Program. To find checkoff funded research related to this research highlight or to see other checkoff research projects, please visit the National Soybean Checkoff Research Database.