Research Highlights

Thinking Big: Soybean Germplasm for Aquaculture Research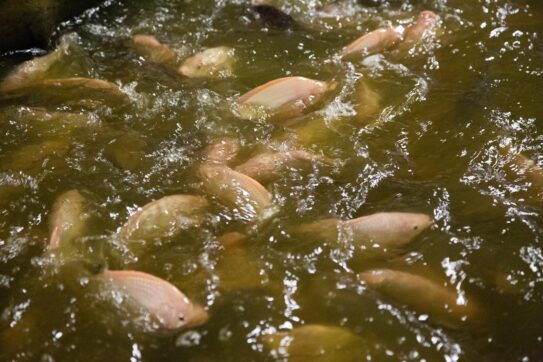 By Carol Brown
Scientists in Nebraska are developing enhanced quality soybean germplasm for targeted end-use as a sustainable feedstock for the aquaculture industry. But these researchers are looking well beyond the microscopic views they examine daily.
Ed Cahoon, director of the Center for Plant Science Innovation at the University of Nebraska-Lincoln (UNL), and Tom Clemente, professor in the UNL Department of Agronomy and Horticulture, are co-investigators on the project. Their research team has achieved success in developing a soybean with new traits that target nutritional quality for fish feed.
"Wild fish are doing well, but to meet consumer demand, we'll need to start growing more farm-raised fish," Clemente said. "We're looking at using soybeans to feed fish just like feeding hogs and chickens."
They are developing soybeans that contain both high-quality protein and long chain omega-3 fatty acids through a project supported by the Nebraska Soybean Board.
"The two key ingredients fish need are fish meal and fish oil. Little fish, like anchovies and sardines, are needed to feed big fish," Clemente said. "We can do this instead from a terrestrial feed source without having to harvest the little fish, where the industry is currently extracting the fish oil and fish meal."
Cahoon explained that soybeans don't naturally contain EPA and DHA fatty acids, the major components in fish oil that provide the nutrition fish need and humans desire in their diets.
"Producing this isn't something we can do with conventional breeding or gene editing," Cahoon said. "We have to get the genes to mix with complex pathways from other sources like algae."
The two have been successful in doing so and have displaced 50 percent of the fish oil with high omega-3 soybean oil. The team is confident they can develop a formulation that would be 100 percent land-based to feed salmon and other fish, with no marine ingredients required, Clemente said.
The team also was successful in adding astaxanthin, a highly valued carotenoid that gives the pink color to salmon and shrimp; and accomplished it at a fraction of its current cost.
"We've gotten past the proof of practice, now we've moved to aspects of production," Cahoon said.
Better soybeans lead to bigger issues
The achievements that Cahoon and Clemente have experienced are met with roadblocks in the scaling-up sequence. Clemente believes regulations need to be revised before the aquaculture industry can grow in the United States.
"The U.S. doesn't permit off-shore aquaculture facilities," Clemente commented. "There's only one permitted in the United States right now. We can drill for oil in the Gulf of Mexico, but we can't grow fish because it's viewed as a potential pollutant."
To complicate matters, there's no place to keep these specialty soybeans separate from the traditional crop.
"We'll need elevators that are geared to handle these high-value products. Currently, we don't have the ability to identity-preserve these items in a cost-effective fashion," Clemente said. "In the future we're going to need a commodity stream and an identity-preserve stream."
Cahoon and Clemente envision a new system that will lead to job creation for rural America as well as increased income for farmers.
"Elevators could be designed for the identity-preserved items," Clemente said. "You could fractionate the omega-3 oil; fractionate the astaxanthin, which has other uses beyond agriculture, and still have the high-value protein that can be sold."
For two scientists working to make a higher-quality soybean, regulations and creating jobs are not where their expertise lies, but they are optimistic it can be accomplished.
"The commodity system has focused on yield, but it needs to become about quality and higher value of soybeans for farmers," Cahoon said.
Clemente predicts farmers and others will come around to their way of thinking.
"In the future, the vast majority will be commodity soybeans — the high oleic bean," Clemente said. "But we're going to have 25 to 30 percent of the market to go to these specialty items that need an identity-preservation track."
With a burgeoning aquaculture industry and specially developed soybeans ready to feed the fish, these researchers are hopeful the future is as rosy as a healthy pink salmon.
Published: Oct 26, 2020
The materials on SRIN were funded with checkoff dollars from United Soybean Board and the North Central Soybean Research Program. To find checkoff funded research related to this research highlight or to see other checkoff research projects, please visit the National Soybean Checkoff Research Database.