Research Highlights

Stepping Up Soybean Disease Control

By Barb Baylor Anderson

Successfully managing soybean diseases starts with knowing exactly what diseases may be prevalent and selecting resistant varieties where available. But for those situations where weather plays a significant role in foliar disease development, farmers need to know what fungicides will provide good disease control while keeping potential fungicide resistance issues in mind.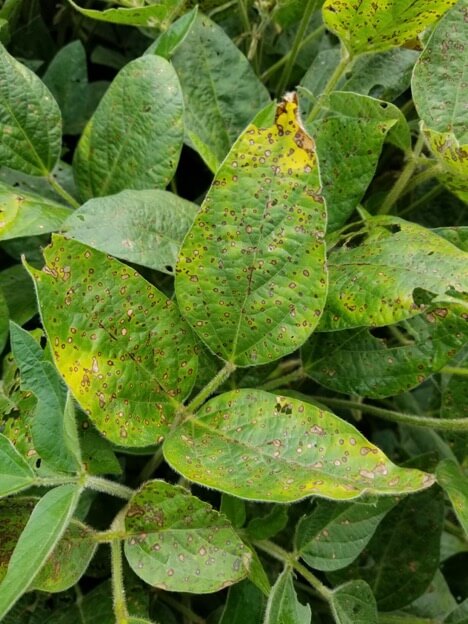 Darcy Telenko, Purdue University plant pathologist, began research in 2019 to gain a better understanding of soybean disease distribution in Indiana by documenting where soybean foliar and stem diseases occurred and by conducting field evaluations of various management options and noting any fungicide resistance. Her goal is to ensure soybean farmers have and use the best tools at their disposal to improve foliar disease control, yield and seed quality.
"Generally speaking, foliar disease management in soybeans requires farmers to scout fields every season to determine whether any diseases are active or not. This helps them make informed decisions for applying a fungicide to their crops," says Telenko. "Keep in mind also a number of factors can reduce fungicide effectiveness beside resistance, including inaccurate diagnosis, product selection, incorrect rate, coverage or timing and environmental conditions."
To determine best management practices, research trials funded by the Indiana Soybean Alliance were performed at the Pinney Purdue Agricultural Center and the Agronomy Center for Research and Extension where foliar diseases were documented in 2018.
Nine fungicides were compared to non-treated controls and included current and newly labeled products available for use in Indiana. In addition, four field-scale fungicide timing trials were established with fungicides applied at V4, R3 and R5 growth stages.
The trials were observed for disease weekly and symptom descriptions were recorded. While weather conditions were unfavorable for disease development in most sites in 2019, a low level of frogeye leaf spot, Septoria brown spot and Cercospora leaf blight were noted at all locations. See https://extension.purdue.edu/fieldcroppathology/wp-content/uploads/2020/02/Applied-Research-in-Field-Crop-Pathology-for-Indiana-2019-BP-205-W-1.pdf.
"Disease levels remained low throughout the season, so no differences were detected with fungicide type or application timing and there was no impact on yield," she says.
Telenko also collected 148 frogeye leaf spot isolates from 11 counties during 2019. "We were just getting ready to run fungicide sensitivity tests when we had to shut down most lab activities due to the COVID-19 pandemic. We will pursue the answer once we are able to restart and we will collect samples again in 2020 as part of a graduate student's thesis," she says.
"While there was little foliar disease in 2019, we will continue to monitor for soybean diseases in Indiana in 2020 and beyond and will provide any updates as they occur. This will include any disease risks across the state and the efficacy of new fungicide products," Telenko adds.
Information during 2020 can be found at https://extension.purdue.edu/fieldcroppathology/ and at https://ag.purdue.edu/btny/telenkolab/. Farmers may also follow on Twitter at @DTelenko.
Published: Jun 22, 2020
The materials on SRIN were funded with checkoff dollars from United Soybean Board and the North Central Soybean Research Program. To find checkoff funded research related to this research highlight or to see other checkoff research projects, please visit the National Soybean Checkoff Research Database.