Research Highlights

Soybeans bred to combat foliar diseases and stink bugs show promise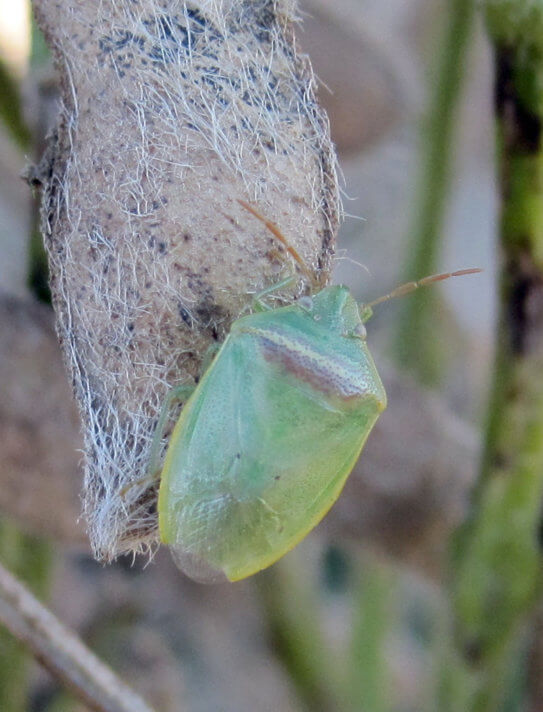 By Carol Brown
Farmers, especially those in southern states, in the future could see soybeans that can battle stink bugs and several plant diseases on their own.
Paul (Trey) Price, associate professor at Louisiana State University's AgCenter, is leading a team of researchers from several states to identify and develop sources of resistance in soybeans for Cercospora Leaf Blight (CLB), other foliar diseases and the stink bug complex.
"We want to identify molecular markers for CLB and for stink bugs to help soybean breeders select for resistance faster," Price said. "Farmers across 16 southern states have seen losses from these foliar diseases ranging in total from $142 to $302 million over the past five growing seasons."
Cercospora Leaf Blight is caused by a fungus related to the pathogen found in Frogeye Leaf Spot and is a common issue for southern soybean growers. Price said they have heard reports of the affecting Midwest farms now as well. He has seen fungicide resistance in the pathogens in CLB, Frogeye Leaf Spot, and Rhizoctonia aerial blight and suspects similar fungicide resistance will be found across soybean-producing states.
With funding support from the Mid-South Soybean Board and United Soybean Board, the research team screened advanced lines from breeders along with plant introductions and identified disease resistance in field trials in Alabama, Arkansas, Louisiana, Mississippi, Missouri, Tennessee and Texas. By selecting disease-resistant varieties and capturing the germplasm connected to CLB resistance, the team can help advance the breeding process for an improved soybean.
Pathogen variability and changing environmental conditions across locations, including rainfall and temperature differences, made consistent plant selection more difficult. Although there was some variability among locations, the vast majority of variability was from variety reactions. In spite of these challenges, the team has found success over the course of the four-year research project.
One of the most important outcomes is a massive collection of Cercospora spp., which the research team is currently characterizing genetically and for fungicide resistance. They hope to learn more about the pathogen complex that causes CLB. There are still many questions concerning the CLB disease cycle.
"We have identified advanced breeding lines and commercially available soybean cultivars that show resistance to CLB and other foliar diseases," Price said. "We've also been successful in finding breeding lines that are tolerant to stink bugs."
The Redbanded Stink Bug is common in the southern states, and the brown marmorated stink bug is making its presence known. The Green Stink Bug and Brown Stink Bug species are common in the Midwest. Price said that in 2017, this pest cost producers an estimated total of $214 million in crop loss and cost of control in Louisiana, Texas, Arkansas and Mississippi alone.
All species of stink bugs feed on the above-ground soybean plant, favoring the blooms and young seed pods, causing flower termination, deformed seeds, reduced seed weight and ultimately reduced yield. Price said additionally stink bugs reduce soybean protein and oil quality and cause maturity delays, which further compromises yield and farmer revenue.
According to the researchers, the Redbanded Stink Bug has developed resistance to insecticides currently used in southern states, forcing farmers to seek alternatives to manage this pest. Tolerant soybean cultivars could be a tool for overcoming stink bug damage and help farmers save money by reducing insecticide purchase and application expenses.
The next step in the process for the researchers is to share the identified cultivars that are resistant to CLB and stink bugs with public and private soybean breeders for development of commercially available lines.
In the future, soybeans that resist stink bugs, CLB and other foliar diseases could be grown across the country. These improved soybeans could help farmers by saving time and input costs as well as reduce the loss of quality and yield from damaged plants.
Resources
For more resources on stink bugs, please click on https://soybeanresearchinfo.com/resources/resource-library/stink-bugs/
Published: Apr 16, 2020
The materials on SRIN were funded with checkoff dollars from United Soybean Board and the North Central Soybean Research Program. To find checkoff funded research related to this research highlight or to see other checkoff research projects, please visit the National Soybean Checkoff Research Database.