Research Highlights

Soy Solutions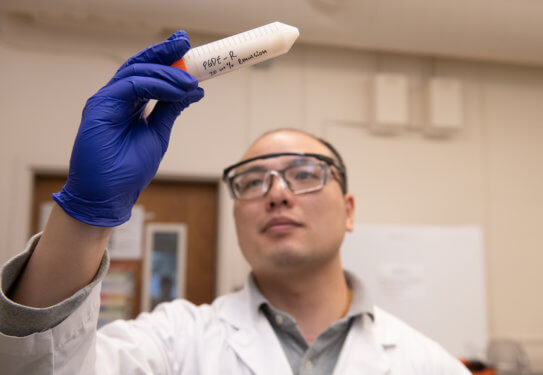 Soybean wax has exponential potential
By Lauren Houska, Iowa Soybean Association communications specialist
Where there is inefficiency, there is opportunity. Three billion pounds of cardboard waste might just provide an important opportunity for U.S. soybean farmers.
Iowa State University (ISU) professor and soy innovator Tong Wang has been researching ways to create smart lipid materials and sustainable lipid processes for nearly two decades. One of her most recent projects with soybean oil wax could create demand for millions more bushels of soybeans.
"Finding innovative new uses for soybeans that meet a specific market need ultimately increases demand for soybeans, which is particularly important right now," says April Hemmes, an Iowa Soybean Association district and United Soybean Board (USB) director.
To expand and diversify demand for U.S. soybeans, USB invests checkoff dollars in research that leads to the development and commercialization of sustainable, high-performing products that use soy.
The organization has been searching for ways to generate more demand for soybean oil and has supported Dr. Wang's research.
Utilizing high-oleic soybean oil, Wang and her team's new soybean oil wax product would replace the petroleum-based paraffin wax that usually coats cardboard and other paper products to make them durable and water resistant.
"This product behaves much like paraffin," Dr. Wang says. "But it's a greener, safer and more sustainable alternative that can be sourced right here in Iowa."
Many long-distance shipping companies use paraffin-wax coated cardboard boxes. Recently, less paraffin has been available due to demand from other industries, which has raised the price on paraffin and created opportunities for the soybean industry to fill that need.
At just 5 percent of the global market, it is estimated that replacing the paraffin wax on cardboard boxes and other paper products with soy-based wax could create annual global demand of 11.4 million bushels of soybeans.
Easier on the environment
Paraffin-wax coated cardboard results in approximately 3 billion pounds of waste in landfills around the world each year. Wang says that because paraffin isn't recyclable or biodegradable, whatever doesn't end up in landfills is incinerated. Soybean oil wax could be the solution to that problem — Wang's technology ensures coated cardboard is biodegradable and recyclable.
"In almost every product we work with, companies tout the environmental or sustainability benefits of using soy," says Mike Erker, USB's director of bio-based products.
Soy ingredients are a natural choice for companies looking to make products and processes more sustainable. They're homegrown, renewable resources that also have a sustainable lifecycle.
But just being environmentally friendly might not be enough to bring this product to market.
"The bottom line is that it has to work within a company's requirements. It has to perform as good or better than the competitor's product, and it has to be cost-effective," says Erker. "If it doesn't meet even one of those criteria, in most cases, it's not going to be used."
Path to commercialization
With two patents under their belt already, commercial viability is the next step for Wang and her team in their quest to bring this product to market. USB has provided support on the commercialization front, helping establish corporate relationships and other technical assistance.
"We've sent samples to our partner companies and are working to understand what changes might be needed to commercialize this product," Wang says.
Erker says the most valuable information can sometimes come from the commercial testing phase.
"Each company we test with will likely have different needs," he says. "This is when researchers figure out what adjustments are required to meet those needs."
If all goes well, Wang and her team intend to have a commercial adoption plan in place sometime this fall.
Future applications
A grant from USB just shy of $90,000 will help develop more state-of-the-art applications for soybean oil wax technology and realize the commercial potential for more products.
Wang and her team are already working on another soy-based substitute, this time for carnauba wax. This wax, which has a wide range of uses in products such as car wax, shoe shine and candy coatings, is made from palm leaves grown primarily in Brazil.
USB is working with Wang's team to develop a product that would replace carnauba oil coating on fruits and vegetables.
Using soybean wax instead of carnauba would provide a cheaper and more readily available alternative with the added benefit of being produced domestically.
Erker says there is even more potential with this technology, specifically in the powdered coating space. One example would be furniture companies looking for a more environmentally friendly and cost-effective coating for their painted furniture.
Each potential commercial application of this technology is in a different phase of development. According to the projections of Dr. Wang and her team, products developed with this technology have the potential to create demand for millions more bushels of soybeans annually once these products are commercialized and reach at least 5 percent market penetration.
Wang says this project wouldn't have gotten this far or had this much potential without the continued support from the soybean checkoff.
"Funding and support from USB has really enabled these exciting projects to move forward," Wang says. "My whole team understands the value of the organization and how it is working to create more demand for U.S. soy."
Published: Jan 1, 1970