Research Highlights

Soy-Based Skin Substitute Expands Uses for Soy Protein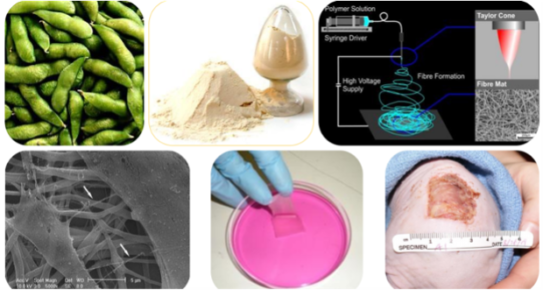 By Laura Temple
Innovative research has found a unique use for soy protein in health care. The properties of soy protein as a wound dressing can make a huge difference to soldiers, burn victims, those suffering from open wounds, and many others, according to Joseph Connell, CEO of NeuEsse Inc., a medical device development company. He believes a new plant protein-based human skin substitute helping the body heal damaged skin has huge potential to revolutionize treatments for burns and other skin traumas.
"Our innovative, patented technology spins soy protein isolate into a skin substitute treatment that helps the body heal burns and other wounds," says Connell. His company is bringing this soy-based wound dressing to market. "Currently, skin substitute products come from pigs, cows, or human cadavers, and they are expensive to produce. And some patients around the world will not use current options for religious or cultural reasons. We have created OmegaSkin, an affordable, plant-based, off-the-shelf solution."
Connell says soy checkoff funding has been integral in the development of OmegaSkin. Most recently, support from the New Jersey Soybean Board funded a study required for FDA approval of the product as a medical device.
"Because OmegaSkin is made of protein that will be going into skin, we have to show that it is compatible with human skin," he explains. "This study was a key piece of the information provided to the FDA proving that our product is safe."
OmegaSkin was submitted to the FDA for approval in the fall of 2020, and has been slowed in the approval process by the focus on treatments for COVID-19. However, if approved, Connell believes OmegaSkin will benefit patients, care providers and soybean farmers.
He notes that past soy checkoff support funded a study on large animals to prove the concept and a head-to-head comparison study with a product currently on the market. In both cases, the soy-based skin substitute exceeded expectations.
"Our studies indicate that the soy-based skin substitute gradually degrades over time and integrates into the wound, thereby providing a platform to help the body heal its own skin," Connell says. "It supports the body's superior wound closure and has healed full thickness wounds with intact hair follicles and sweat glands with minimal to no scarring. This offers unique advantages compared to currently available products."
He cites several advantages of a plant-based skin substitute. It will be more acceptable to many patients with religious or cultural barriers to using currently available products from cadavers, pigs, or cows. And it is more affordable because it is derived from soybeans, which means it has great global potential, especially in developing countries unable to afford current technologies.
From a unique origin to ongoing development
NeuEsse licensed the technology to create OmegaSkin from Temple University. The Chairman of Temple University's Bioengineering Department, Dr. Peter Lelkes, invented the concept for a soy-based skin substitute.
"The idea was sparked when he was at a restaurant in China for a presentation," Connell says. "He noticed that the fried soy milk he was served looked like skin. From that, he developed a process that creates "skin" from soy protein through electrospinning, a process used since the 1940s."
OmegaSkin strips soy protein isolate from soybeans, chosen for its physical and mechanical properties compared to other plant-based proteins. Rolls, sheets, or patches of mesh "skin" are spun and packaged for direct application on an injury or applied through a portable hand-held spin blower. The lightweight protein material aids the body's healing of all types of wounds. It has an extended shelf-life requiring no refrigeration or other special handling.
The next iteration of OmegaSkin, currently in development, will be a liquid product that will be applied by spraying. This version will improve the ability of skin to establish sweat glands, hair follicles and other structures. It will also aid in the body's healing to better match a patient's natural skin tone.
Connell sees a bright future for the product, with applications beyond current targets of the military, hospitals, long-term care facilities and more.
"We see potential for our minimal scarring technology to fit well in dermatology applications, surgery, reconstruction surgery, and more," he says. "Eventually, years from now, we believe 3-D printing will allow us to use soy protein to print more complex structures of non-flat skin, ears and noses."
Personal passion
Connell's enthusiasm for the potential of his soy-based product runs much more than skin deep. As a 10-year-old, he received severe burns on 30 percent of his body. He was treated in a rural hospital. The process of using his own skin to repair the damage on his burned leg required 360 wounds through skin grafting and resulted in great pain and significant scarring.
"OmegaSkin can greatly reduce that type of pain and suffering for burn victims, soldiers and other trauma victims – and their families," he says. "I believe this soy-based skin is the answer to many skin grafting challenges."
He also believes the medical application of soy will change how those who benefit view the common soybean. And he appreciates the support NeuEsse has received from soybean farmers.
"We operate leaner than most medical companies," he says. "Soy checkoff investments have enabled us to do research we wouldn't be able to do otherwise. It has been very helpful, and we would be happy to further our partnership."
Watch a video demonstration of OmegaSkin application.
Published: Mar 1, 2021
The materials on SRIN were funded with checkoff dollars from United Soybean Board and the North Central Soybean Research Program. To find checkoff funded research related to this research highlight or to see other checkoff research projects, please visit the National Soybean Checkoff Research Database.