Research Highlights

Soy-Based Dust Suppressant Launches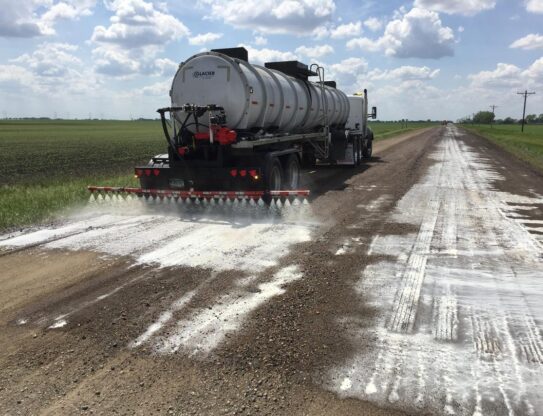 By Daniel Lemke
Don Kadlec had a dust problem. Truck traffic on the small gravel road next to his rural Pisek, North Dakota, home would kick up so much dust, at times, that he would keep a wary eye out for oncoming traffic when he was outside.
"When I was mowing the lawn, I would look down the road every time I got close to it, and if there was a truck coming, I would hightail it for the woods back behind the house because I just couldn't stand the dust," Kadlec says. "I thought, I suppose I could wear a respirator, but it just didn't sound very appealing to me to spend the rest of my days breathing in this fine dust."
Instead, Kadlec went to the internet where he discovered a study that North Dakota State University (NDSU) Senior Research Engineer Jim Bahr was doing on soy-based dust suppressants.
"I begged him (Bahr) and whined a little, and finally, he got me into this study," Kadlec explains.
Kadlec applied the suppressant on the gravel road near his home. The product successfully knocked down the dust.
Dusty Issue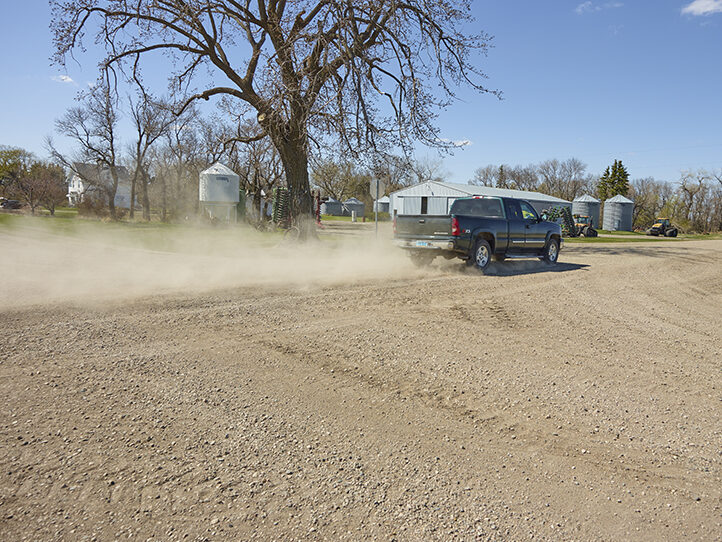 Kadlec's situation isn't unique. According to the Upper Great Plains Transportation Institute (UGPTI), North Dakota has about 60,000 miles of gravel roadways. Bahr states that the idea for the environment-friendly control came from the road dust problems which occur in North Dakota's western oil fields due to the high volumes of truck traffic on the newly built gravel roads.
About six years ago, Bahr began researching ways to combine soy biodiesel with glycerol in order to make a material that could be dispersed in water and used for a road's dust control. Glycerol is a waste stream from biodiesel production and is cheap and plentiful. Bahr says that soybean oil is now the base component of the dust-control product.
"Soy is a good feedstock because it has the right amount of unsaturation," Bahr explains. "This allows the material to dry and cure into soft semisolid without becoming brittle and hard."
There are other dust-suppressant options used on roadways, including calcium chloride and magnesium chloride. However, they present some environmental concerns that soy-based products do not.
The North Dakota Soybean Council (NDSC) funded multiple years of Bahr's research because of the dust suppressant's potential to utilize soybean products in new ways and to offer additional markets for soy oil.
Bahr describes how NDSU researchers have tested the soy-based dust suppressant on gravel roads which have new gravel with a lot of clay, old gravel with not much clay, sandy gravel with a lot of fine silt as well as horse-riding arenas, gravel quarries, almond orchards, parking lots and fertilizer plants. When applied correctly, Bahr says that the product performed well. Even failed sites taught Bahr and his team a lot about the proper application rates.
Hitting the Market
Representatives from BioBlend Renewable Resources took part in a 2019 event where they heard Bahr describe his research. BioBlend produces and markets biodegradable lubricants and industrial products.
"Our business is manufacturing and distributing biobased and primarily seed-based lubricants and other industrial products," states Todd Allison, regional business manager for BioBlend. "We are always looking for new and innovative technologies to bring to market in order to provide our customers and potential customers with high-quality, renewable, sustainable and biodegradable options."
BioBlend signed an agreement with NDSU to market the soy-based dust suppressant. Marketed as EPIC EL, the product's commercial launch occurred in April.
"This particular product fits very well with both our portfolio of products and our overall mission of Environmental Synergy, or eSyn™," Allison says. "EPIC EL is derived from renewable, sustainable and biodegradable soybeans; is a very high-performing product; and is cost effective. Meeting those three criteria, environmental, high performance and cost effective, make EPIC EL an eSyn product and therefore a perfect fit for BioBlend and our customers."
Allison explains that EPIC EL dust suppressant was developed with an entirely new technology which BioBlend calls EsterLink, where the product essentially encapsulates the dust particles and bonds with itself for long-lasting surface integrity. Preliminary field studies have shown that EPIC EL outperforms traditional dust-suppressant products while providing environmental protection, especially around natural habitats.
Hundreds of thousands of miles of gravel roadways are treated with dust suppressants each year. Allison states that the environmental and sustainable aspects of the soy-based dust-control product provide a safer alternative that many businesses and municipalities seek.
Soy Support
The NDSC invested checkoff funds into the project "because we were convinced it would deliver a return by creating a new use for soy products," says NDSC chairman Austin Langley. "The fact BioBlend was able to bring NDSU research that was supported by North Dakota soybean farmers to the market is very rewarding."
In addition to NDSC funding, the United Soybean Board (USB) has also supported the commercialization of the soy-based suppressant.
When the USB sees a company like BioBlend come out with a green product using a significant amount of soybeans, and the USB endorses it, that definitely lends credibility," Langley adds. "That lends trust in these new use products."
The soy-based suppressant may initially be focused on roadways, the path forward has many other options.
"We will be looking at many channels," Allison contends, "the agricultural communities, municipalities, manufacturing, mining and equestrian to name a few."
As for Kadlec, he was pleased with how the dust suppressant worked because it controlled the dust for months. Kadlec now has a tote of EPIC EL in his shed that is ready for application when it's needed.
"I would recommend it to anybody who lives along a gravel road," Kadlec states. "It's an excellent product."
See also: https://soybeanresearchinfo.com/research-highlight/soy-is-paving-the-way-for-better-roads/
Published: Sep 7, 2021
The materials on SRIN were funded with checkoff dollars from United Soybean Board and the North Central Soybean Research Program. To find checkoff funded research related to this research highlight or to see other checkoff research projects, please visit the National Soybean Checkoff Research Database.