Research Highlights

Seedling Diseases: Biology, Management and Education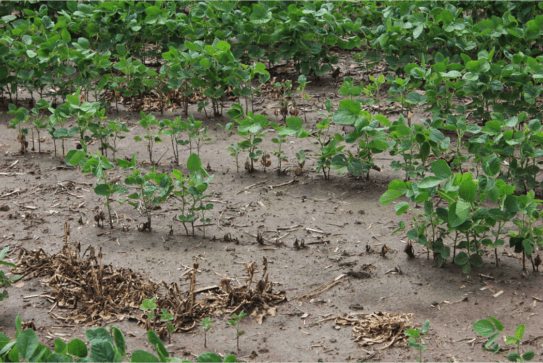 Effective control of soybean seed and seedling rots is becoming increasingly important in order to protect the value of seed — currently the largest single expense in soybean production.
Fusarium root rot, Rhizoctonia seedling blight, Phytophthora root rot, and Pythium damping off are examples of widespread seedling diseases of increasing concern. We now know there are many species of each of these organisms that can affect stand establishment, weaken seedlings, and reduce yield. Some pathogens, such as the root rot pathogen, Fusarium graminearum, and various Pythium species, can infect both corn and soybean. These organisms are becoming more prevalent in corn-soybean rotations.
With checkoff funding provided by the North Central Soybean Research Program and the United Soybean Board, an interdisciplinary team of plant pathologists and plant breeders led by Jason Bond at Southern Illinois University Carbondale, have worked together to address the production constraints caused by seedling diseases.
With a broad range of expertise and geographic locations across nine states (AR, KS, IA, IL, IN, MI, MN, NE, SD) and Canada, the group has had considerable success in developing rapid diagnostics, resistant soybean varieties, and screening tools that ensure fungicide seed treatments remain effective.
New diagnostic assays provide powerful decision tools
The ability to quickly and accurately identify seedling pathogens is key to their management. However, the root rot and damping off symptoms caused by one seedling pathogen are not always easily distinguishable from those caused by another. That's why the development of diagnostic techniques for seedling pathogens has been a key focus for this research group.
A diagnostic assay to determine the presence of Phytophthora in soil and plant roots has been developed and is in the final stages of testing before commercialization. Plant clinic diagnosticians have already been trained with kits that can be used in the field with relatively simple equipment, with detection and identification being achieved in a matter of minutes.
The ability to accurately identify more key seedling pathogens is right around the corner. Diagnostic assays for the fast identification and accurate quantification of Fusarium species and Rhizoctonia species from soil, roots and soybean stem are in final stages of development.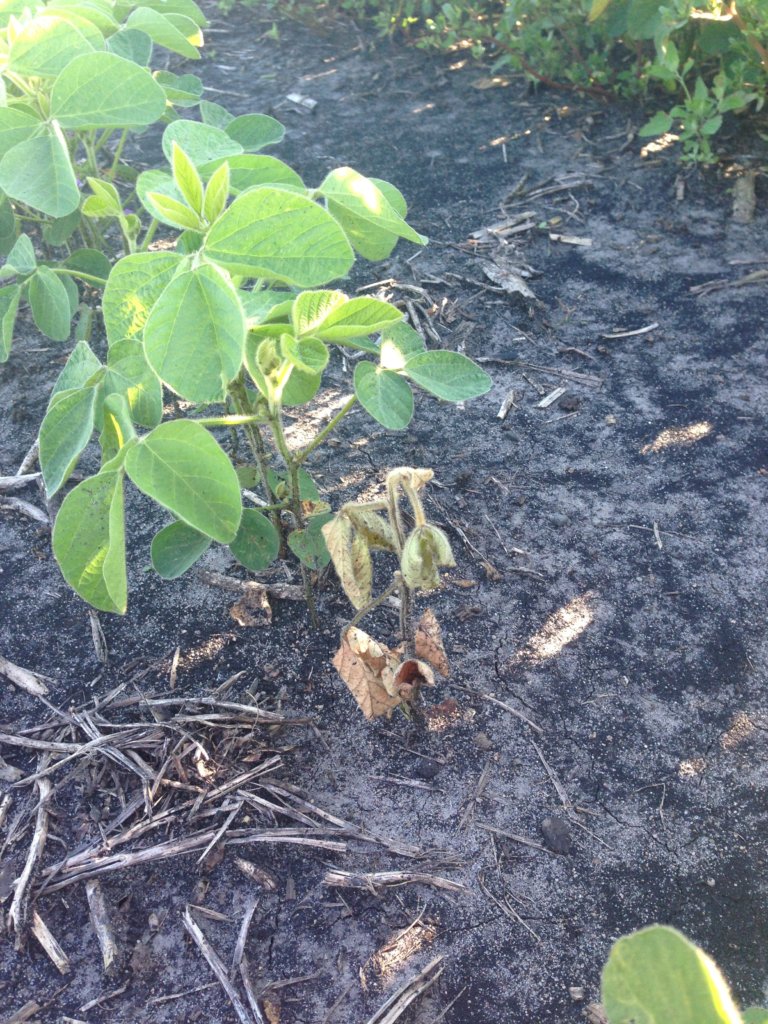 Progress in identifying northern germplasm with resistance to seedling diseases
With the exception of Phytophthora soja, varietal resistance to seedling pathogens is not commercially available, although soybean varieties and breeding lines are known to differ in their degree of susceptibility to seedling diseases. Over the past several years, a major goal for soybean breeders and plant pathologists has been to identify and develop varietal resistance to common seedling pathogens as a cost-effective management tactic.
In Minnesota, for example, significant differences were detected among northern cultivars and breeding lines for reaction to Rhizoctonia solani. At least 15 soybean lines with partial resistance to seedling blight and root rot caused by Rhizoctonia solani have been identified and incorporated into soybean breeding programs.
Researchers in South Dakota have put their focus on the pathogen Fusarium graminearum, and to date have identified eight soybean accessions with significant resistance to Fusarium graminearum. This material has also been made available for incorporation into soybean breeding programs.
An additional project supported by checkoff funding provided by the United Soybean Board and NCSRP has resulted in numerous sources of resistance to Phytophthora sojae, Pythium spp. and Fusarium graminearumidentified by screening theentire USDA plant introduction (PI) germplasm collection. Plant breeders now have a wealth of germplasm material to work with.
Efficacy of seed treatment fungicides and preventing resistance
Each year, the multi-state team reviews the efficacy of seed treatment fungicides by field-testing the materials over multiple years and locations. The results are published and updated each year in the publication Fungicide Efficacy for Control of Soybean Seedling Diseases (NCERA-137, last updated February 2019). Ratings summarized from national fungicide trials published in Plant Disease Management Reports by the American Phytopathological Society (aps.org) are also included.
To keep in front of potential resistance to the fungicides, a fast, automated fungicide sensitivity assay has been developed and shared with a number of labs. The fungicide assay has enabled improved monitoring for fungicide resistance among oomycetes (particularly the common seedling pathogens Pythium and Phytophthora), which will ensure that the seed treatments in use are effective.
In order to monitor and preserve the efficacy of seed treatment fungicides, we need to know the baseline sensitivity of common seedling pathogens to the active ingredients. Species of Fusarium and Pythium that are not sensitive to major seed treatment fungicides have already been detected. The baseline sensitivity of Rhizoctonia solani to fungicide active ingredients is now established, so that fungicide resistance can be monitored.
Resources
The state of our knowledge about seedling diseases, best management practices, and diagnostics have been compiled into several new publications. These are available as free downloads.
Fungicide Efficacy for Control of Soybean Seedling Diseases – NCERA-137, updated February 2019
Factors to Consider Before Using a Soybean Seed Treatment. CPN 4003, 2018.
Scouting for Soybean Seedling Diseases and Disorders – CPN 1009, 2015
Soybean Seedling Diseases – CPN 1008, 2015
Scouting for Phytophthora Root and Stem Rot in Soybean CPN 1014B, 2015
Development and Application of qPCR and RPA Genus- and Species-Specific Detection of Phytophthora sojae and P. sansomeana Root Rot Pathogens of Soybean. Plant Disease, 2017
View three videos about soybean seedlings diseases on the SRIN YouTube channel.
Development and Application of qPCR and RPA Genus- and Species-Specific Detection of Phytophthora sojae and P. sansomeana Root Rot Pathogens of Soybean
Photo Credit: Images provided by Crop Protection Network.
Published: Jun 22, 2020
The materials on SRIN were funded with checkoff dollars from United Soybean Board and the North Central Soybean Research Program. To find checkoff funded research related to this research highlight or to see other checkoff research projects, please visit the National Soybean Checkoff Research Database.