Research Highlights

Retailer Partnerships Bridge Gap Between Conservation Research and Implementation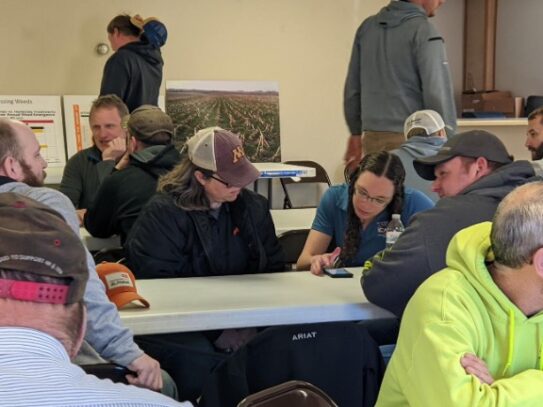 By Laura Temple
Many soy checkoff-funded research projects have explored how soybean farmers can protect and even improve the quality of their soil, water and other natural resources. However, integrating new, research-proven conservation practices into an agronomic system presents unique challenges for every farm.
The Iowa Soybean Association's Research Center for Farming Innovation (RCFI) has developed a program to help farmers put such conversation practices to work. Through a variety of partnerships, RCFI is developing a network of agronomists dedicated to implementing conservation practices and connecting them with local ag retailers to make their expertise more available.
"Our conservation agronomists serve as a knowledgeable, local resources for the agronomists and sales teams of specific ag retailers," explains Heath Ellison, Iowa Soybean Association RCFI senior field services program manager. "They work through the existing relationships that these retailers have with farmers, adding value for everyone where agronomics and conservation come together."
Ellison says the network currently consists of eight agronomists, each in a unique position tailored to the needs of local geographies, retailers and farmers. The RCFI is developing this network by leveraging checkoff investments into securing grant funding from a variety of partners with similar conservation goals.
Most of the conservation agronomists are embedded with one or more local ag retailers, who contribute their own resources to support individual network members. Other grants supporting the program come from organizations like the Iowa Agriculture Water Alliance, the Iowa Department of Agriculture and Land Stewardship, the National Fish and Wildlife Foundation and the Natural Resources Conservation Service.
Technical Expertise
The conservation agronomists provide technical knowledge about conservation practices such as cover crops, edge-of-field buffers to improve water quality, and much more.
"The Iowa Soybean Association has been researching conservation practices for more than 20 years, and our team includes research agronomists that continue to add to this knowledge," Ellison says. "The conservation agronomists have access to all this data, so they often can answer questions with local research."
For example, the network has been trained to use the cover crop net return economic simulator developed by the Iowa Soybean Association. Based on specific goals and economic inputs, this tool suggests cover crop practices and helps estimate costs and return on investment. Conservation agronomists can use the tool with retail sales and agronomy teams and farmers to figure out how best to start using cover crops in specific fields.
Sharing Research
Because of their local relationships, conservation agronomists are positioned to regularly share relevant research results with farmers. For example, they can organize local meetings to present data from the latest research projects funded by the soy checkoff. And then they can work with retailers and farmers to adjust systems based on those results.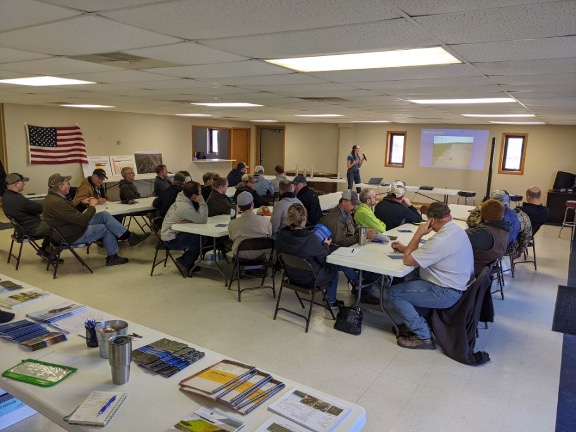 The conservation agronomists support current and future research as well, according to Ellison. When research agronomists need field locations for new trials, they reach out to conservation agronomists to identify farmers who are open to collaboration.
"2022 is just the second season for our conservation agronomists in the field," Ellison says. "But the potential for their experiences in the field to inform future research is real. We expect this network to create long-term benefits for both the practicality of our research and the implementation of those results."
Additional Support
The conservation agronomists also understand local, state, regional and federal incentives and cost-share programs. They can connect farmers to financial assistance and help with the record-keeping that comes with such programs.
"While many different cost-share programs exist to support implementation of conservation practices, each one is a little different," Ellison says. "This team can explain how different programs work, so farmers can determine their participation."
Because the unique funding supporting this network includes organizations focused on conservation beyond the traditional agriculture industry, the conservations agronomists connect to groups administering many of the available incentive and cost-share programs. Their partnerships with local retailers strengthen the connection between farmers, the entire industry and outside organizations with similar conservation goals.
While the network is still relatively new, Ellison says a third-party assessment will soon be underway to capture the tangible and intangible benefits and value of the conservation agronomist network to participating retailers. With this information, he hopes the vision of agronomists dedicated to helping farmers implement research-proven conservation practices will spread.
For more information about this project, funded in part by the soy checkoff, visit https://www.iasoybeans.com/research/about-rcfi.
Published: Aug 29, 2022