Research Highlights

Residual Herbicide May Impact Fall Cover Crop Establishment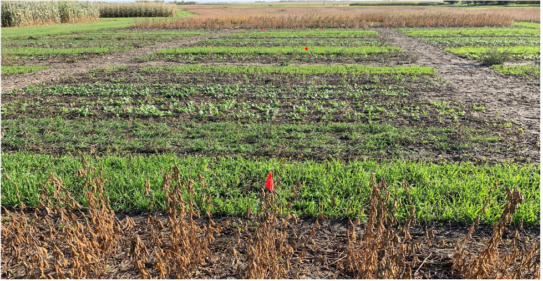 By Carol Brown
North Dakota farmers are increasing cover crop usage after seeing their numerous benefits. Cover crops can help with nutrient management, reduce soil erosion, improve soil organic matter and more. Farmers are finding they are a valuable tool in their farm management toolbox.
But there are management issues to consider. Growers need to know their cover crop goals, adjust crop rotations and timing to be successful when employing this tool. One consideration that Greg Endres wants farmers to not overlook is their herbicide regimen. The North Dakota Extension Cropping System Specialist is conducting research on residual herbicides and their effects on cover crops after a soybean crop.
"We just want to help farmers reduce unpleasant surprises," says Endres. "We want farmers to start with the best herbicide for their fields to manage weeds like kochia and waterhemp. But we also want them to remember herbicide use could negatively impact future cover crop establishment."
The three-year research project, funded by the North Dakota Soybean Council, was conducted at the NDSU research sites near Fargo and Carrington. Endres and his team tested how well certain cover crops withstand numerous herbicides. The project looked at the risks when cover crops are planted three to four months after herbicide application in soybeans, says Endres.
He and his team planted soybeans in the spring, and applied herbicides in May including the brands Sencor, Spartan, Valor, Zidua, and Pursuit. In June, they applied post-emergent herbicides Engenia, Flexstar, Raptor and Liberty 280. They terminated the soybeans in August and shortly afterward planted winter rye, radish, turnip, field pea, rapeseed, flax and barley cover crops.
During the multi-year study, all cover crops exhibited some level of injury from herbicides. Barley, winter rye and field pea had the greatest tolerance to the herbicides (Table 1).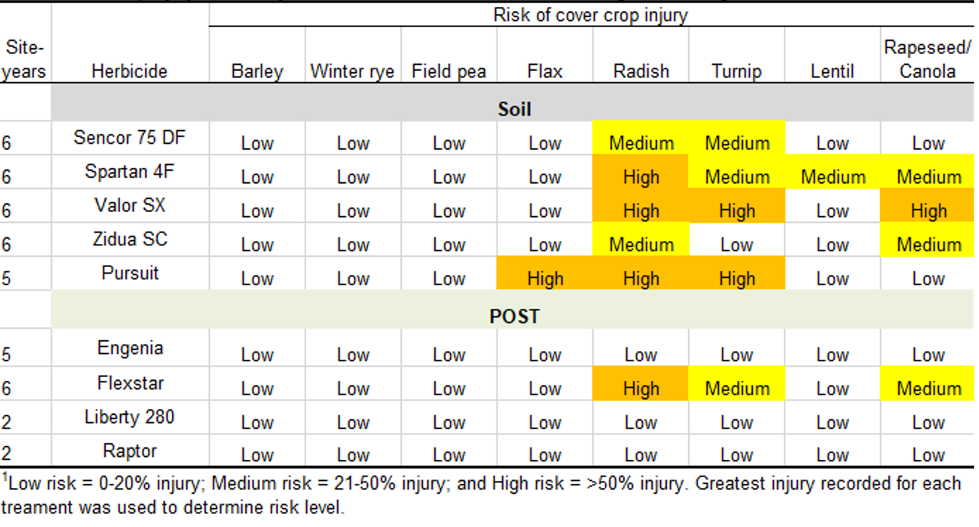 Timing when planting cover crop seed is an important consideration, Endres says. In this project, he terminated soybeans in early August to ensure the cover crops were able to establish, which is the key component of the research.
"When planting cover crops after soybeans there are a couple options," Endres says. "They can be planted after soybean leaf-drop or after soybean harvest, depending on the weather, soybean planting date and the variety of cover crop being used."
After soybean leaf-drop, around R7, cover crop seeds could be flown on, but it should be done before a rainfall event or when the soil surface is moist to get the cover crop established, Endres says. If farmers wait to plant cover crops until after soybean harvest, which could be as early as mid-September in North Dakota, the cover crop will typically have four to six weeks of growth before winter temperatures arrive. Endres says these scenarios were considered when they set up the trials.
The results of this research project are included in the North Dakota Weed Control Guide, published by North Dakota Extension. The 2021 guide can be found here: https://www.ag.ndsu.edu/weeds/weed-control-guides/2021%20nd-weed-control-guide-1/2021-nd-weed-control-guide; the cover crop information in this edition begins on page 105.
Published: Mar 15, 2021
The materials on SRIN were funded with checkoff dollars from United Soybean Board and the North Central Soybean Research Program. To find checkoff funded research related to this research highlight or to see other checkoff research projects, please visit the National Soybean Checkoff Research Database.