Research Highlights

Researchers Across the Country Collaborate for Soybean Seedling Disease Management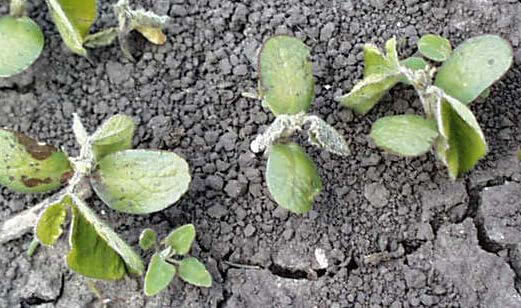 By Carol Brown
Monitoring soybeans for disease symptoms is a full-time endeavor. From the day the seed is planted in the ground and begins to grow, diseases and pests will try to attack it. North Dakota State University plant pathologist Febina Mathew is leading a national research project to learn how to help farmers reduce yield loss from an array of soybean seedling diseases.
"In this project, we're focusing on soybean seedling diseases caused by fungi and fungal-like organisms," explains Mathew. "In the past, agriculture professionals and scientists believed seedling disease was caused by one pathogen — it was one disease. Our research shows there are a number of pathogens coming together creating a disease complex. When we look at management options, we can't target just one type of management, because several organisms are involved."
The fungi that cause seedling diseases are prevalent in every soybean-producing state, and they have a broad range of plant hosts. For example, Fusarium can also infect other crops including corn and wheat; Rhizoctonia can infect dry beans and sugarbeets; and Phomopsis can cause disease in sunflowers, according to Mathew. They can also survive in the soil for years, like all soil-borne pathogens.
This United Soybean Board-funded project is divided by researcher expertise. Scientists at 10 universities are studying the diseases caused by Fusarium, Pythium, Phytophthora, Rhizoctonia, Xylaria andPhomopsis, according to researcher proficiency.
"Each of us involved is directing research efforts toward our organism of interest, then we will put everything together," says Mathew. "We are looking at integrated management practices including seed treatments, host resistance, cover crops and soil amendments in order to learn more about managing these seedling diseases."
Mathew's work with this project focuses on Fusarium causing soybean root rot, which includes screening the USDA Public Germplasm Collection for resistance to Fusarium graminearum. Her team identified that genotypes belonging to Maturity Groups 0 and 1 experienced significantly greater disease severity when infected by F. graminearum than those of MGs 2–5. This possibly has to do with the timing of the fungal infection when soybeans are planted in cool, wet soils, Mathew says. However, there is parental germplasm in MGs 2–5 with resistance to F. graminearum, which could help soybean breeders develop varieties with disease resistance.
Can Cover Crops Help?
A component of the USB project evaluates cover crops as a management strategy since more farmers across the country are using them. Cover crops are environmentally beneficial as they help to reduce soil erosion, improve water infiltration and soil health. But can they decrease the spread of seedling diseases?
Plant pathologist Chris Little, at Kansas State University, is leading a study to determine the effect of cover crops on Fusarium. His work with colleague Gretchen Sassenrath has shown that a mustard cover crop can reduce Macrophomina, the fungus that causes charcoal rot in soybeans. His part of the project is looking at a mix of cover crops, including mustard, to hopefully produce a similar effect on Fusarium.
Alejandro Rojas, a plant pathology assistant professor at the University of Arkansas, is also studying cover crops to reduce Xylaria necrophora, the fungus that causes taproot decline in soybeans. Fungi in this group are commonly nicknamed dead man's fingers because of the shapes they produce on plant debris.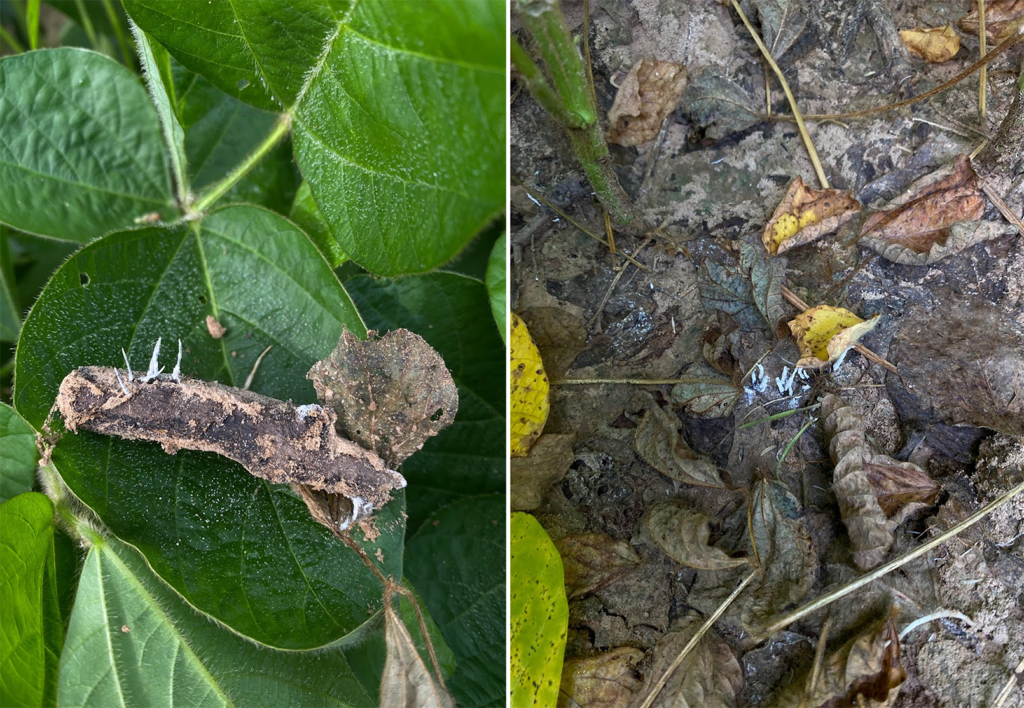 "Xylaria is a fairly new disease in the southern United States. It has been around for about 10 years," Rojas says. "But no one really knew or associated a pathogen with the disease until recently. We are looking at the tools we have in the toolbox to manage this disease, including cover crops."
As cover crops increase soil microbial activity, soil health is increased as well. The theory Rojas and his research team are intending to prove is that cover crops will increase the competition against the pathogen, thereby reducing the pathogen's presence in the soil.
"So far, we found cereal rye was pretty tolerant and it didn't increase the pathogen," he says. "We assume that the cover crop is not impacted, and we expect the pathogen to be reduced because there isn't a host to sustain it. We will continue the study this coming crop season."
Rojas is also looking deeper at how seedling diseases progress in the field. Last year, his team took soil samples on private farmland at various times during the growing season to see how quickly the pathogen colonizes in the roots and how fast symptoms develop in the plants.
"I'm working in collaboration with Terry Spurlock, an extension pathologist at Arkansas. We grid-sampled growers' fields to see where the fungus is more prevalent so we can associate the plant symptoms," says Rojas. "This research is supported by USB as well as the Arkansas Soybean Promotion Board."
Other management studies in this USB-funded project include:
Evaluating the effectiveness of biochar as a soil amendment to control seedling pathogens
An analysis of Rps genes for host resistance against Phytophthora
A comparison of soybean varieties and their tolerance to iron deficiency chlorosis
Assessing seed treatment efficacy against seedling pathogens
Seed Quality Impacts
Another branch of this research project is looking at how seedling diseases impact soybean seed quality.
"Our overall goal is to ensure the quality of the soybean seed. Many of these pathogens are seed-borne, but we aren't clear about how infection happens," notes Mathew. "We need to know how these fungi reach the seeds. Is it seed to seed or through spores in the air? There are some missing points in the biology of seedling pathogens. We are looking at seed treatments as a solution to managing seedling pathogens."
This portion of the research project is in the preliminary stages, Mathew says, as they have been getting the seed treatment trials set up in several states. The teams will conduct these studies in the summer of 2023.
The seedling disease project has been active for several years and led by Jason Bond at Southern Illinois University. Mathew is assuming project coordination following the exceptional leadership Bond supplied. The research project started when she was at South Dakota State University and now she is continuing this research at North Dakota State University.
"Of course, a key component of this work is to communicate our results to farmers and other researchers," Mathew says. "Kiersten Wise, at the University of Kentucky, is heading this portion of the project. For example, the Crop Protection Network hosted a booth at the National Farm Machinery Show in Louisville, Kentucky, February 15-18. More than 20,000 people attended the event and extension personnel interacted with farmers and ag retailers to promote the resources available on soybean seedling diseases."
The group also recently updated the publication, "Fungicide Efficacy for Control of Soybean Seedling Diseases," which can be downloaded from the Crop Protection Network website.
Universities and researchers involved with the USB seedling disease research project:
Southern Illinois University
North Dakota State University
Iowa State University
Michigan State University
Kansas State University
University of Arkansas
Pennsylvania State University
University of Wisconsin-Madison
University of Kentucky
Ontario Ministry of Agriculture, Food and Rural Affairs
Other Resources
SRIN information page: Seedling Diseases
Crop Protection Network publication: Fungicide Efficacy for Control of Soybean Seedling Diseases (PDF)
To learn more about previous results from the seedling disease research project, go to the National Soybean Checkoff Research Database: https://www.soybeanresearchdata.com/ProjectHistorical.aspx?id=54036
Published: Apr 17, 2023