Research Highlights

Research to Integrate Best Management Practices for Herbicide-Resistant Weeds and Take Action – Multi-State Educational Program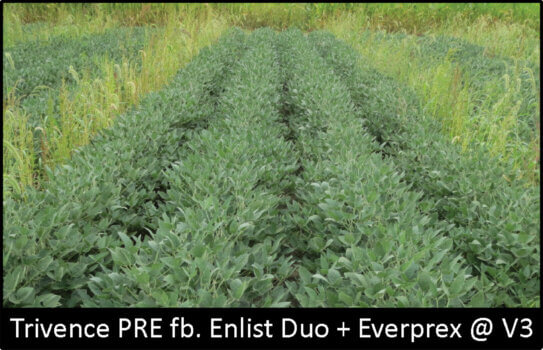 By Dr. William (Bill) Johnson and Dr. Bryan Young, Purdue University
Weeds are present in every field of soybeans grown every year, and the progressive evolution and spread of herbicide-resistant weeds continues to challenge soybean production and grower profitability. The economic impact of herbicide-resistant weeds on soybean production is difficult to quantify, but a conservative estimate is an average increase in herbicide costs by $20 per acre (approximately $1.8 billion total for U.S. soybean production), with local variability from $0 per acre to $60 or more per acre. 
Current soybean production systems are compromised by the evolution of glyphosate (Roundup)-resistant weeds. Over 30 species of weed have now evolved resistance to glyphosate worldwide, 15 of these are found in the U.S. Nine glyphosate-resistant biotypes are major threats to soybean production because they are resistant to Roundup as well as other herbicides, and at more than one herbicide site of action. No new herbicide sites of action have been introduced since the early 1990s, and new herbicides are unlikely to appear because of the relative safety of glyphosate and because of recent consolidations in the agriculture industry. Furthermore, the effectiveness of these herbicides in the past has diminished the value of managing weed escapes, so many weed management practices were reduced. 
Despite evidence of higher grower awareness of herbicide-resistant weeds, the number of areas infested is increasing at an alarming rate. For example, Palmer amaranth first started showing signs of herbicide resistance in the late 1980s. The weed showed confirmed resistance to glyphosate in 2006 in Macon County, Georgia. Since then, glyphosate-resistant Palmer amaranth, which can produce more than 600,000 seeds per female plant, has spread across 13 states. There continues to be a need to understand and communicate to growers the impact of herbicide-resistant weeds, best practices for and diversification of weed management, and proper management of new soybean herbicide-resistance traits to slow the inevitable evolution of resistant weeds.
This dual project was funded for $659,000 in 2019 to refine non-chemical weed management strategies that could be integrated into regional best management practices (BMPs) for weed control, with an additional $314,153 to disseminate this information to growers through the Take Action workshops and educational materials.
The herbicide-resistant waterhemp and Palmer amaranth plants that escape management have been a research focus for several years. Up to 15% of the weed seeds that drop to the soil surface remain viable after 12 months in a no-till system, and up to 20% remained viable when seeds were buried to simulate tillage. Whether on the surface or buried in the soil, about 5% of the weed seed was still viable after three years. A 95% loss of seed mortality is good, but a single herbicide-resistant plant can produce hundreds of thousands of seeds, leaving tens of thousands of potential herbicide-resistant seeds after three years. Management to prevent weed seed production should be practiced, either manually, through hand-weeding or by other methods. About 99% of the seed on waterhemp and Palmer amaranth plants does not shatter from the plant through soybean maturity, which allows the entire end of the growing season to be used to manage weed escapes and devitalize seeds.
One new strategy that was investigated in 2019 was the use of a mechanical mill attached to the back of the combine, to process the chaff and destroy the weed seed. Mechanical mills from Integrated Harrington Seed Destructor and Seed Destroyer were installed on commercial combines and evaluated, but the results have been inconsistent. This may have been due to the moisture of weed and soybean plants when harvested prior to a killing frost, making the chaff difficult to feed through the mills and reducing the efficiency of the mill. Further adaptations are being evaluated, but the technology is not currently ready for broad grower adoption.
The results of this and other research have been shared through outreach and extension meeting presentations and a webinar, and incorporated into materials produced by the Take Action weed initiative.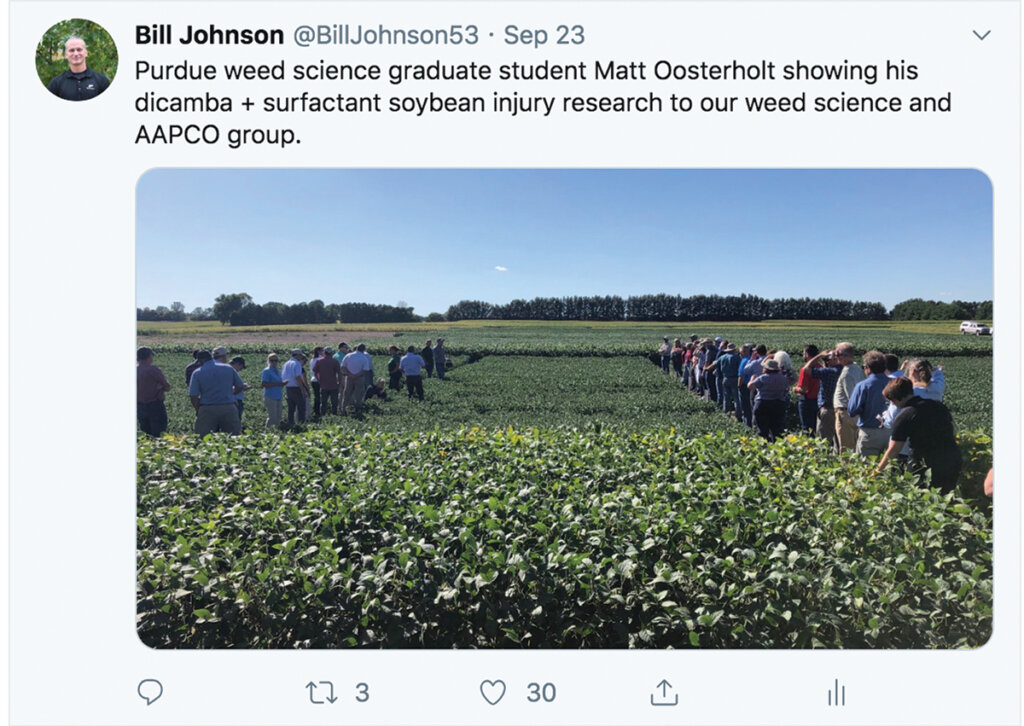 Take Action, the multi-state education project, began six years ago to inform growers about BMPs for new soybean herbicide-resistance traits. Most of the early work focused on workshops and development of training materials for control of herbicide-resistant weeds in Roundup Ready and non-GMO soybeans. Several hundred meetings, workshops and field days were conducted during the first six years of the project, and over 500,000 copies of printed materials were distributed. These materials were designed to provide structured guidance on how to control herbicide-resistant weeds to the individuals who participated in those events.
During the course of this multi-year effort:
Over 100 meetings and field days have been held each year, across the nine participating states 
Over 30,000 farmers have been instructed annually 
Over 40,000 copies of the educational publications have been distributed each year
An average of 10 new training videos have been produced each year
Over 30% of the growers surveyed through these outreach efforts have adopted revised management strategies for herbicide-resistant weeds as a direct result of these educational efforts. 
Because of the rapid expansion of acres infested with glyphosate-resistant weeds, utilization of LibertyLink and Xtend soybeans has grown, and cover crop adoption has expanded. Thus, the emphasis of this project has shifted toward education and demonstration, using these technologies to control weeds. However, as new information is obtained about application technologies to keep herbicides from moving off-target, the use of diverse cover crops as a weed control tool and other topics, such as the need for education, will continue. In addition, regulatory changes, such as the recent approval of Enlist soybean and additional herbicide-resistant soybean varieties for commercial growth, will bring additional educational requirements.
In order to utilize effective strategies for control of herbicide-resistant weeds, growers need to understand BMPs, and how they change over time as weeds evolve. This two-part project is addressing both sides of the issue, thus prolonging the utility of herbicides and benefitting soybean growers nationwide.
Published: May 14, 2020
The materials on SRIN were funded with checkoff dollars from United Soybean Board and the North Central Soybean Research Program. To find checkoff funded research related to this research highlight or to see other checkoff research projects, please visit the National Soybean Checkoff Research Database.