Research Highlights

Research Partnership Builds Conservation Implementation Capacity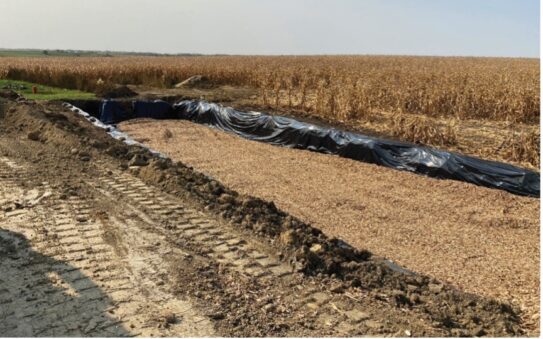 By Laura Temple
Every management practice soybean farmers incorporate into an operation leads to opportunities to build on that practice and continuously improve.
The Iowa Soybean Association's Research Center for Farming Innovation (RCFI) has experienced similar opportunities in a partnership with Walton Family Foundation, an organization that shares RCFI goals and leverages checkoff investments.
"Our partnership with the Walton Family Foundation goes back more than a decade," says Todd Sutphin, Iowa Soybean Association RCFI senior research program manager and field services team lead. "We started with a single water quality research project. What we learned served as a catalyst for more research, as well as efforts to help farmers implement research results."
Beginning with Bioreactors
Sutphin says the first project funded by this partnership focused on the potential for bioreactors as an edge-of-field practice to improve water quality leaving fields. Bioreactors are shallow trenches filled with woodchips that intercept water leaving fields, often from drainage tiles, and rely on biological activity to remove nitrates.
"At the time, the Iowa Soybean Association was also partnering with Agriculture's Clean Water Alliance and the Sand County Foundation," he says. "We leveraged a Walton Family Foundation grant for this partnership to install bioreactors. At the time, it was innovative, frontier work on edge-of-field practices."
Sutphin explains that the research from this pilot project built a dataset showing the value of bioreactors. The information helped answer questions about how bioreactors improve water quality.
He adds that those results were adopted by the Natural Resources Conservation Service (NRCS), playing a role in making bioreactors eligible for Environmental Quality Incentives Program (EQIP) funding.
Working with Watershed Districts
Building on the bioreactor research project, the partnership grew to later focus on water quality at a larger scale.
"We moved to watershed district planning, allowing us to work one-on-one with farmers in specific watersheds to address water quality protection and improvements," Sutphin says. "We focused on profitable ways to help farmers address issues, and project funding supported education and implementation."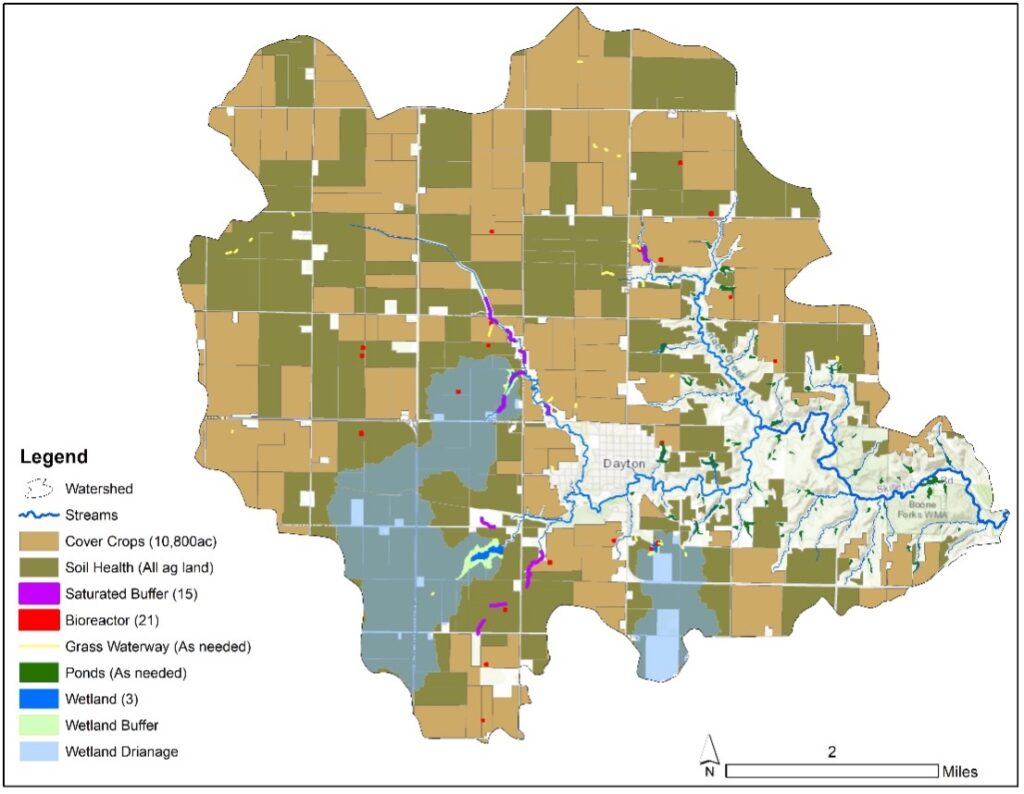 Involvement in watershed planning allowed the Iowa Soybean Association to research and provide education and tools for farmers to implement a variety of practices. Sutphin's team addressed practices like bioreactors and buffers at the edge of fields, as well as conservation tillage, nutrient management and cover crops in fields.
"Together, we encouraged adoption of sustainable practices to help farmers improve voluntarily," he adds. "And, the Walton Family Foundation saw the value of planning for larger areas."
This experience eventually led to the partnership funding the development of RCFI's regional conservation roadmaps, which guide research investments and priorities for farmers in different parts of Iowa.
Accelerating Cover Crop Adoption
Sutphin says that the Walton Family Foundation continues to be involved in a wide variety of RCFI projects. The scope, scale and creativity of these projects have grown with the partnership. He cites the current cover crop accelerator project as an example.
"In Iowa, we have a target for acres of cover crops," he explains. "We are just starting to scratch the surface of the potential for this practice to improve soil, water and crop quality. The question we asked with the Walton Family Foundation was what can we do to ramp up the adoption of cover crops?"
The partnership came up with a creative answer: By developing businesses that can support large-scale adoption of cover crops.
"We need businesses providing cover crop seed, equipment modifications and support for farmers as they adopt cover crops on their farms," Sutphin continues. "We are providing business planning support, incentives for equipment purchases, consulting services and more to help interested individuals build cover crop businesses."
Sutphin believes these new businesses will effectively accelerate the adoption of cover crops, while supporting economic development in rural areas. The initial program rollout was more successful than anticipated. And it's just one example of the ways RCFI currently works with the Walton Family Foundation.
"This all started with our bioreactor research project," he says. "That partnership has led to many opportunities to multiply the impact of checkoff investments to improve soybean production, profitability and sustainability."
For more information about this project, funded in part by the soy checkoff, visit https://www.iasoybeans.com/research/about-rcfi.
Published: Jun 20, 2022