Research Highlights

Reducing Green Color in Soybeans is Important for Grain Quality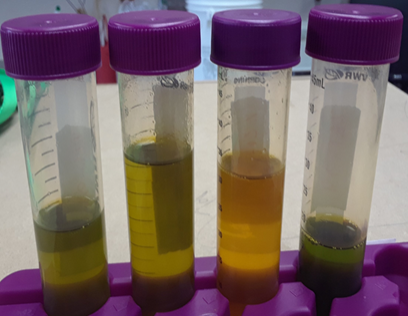 By Carol Brown
Green beans are a popular vegetable dish on many dinner tables, but there are times when certain green beans are not desirable. When soybeans haven't reached their full maturity by harvest time, often the beans are still green colored, which isn't good for bean quality or for sales.
"Color is important," says Kenneth Hellevang, an agriculture and biosystems engineering professor at North Dakota State University. "The green color in a soybean indicates chlorophyll is in the bean. Extracting the chlorophyll is an additional process that has to be done, which ends up being an additional cost for the end user."
The chlorophyll, if not removed, stays in the soybean oil giving it a green tint, which impacts quality, says Hellevang. He is conducting research to learn the best options for reducing chlorophyll levels in the soybean after they are harvested and what happens to these green beans during storage. The North Dakota Soybean Council is supporting this research.
"In North Dakota and other northern regions, it is not uncommon for soybeans to see frost before they reach full maturity. We end up with green soybeans, typically at the R6 or R7 stage," he says. "We measured soybean condition over several months of different storage environments, looking at color, moisture, and free fatty acid levels."
Hellevang found one factor that made a difference — exposure to light. His research included storing beans at different moisture content levels, drying the beans and putting lights in some of the storage chambers.
"We saw some color change in just drying the beans, but they still had high chlorophyll content. It didn't seem to matter whether they were aerated or not and moisture content didn't make a difference on color change," Hellevang says. "In the storage chambers with the replicated sunlight, we saw a change in the chlorophyll levels and bean color."

In the second year of the research project Hellevang planted the soybeans at different dates and killed them at R6 and R7 stages. He then left them in the field as a farmer might do. Some research plots experienced nice weather conditions and others had Mother Nature step in to help with the weather variables, exposing some soybeans to frost and snow. All the plots were harvested and put into storage after being conditioned to 12 and 17 percent moisture levels. The soybeans under good weather conditions had significant fading of the green color in the field as opposed to the beans exposed to snow and freezing temperatures.
"I think farmers are better off leaving the soybeans in the field as long as possible, even after a killing frost," Hellevang says. "Many times, after that frost the weather turns around and the beans do dry down. It's better to get the green color reduced in the field, rather than expecting much change to occur in storage."
He is currently researching soybean "allowable storage time," which has been done extensively in corn but not as much in soybeans. The warmer the temperature, the drier the grain must be for the least deterioration, is the basic formula for allowable storage time.
"When farmers ended up with a huge amount of soybeans and no market, I was receiving a lot of phone calls about soybean storage," he says. "I'm now conducting a long-term study on the allowable storage time for soybeans."
He and his research team are looking at how long soybeans can be stored before there is a quality loss, looking at parameters including germination, microbial growth on the soybean, and oil quality. They are storing beans at different moisture content levels, different temperatures and monitoring both the starch and oil of the soybeans. The North Dakota Soybean Council is supporting this study as well.
Hellevang developed a table for approximate allowable storage time for soybeans, which is what he is working to refine: https://www.ag.ndsu.edu/graindrying/documents/Allowable%20Storage%20Time%20Soybeans.pdf
He offers more soybean drying storage advice here: https://www.ag.ndsu.edu/extension-aben/documents/NDSU%20Offers%20Soybean%20Drying.pdf
Published: May 17, 2021
The materials on SRIN were funded with checkoff dollars from United Soybean Board and the North Central Soybean Research Program. To find checkoff funded research related to this research highlight or to see other checkoff research projects, please visit the National Soybean Checkoff Research Database.