Research Highlights

Proactive SCN Monitoring and Management
By Laura Temple
According to soil sampling, soybean cyst nematodes, or SCN, can be found in most soybean-producing counties throughout the United States — except in Pennsylvania.
Soil samples from Lancaster County, Pennsylvania, found SCN in 2002, but it hadn't been confirmed elsewhere. Adriana Murillo-Williams, agronomy extension educator for Penn State Extension, suspected that data alone may not tell the whole story of SCN pressure in Pennsylvania soils.
"I believe the real story in Pennsylvania is likely similar to New York state," she says. "In 2016, SCN was confirmed in just one county in New York. By 2020, soil samples confirmed the presence of SCN in 30 counties."
Murillo-Willams is part of the team that turned to the Pennsylvania Soybean On-Farm Network, which is funded by checkoff investments from the Pennsylvania Soybean Board, to learn more.
An initial awareness survey found that over 80% of Pennsylvania farmers, crop consultants and agronomists had not tested their soil for SCN. Because of that, the state began offering free soil testing for SCN in 2019, with support from the Pennsylvania Soybean Board and the SCN Coalition.
Soil Sample Collection
Through 2022, more than 500 soil samples have been collected from 45 counties in Pennsylvania. Some samples came from Pennsylvania Soybean On-Farm Network fields. Others came from farmers, crop consultants and agronomists across the state.
Farmer responses were slower than anticipated, so the team developed an educational program alongside the free soil tests. Soy checkoff funds from the United Soybean Board supported the development of sampling instructions, articles, brochures and other educational materials now available to farmers.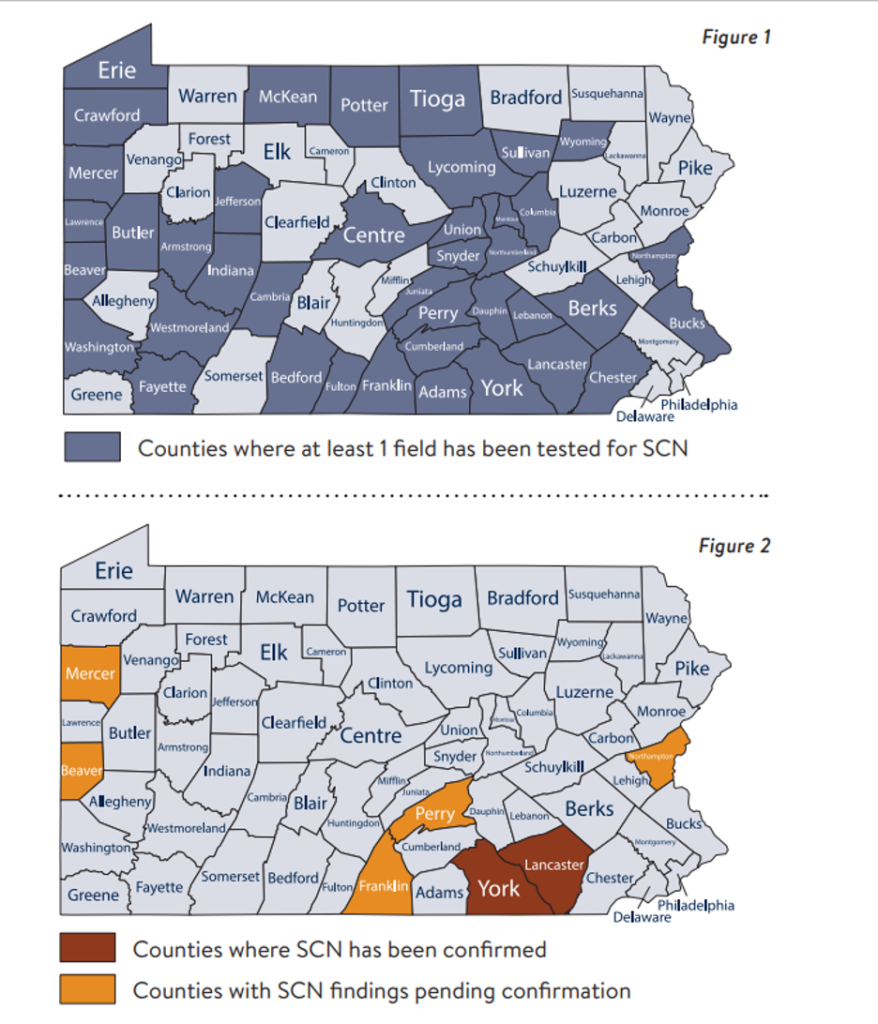 "SCN is probably widespread in Pennsylvania, but farmers are not aware of it," Murillo-Willams says. "It can be in the soil for years with zero visible symptoms, but it can already be a problem. Farmers need to know what they have in their fields."
She notes that SCN distribution is highly variable across fields. To get representative field samples, the team recommends that farmers or agronomists get one sample per 20 acres, depending on the field topography. One sample is comprised of about 20 soil cores. A sample for each 20 acres should be obtained as follows.
Pull soil cores in a zig-zag pattern throughout those 20 acres.
Dig each core 6 to 8 inches deep. Soil cores can be pulled with a soil probe or dug with a shovel or trowel.
Mix the 20 soil cores together well.
Measure out 2 pints from that mixture for analysis.
Store samples in a cool, dry place out of direct sun and heat, but do not freeze them.
"When our tests detect SCN, the Pennsylvania Department of Agriculture will run separate tests to confirm the findings," Murillo-Williams explains. "So far, SCN has been confirmed in Lancaster and York counties, which grow the most soybeans in the state. SCN confirmation is pending in at least four additional counties."
Low-Level SCN Management Recommendations
Murillo-Williams says that the positive SCN tests show low levels of SCN, with less than 500 eggs per sample.
"Regardless of low levels, we encourage farmers to proactively manage SCN," she says. "We don't yet have enough information to tailor SCN recommendations to Pennsylvania soil types, but once it's there, it is reproducing."
Primary recommendations include rotating to non-host crops, planting SCN-resistant varieties and rotating the source of that genetic resistance. Murillo-Williams adds that any equipment that moves the soil can spread SCN between fields.
"Once fields have SCN, it's impossible to get rid of it," she explains. "Cysts are structures that are dead female bodies containing eggs. They can persist in the soil for years while the eggs inside remain viable."
Another SCN survey is tentatively planned to be conducted about five years after the initial survey from the beginning of this work. Murillo-Williams hopes to see increasing levels of awareness about SCN among Pennsylvania soybean farmers and willingness to take advantage of the free soil testing program.
Additional Resources:
Soybean cyst nematode information: https://soybeanresearchinfo.com/soybean-disease/soybean-cyst-nematode-scn/
Other SRIN Resources: https://soybeanresearchinfo.com/?s=SCN
How Are You Addressing Nematode Pressure? (YouTube video playlist)
How to sample soil for SCN (YouTube video)
Adriana Murillo-Williams researcher profile
Published: Jan 9, 2023
The materials on SRIN were funded with checkoff dollars from United Soybean Board and the North Central Soybean Research Program. To find checkoff funded research related to this research highlight or to see other checkoff research projects, please visit the National Soybean Checkoff Research Database.