Research Highlights

New Map Charts the Distribution of Southern Root-knot Nematode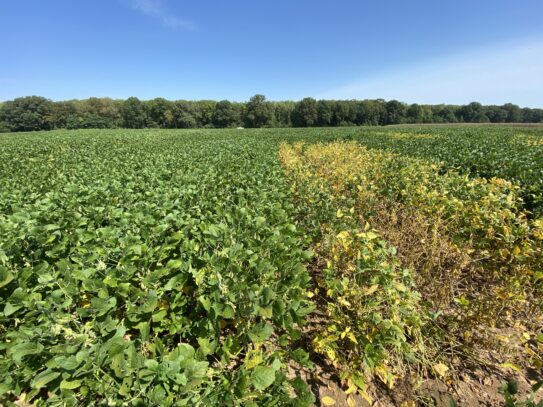 By the SCN Coalition
Southern root-knot (SRK) nematode is a major problem for Southern soybean farmers. In fact, researchers ranked it as the No. 2 threat to the southern soybean crop in 2022, costing farmers more than 13 million bushels that year.1
In an effort to increase awareness about the pest, researchers have, for the first time, mapped the distribution of SRK in field crops (any field that might someday rotate to soybeans) by county across the continental United States.
The first step to active management is knowing what you have, The SCN Coalition emphasizes, which has expanded its educational outreach to other parasitic nematodes soybean farmers face. This mapping is a starting place for farmers and their crop advisors.
Generating Awareness About SRK
"We're always trying to raise awareness about SRK. This is a visual way to do so," explains Travis Faske, plant pathologist at the University of Arkansas System Division of Agriculture and a major player with the mapping and the related report. "The map gives the farmer or the agronomist a better idea whether SRK is a threat in their area, aiding early detection."
SRK survives in areas where the average temperature during the coldest month of the year tops 37 degrees Fahrenheit. Faske says changes in cropping systems (like limited rotation or rotation with corn, a susceptible crop), healthier soybean plants, planting of earlier-maturing, more susceptible soybean varieties, and shortened winter rest periods due to earlier planting have fueled its spread in recent decades. Consequently, farmer awareness is more important than ever.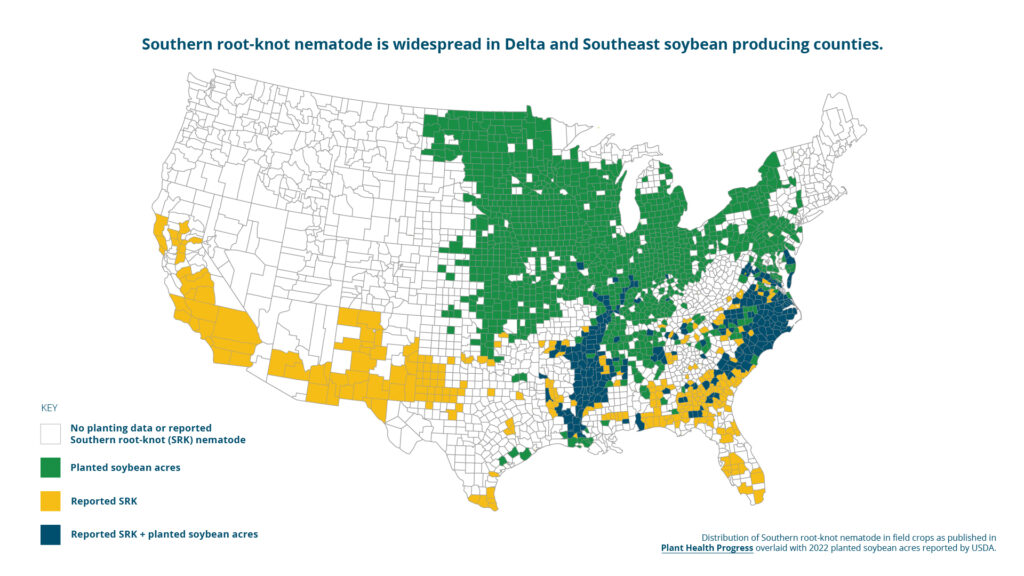 The map can help farmers determine whether they should be on guard against SRK. "By the time you have plants dying, I don't have many options for farmers other than resistance," Faske explains. "Knowing what nematode threat farmers have early is critical. From there, they can come up with a plan."
A Plan of Defense
For the past six years, Faske has conducted field trials to determine what soybean varieties are susceptible or have a level of resistance to SRK. Results from the 2023 crop trials will be published later this year. "There are a few soybean varieties available that offer resistance to SRK," he says. "Seed-applied nematicides are also popular.
"A farmer focused solely on SRK management should bypass a cover crop, since most are hosts for SRK, with some less suitable hosts than others," he says. "If you can, plant peanuts, which are not a host, two years in a row if the field has a high SRK infestation. Next plant an SRK-resistant cotton variety and then return to soybeans."
Faske also recommends growing a later-maturing Group 5 soybean variety rather than a Group 4 for farmers with heavy SRK pressure.
While peanuts are one of the few non-host crops for SRK, Faske acknowledges they aren't an option for everyone.
"Arkansas' silt loam soil doesn't drain well, which is problematic for peanuts," he says. "Peanuts are also a much slower crop to harvest. And of course, proximity to a market also comes into play."
Additionally, weed control is extremely important when managing SRK.
"Just about any weed can sustain a small population of SRK," Faske points out. "Farmers can manage for SRK. They just have to adjust their production system to be able to accommodate it."
Check out The SCN Coalition's Arkansas video series for more SRK management tips.
Additional Resources
Arkansas Research Arms Soybean Farmers Against Southern Root-Knot Nematodes – SRIN article
Understanding Nematode Populations is Key to Selecting Resistant Varieties – SRIN article
Crop Protection Network. Soybean Disease Loss Estimates from the United States and Ontario, Canada – 2022. May 3, 2023. CPN-1018-22. doi: doi.org/10.31274/cpn-20230421-1. https://cropprotectionnetwork.org/publications/soybean-disease-loss-estimates-from-the-united-states-and-ontario-canada-2022. Retrieved July 19, 2023.
Published: Oct 2, 2023