Research Highlights

Nebraska Research is Gathering Data on Newest Soybean Pest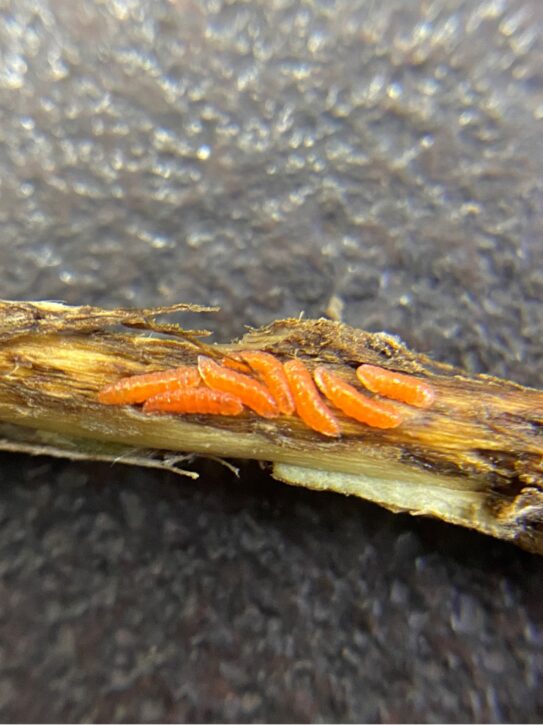 By Sarah Hill
It's not every day that a new soybean pest breaks onto the scene, but in the last five years, the soybean gall midge has established itself as the newest pest for soybean growers to worry about. Spreading over Iowa, Minnesota, Missouri, Nebraska, and South Dakota, the soybean gall midge can kill plants as early as the V5 stage. The Nebraska Soybean Board is funding research at the University of Nebraska-Lincoln to track which counties in the state have soybean gall midge infestations and the severity of those infestations.
About the Soybean Gall Midge
Soybean gall midge larvae start off white and turn orange by creating carotenoids—a little trick they gained by stealing genes from fungi, according to Justin McMechan, Assistant Professor and Crop Protection and Cropping Systems Specialist at the University of Nebraska-Lincoln. He is leading the project to track and study these infestations.
"The soybean gall midge works by attaching to the base of the soybean plant stem, cutting off water and nutrients coming up from the soil and killing the plant," says McMechan. "It's a really tough insect to control. It's a new species, and soybean growers have tried everything—pesticides, chemicals, seed treatments, foliar treatments, in-furrow, liquid at-plant, and only a few have shown any efficacy."
Thimet 20G is a granular treatment applied at planting. It has shown consistent results against soybean gall midge, but it's not easy for growers to apply and is highly toxic to humans.
"Another tactic that works well—but that soybean growers don't especially like—is to delay planting until late May or early June," McMechan says. "Planting that much later tends to help soybeans escape significant overwintering infestations of soybean gall midge, but it's risky to wait that long."
Planting dates in early to mid-May mean that soybean plants are at the V2-V3 stage in June, right when soybean gall midge emerges. At the V2-V3 stage, soybean plants produce fissures in the bottom of their stem, which are where the soybean gall midge lays its eggs.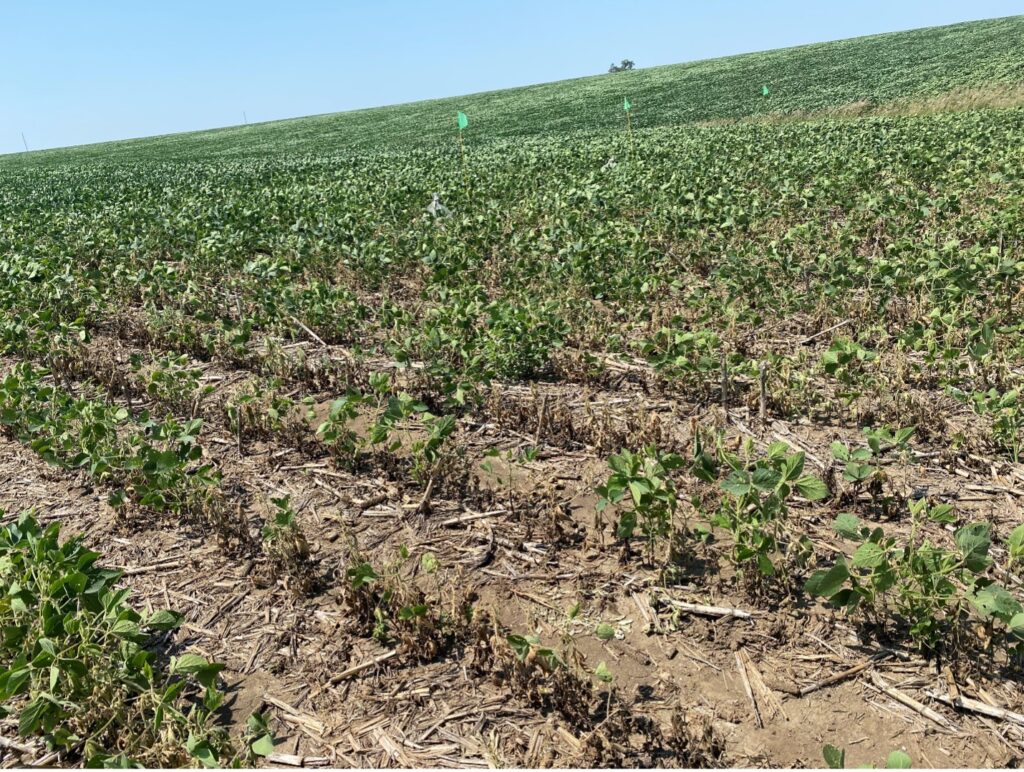 "If soybean plants are early, they can handle more injury from soybean gall midge, but there is a risk carrying over a large population for the next year," adds McMechan.
The origin of the soybean gall midge is unknown, and that is one question this research is trying to answer.
"The soybean gall midge isn't found anywhere else in the world, and it's only been found on one family of plants that includes soybeans," McMechan says. "We know sweet clover and alfalfa are also hosts for soybean gall midge."
"Bruce Potter from the University of Minnesota found soybean gall midge on dry beans, which is very scary for a lot of people," McMechan adds. "However, pest populations were low on dry beans."
If soybean gall midge were to be found in Illinois, McMechan says it would quickly change the picture in terms of its threat to soybeans. There was worry after the 2020 derecho in Iowa that soybean gall midge adults might have been carried by the storm.
The North Central Soybean Research Program (NCSRP) has funded survey work in Illinois and surrounding states to identify the current distribution of the soybean gall midge. Knowledge gained through the Nebraska Soybean Board-funded field survey has helped those researchers pinpoint areas at high risk of soybean gall midge infestations.
"Soybean gall midge adults can live for three days," McMechan says. "If it got moved by a storm, it would take farmers a couple of years before they'd find it."
"We seem to pick up the pest in a new county each year," McMechan notes. Some counties have maintained lower populations of soybean gall midge, while some counties are repeatedly hit each year. However, pest populations can fluctuate, even on a single grower's property.
"This survey is looking to determine why that is," he says. "We want to evaluate the biggest factors in the landscape and the areas of greatest risk. For example, if a late-season hailstorm comes through, will that elevate soybean gall midge populations?"
McMechan says that wet weather appears to be a trigger for soybean gall midge, but it's difficult to distinguish between wet conditions caused by natural rainfall versus irrigation.
"We've seen an increase in adult emergence with additional water," he says. 'We've also noticed that additional water can help soybean plants survive, even with significant soybean gall midge feeding. It's a weird dynamic."
Digging into the Research
Field surveys always start in the western part of Nebraska and work back east, into more high-pressure areas. Some Nebraska counties have a known history of infestations, so McMechan's team is going to identify if the pest has moved into any neighboring counties.
The research team will take plant samples from the first 50 feet near the edge of soybean fields, where soybean gall midge is most prevalent. They will assess three samples spaced at least 50 feet apart. If soybean gall midge is detected in any samples, the sample taker will walk another 50 feet and take another sample to determine injury and infestation severity.
The team will sample plants during late July to early August, when soybean gall midge larval populations are at their peak. McMechan says that if larvae are detected in a soybean field, the grower will start to see dead soybean plants within one to two weeks. By mid-July, the damage is done, so the soybean grower has to decide what to do about any dead spots in their field. One possibility might be planting cover crops in those areas.
The soybean gall midge larvae collected during the survey will undergo DNA sequencing, as there is currently no information available on genetic variability in the pests. The information will help determine the presence of different soybean gall midge biotypes—if any exist.
"We suspect that Janet Knodel, an extension entomologist, has found the pest in North Dakota, but it's hard to match without knowing the pest's genetic variability," McMechan says. "We need to know how diverse the population is."
Knowing the genetic variability of soybean gall midge becomes critical if the pest ever develops resistance or if soybean growers seek to identify soybean varieties resistant to the pest.
Other Resources
Soybean Gall Midge – SRIN information page
Studying the Cold-hardiness of the Soybean Gall Midge – SRIN article
Identifying Soybean Gall Midge Management Opportunities – SRIN article
Getting a Grip on Soybean Gall Midge – SRIN fact sheet
Published: Sep 11, 2023
The materials on SRIN were funded with checkoff dollars from United Soybean Board and the North Central Soybean Research Program. To find checkoff funded research related to this research highlight or to see other checkoff research projects, please visit the National Soybean Checkoff Research Database.