Research Highlights

NCSRP Continues to Model Long-Term Research Success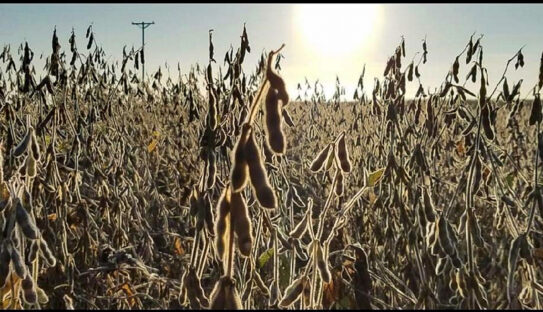 By Barb Baylor Anderson
The North Central Soybean Research Program (NCSRP) has found its recipe for success. Since 1992, NCSRP has championed broader collaborations proven to move more quickly and effectively in providing farmers with a solid return on their checkoff investments. NCSRP has funded $56 million in soybean research, building the partnerships needed to deliver results.
"NCSRP-funded research is the best return on investment for soybean farmer checkoff money spent in that area," confirms Suzanne Shirbroun, Farmersburg, Iowa, soybean farmer and NCSRP vice president. "Teams collaborate across universities and disciplines to use the money efficiently. When researchers work together, there is a synergy that adds value to the research results available for farmers to enhance their soybean production."
NCSRP Director Heather Beaner, a soybean farmer from Millette, South Dakota, agrees. "Research supported by NCSRP ensures major soybean producing states are not duplicating projects and makes the entire research industry more resourceful. Farmers can know a portion of their checkoff dollars are streamlined into funding avenues that directly yield crucial seed development, pest management and fertility answers applicable across the entire region."
In addition to practical management advice for farmers and partnerships across state lines, checkoff funding magnifies proof-of-concept and preliminary research that enables researchers to successfully obtain highly competitive grants and company contracts to further their studies. Investments also help train the next generation of scientists, farmers, innovators and leaders, while ensuring data and information are communicated to farmers and others within the industry.
The NCSRP draws its funding from 13 state checkoff boards: North and South Dakota, Nebraska, Kansas, Minnesota, Iowa, Missouri, Wisconsin, Illinois, Indiana, Michigan, Ohio and Pennsylvania. Farmer leaders, state staff and funded researchers work together to prioritize, monitor and communicate the basic and applied science efforts on behalf of more than 400,000 soybean farmers in the region, representing more than 85 percent of the nation's soybean production.
"As a soybean farmer, I have utilized the results of NCSRP-funded research as found on the Soybean Research and Information Network (SRIN) website (soybeanresearchinfo.com)," says Beaner. "I see how these projects interface with research being conducted at my local level."
While research is verified in the North Central region, soybean farmers in other production areas and industry benefit from NCSRP work. Most are large, multifaceted, multidiscipline, multistate research, teaching and outreach programs that encompass several objectives.
For example, sustained checkoff investment in breeding soybeans for genetic gain and quality improvement is focused on increasing annual soybean yield gains from 0.45 bushels per acre per year to 1.7 bushels per acre per year while boosting soybean protein and quality attributes. Such efforts tie in with NCSRP goals to advance discovery, development and outreach on high priority challenges that impact soybean production to ensure profitability, quality and sustainability.
Some of the current general project areas include:
Improving soybean agronomics and production through on-farm research
Taking multifaceted approaches to enhancing genetic gain
Increasing yield and soybean seed quality and composition
Exploring gene editing and mechanical weed seed destruction technologies
Characterizing and managing significant soybean diseases, insect pests and weeds like soybean cyst nematode, sudden death syndrome, white mold, soybean gall midge, aphids, stink bugs, Dectes stem borer and herbicide-resistant weeds.
"As soybean uses diversify and increase worldwide, we need to make sure we can supply our customers with a reliable, economic, high-quality product that meets all of their needs," says Shirbroun. "Soybean production research is the base we need to accomplish this."
Learn more about NCSRP's projects in the NCSRP 2021 Annual Report.
Published: Mar 21, 2022