Research Highlights

Monitoring Diseases and Fungicide Sensitivity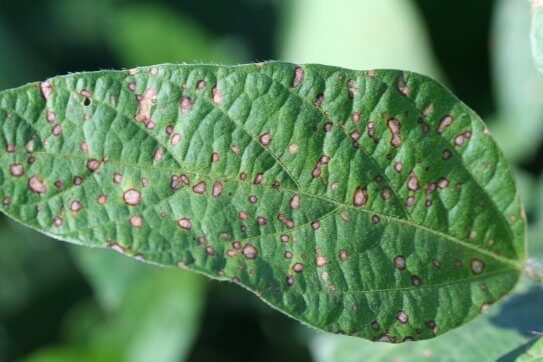 By Laura Temple
Soybean farmers rely on a combination of cultural practices, variety resistance and fungicides to manage diseases. Heather Kelly, professor and Extension specialist with the University of Tennessee Institute of Agriculture, leads research to provide farmers the information they need to effectively use these tools.
"We've developed and adapted our sentinel plot program to monitor soybean diseases and the pathogens' sensitivity to common fungicides," she says. "We also screen soybean varieties to understand their levels of disease resistance and fungicide efficacy to equip farmers to make sound management decisions."
The Tennessee Soybean Promotion Board invests checkoff dollars in supporting Kelly's research. Each year, she works with county Extension agents and farmers to monitor 10 to 12 sentinel plots in farmers' fields for disease and insect pressure. These sentinel plots serve as indicators of the development and spread of pest problems.
Some plots carry over from year to year, with most located in central and western Tennessee. County agents monitor marked off areas of soybean fields at least weekly from the R1 through the R7 growth stages. The plots are left untreated throughout the season so there is no selection pressure for diseases or insects, resulting in useful baseline pest data.
"In season, we focus on monitoring foliar diseases like frogeye leaf spot, Septoria brown spot and target spot," Kelly explains. "For nearly a decade, I've worked closely with entomologists, so we monitor for invasive insects in plots as well. Past monitoring has been instrumental in helping us understand pressure from invasive species like brown marmorated stink bug and kudzu bug."
Fungicide Resistance
County agents regularly take samples of the foliar disease found in the sentinel plots and send them to Kelly's lab for fungicide sensitivity testing. Once pathogen strains with resistance to a class of fungicide develop, that resistance tends to stay in the population, even without selection pressure.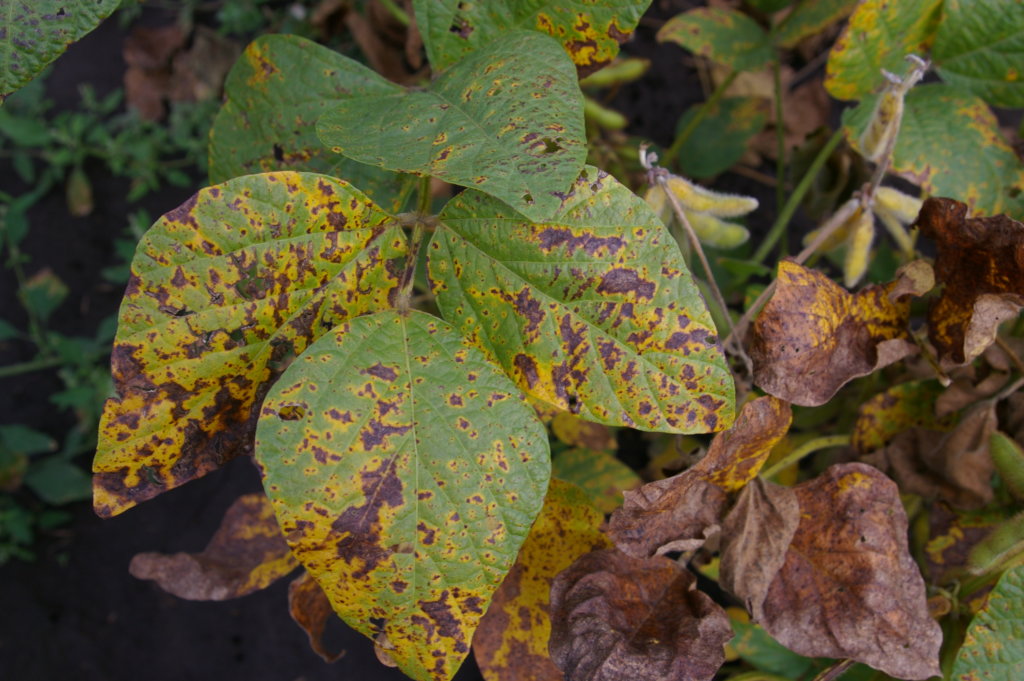 "Our focus has been monitoring frogeye leaf spot for resistance to the QoI fungicides, or strobilurins, and we are currently focusing on the DMI fungicides, or triazole class of active ingredients," Kelly says. "We coordinate with other states to understand the development of resistance to help farmers know what fungicides may no longer effectively protect soybeans."
For example, her team has reported areas where no fungicides have been applied, but frogeye leaf spot is still resistant to the QoI fungicide class.
Additionally, these plots have monitored target spot resistance to QoI fungicides, using both soybean and cotton sentinel plots. Kelly reported that the target spot pathogen populations on soybeans had QoI resistance, although very low. The pathogen population in cotton remained sensitive to the fungicide class.
Kelly's team also provided samples of Septoria brown spot to colleagues in Kentucky who are leading fungicide sensitivity monitoring of this disease for the region. Analysis of these samples revealed high levels of QoI resistance.
Variety Screening
Kelly also screens soybean varieties submitted to the state's variety testing program. She provides disease ratings based on variety performance in both treated and untreated plots under high, moderate and low disease pressure situations.
She tests the efficacy of different fungicides across soybean cultivars with varying levels of genetic disease resistance, as well.
"This data captures both variety susceptibility to diseases and any variety-specific yield response from a fungicide application," she says. "It also verifies fungicide effectiveness for disease management."
Management Tools
Both the sentinel plots and variety screening process provide data that is analyzed and reported to help farmers select soybean varieties and fungicide treatments that fit their fields. Kelly directs growers to sections of the mobile-friendly www.utcrops.com to access this information. 
"This information helps farmers identify cultural practices, soybean cultivars and fungicides that can effectively protect against soybean diseases in their fields," Kelly says. "They need all these tools. Loss of any tool increases reliance on the others, and increased dependence on a specific tool causes it to become less effective more quickly."
She also relies on this data to add to the big-picture perspective on disease patterns year-to-year.
"This is one data source in modeling efforts that helps us better understand long-term disease development and distribution based on growing conditions," she says.
Published: Dec 19, 2022
The materials on SRIN were funded with checkoff dollars from United Soybean Board and the North Central Soybean Research Program. To find checkoff funded research related to this research highlight or to see other checkoff research projects, please visit the National Soybean Checkoff Research Database.