Research Highlights

Minimizing Influenza D Virus Impacts in Soy-Consuming Cattle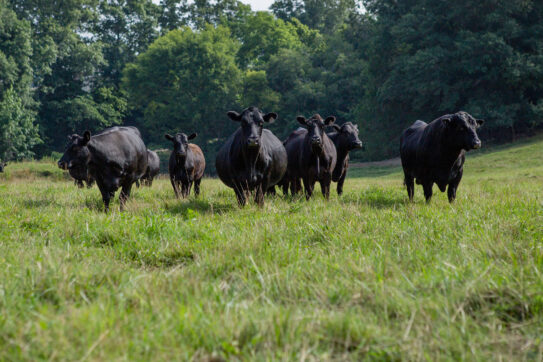 By Barb Baylor Anderson
Bovine respiratory disease (BRD) is the number one disease affecting dairy and beef cattle. A major crisis across the country, BRD accounts for 70-80 percent of feedlot morbidity and 40-50 percent of all cattle mortality. Growing evidence shows newly discovered influenza D viruses (IDVs) play a role in BRD occurrence. Pennsylvania soybean farmers want to know why.
"For each one percent reduction in mortality, an additional 430,000 pounds of soybeans would be consumed per day," says Suresh Kuchipudi, Penn State University clinical professor and associate director for the animal diagnostic lab. "Investing dollars to study cattle diseases helps soybean farmers in Pennsylvania increase market potential and sell more soybeans."
Pennsylvania ranks sixth in U.S. milk production, with 525,000 cows producing more than 10.8 billion pounds of milk annually. More than 25,000 Pennsylvania beef farms raise 1.6 million head of cattle. Together, these animals consume more than 45 million pounds of soybeans a day.
"When we talk about the value of funding research projects, I believe the value is in our return on investment (ROI). Through research projects, we have been able to look at increasing inclusion rates of soy in pig feed, utilizing high oleic soy in dairy feed, and the benefits of soy in poultry feed, all of which help in growing more demand for soy," says John Harrell, Pennsylvania Soybean Promotion Board chairman from Lebanon, Pennsylvania.
Kuchipudi is the principle investigator for the cattle research project funded by the state soybean board. The objective of the study was to target ways to minimize cattle mortality by designing better IDV detection methods and developing prevention strategies like vaccines.
"We aimed to isolate and characterize IDVs to evaluate the prevalence and genetic diversity of these viruses and reduce losses to the cattle industry. The project has led to identification of 35 IDV specimens from Pennsylvania and other states," he says. "In our sampling, we found most IDV was detected in nasal swabs and some lung tissue specimens. This finding will guide future IDV sampling/surveillance efforts in cattle and may be extended to other species."
Kuchipudi believes it is important to proactively assess emerging animal health threats to mitigate potential losses to the animal agriculture industry. Diagnostic methods are offered through the Pennsylvania Animal Diagnostic Laboratory System, and Kuchipudi says the next step is to determine the need for interventions such as vaccines. Once cattle can be routinely screened and protected for disease, soybean farmers will see more value.
Published: Jan 4, 2021
The materials on SRIN were funded with checkoff dollars from United Soybean Board and the North Central Soybean Research Program. To find checkoff funded research related to this research highlight or to see other checkoff research projects, please visit the National Soybean Checkoff Research Database.