Research Highlights

Managing Herbicide Resistance in Non-GMO Soybeans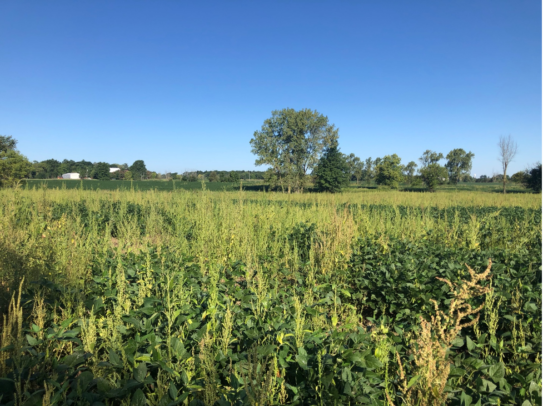 By Barb Baylor Anderson
Herbicide resistance is not only an issue in traited soybean systems, it increasingly is a problem for non-GMO soybean farmers who must implement alternative weed control strategies. That's why herbicide resistance is a priority concern for Ohio farmers.
"Checkoff dollars we invest in plant research help equip farmers with the practices, tools and technologies to defend against yield robbers, while improving the yield potential and quality of our soybeans," says Todd Hesterman, Ohio Soybean Council Research Committee chair and Henry County farmer.
With funding from the Ohio Soybean Council, Mark Loux, a weed specialist at Ohio State University, is investigating herbicide resistance in Ohio waterhemp populations, especially, so that both non-GMO and traited seed farmers can make informed decisions. He also is studying ways to prevent the spread of resistant waterhemp and Palmer amaranth, as well as marestail and giant and common ragweed, which are major issues in non-GMO weed management programs.
"Farmers who incur waterhemp or common ragweed populations with multiple resistance to Group 2 and Group 14 herbicides are essentially out of the non-GMO soybean business," says Loux. "One of the reasons we suggest non-GMO soybeans be planted one year out of four, is so that corn and other types of soybeans can be used to clean up some of these weed issues."
Loux provides several recommendations for Ohio non-GMO soybean farmers to consider:
Plant non-GMO soybeans in fields with a history of several years of crop rotation and effective weed control that has prevented weed seed return and cut weed populations.
Fall herbicide treatments should be used to manage marestail, winter annuals, dandelion and other perennial weeds. Marestail is especially difficult to control in no-till, non-GMO soybeans unless a fall herbicide treatment is used. Apply a mixture of 2,4-D with glyphosate, dicamba, a low rate of Canopy/Cloak EX/DF or another ALS product followed by a spring preplant application of a burndown, plus residual herbicides.
Planting non-GMO beans in fields with waterhemp is not recommended. High frequency of resistance to ALS and PPO inhibitors eliminates postemergence control options. In fields where waterhemp is absent or still sensitive to PPO inhibitors, follow the suggested basic post program and consider the addition of a product containing metolachlor or proxasulfone to provide residual control of waterhemp for several more weeks.
Two post applications are usually necessary for giant ragweed unless the population is very low. Apply fomesafen when giant ragweed are six to 10 inches tall and follow up with Cobra/Phoenix three weeks later. Do not delay the first post application or fail to make the second application even if soybeans are close to canopy closure.
"Anything we do as part of the Ohio Soybean Council-funded project to minimize spread of these resistant weeds and help farmers understand the types of resistances they have will help maintain the viability of non-GMO soybeans in Ohio for the long-term," says Loux.
He suggests future research could explore how long it takes to wear out a seedbank in fields where weed populations with multiple resistance exist so farmers could again plant non-GMO soybeans. For more information, review "Herbicide Programs for non-GMO soybeans" here.
Published: Jan 4, 2021
The materials on SRIN were funded with checkoff dollars from United Soybean Board and the North Central Soybean Research Program. To find checkoff funded research related to this research highlight or to see other checkoff research projects, please visit the National Soybean Checkoff Research Database.