Research Highlights

Making the Blacktop…Green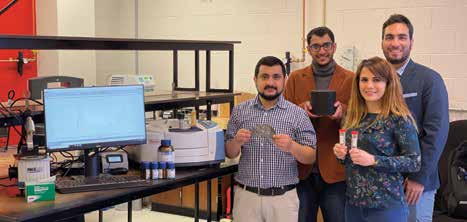 By Thomas Hoxmeier
The Nebraska Soybean Board (NSB) is funding research for using soybean oil as a sustainable recycling agent in asphalt pavements.
Thanks to researchers and engineers at the University of Nebraska–Lincoln (UNL), a possible new use for soybean oil is on the way. The aim of this research study is to evaluate the effect of soybean oil—a locally available, affordable and environmentally friendly recycling agent—on the performance of asphalt pavements containing recycled materials.
Asphalt recycling is the process in which reclaimed asphalt pavement (RAP) materials are combined with new materials and a recycling agent, to produce hot mix asphalt (HMA) mixtures. Both batch and drum-type hot mix plants are used to produce a recycled mix. The RAP material can be obtained by milling or ripping and crushing operation. The mix placement and compaction equipment and procedures are the same as for regular HMA.
Recycling is one of the several alternatives available for rehabilitation of pavements. Other methods include overlay and complete removal and replacement.
Recycling is increasingly being used because of the following advantages:
reduced cost of construction
conservation of aggregate and binders
preservation of existing pavement geometrics
preservation of environment
conservation of energy
The project, now in its second year, is focusing on the long-term performance, moisture resistance and thermal behavior of asphalt binders modified with the soybean oil.
"As a farmer, these kinds of projects and initiatives are really important," said Nathan Dorn, farmer and chairman of the NSB research committee. "We are finding ways to increase demand for our soybean oil, while supporting a method that decreases our environmental impact and benefits those that utilize and drive on asphalt pavements."
The outcomes of this research will ultimately work to provide a new use for soybean oil and create an expanded soybean oil market. For example, the Nebraska Department of Transportation (NDOT) is planning to use high percentages of RAP (up to 65 percent) with these new technologies (i.e., recycling agents). The preliminary test results show that 6 percent of vegetable-based recycling agent based on the total weight of asphalt binder must be added to asphalt pavements containing 65 percent RAP.
Nebraska produces two million tons of asphalt mixtures every year containing 5.5 percent asphalt binder, which means 6,600 tons of soybean oil will be consumed annually just for NDOT projects alone—probably about twice that for all asphalt paving in Nebraska. The possible use of soybean oil will provide a safer, trustworthy and more comfortable means of transportation while bringing significant cost savings, providing longer lasting and more sustainable asphalt pavements.
Published: Dec 6, 2021
The materials on SRIN were funded with checkoff dollars from United Soybean Board and the North Central Soybean Research Program. To find checkoff funded research related to this research highlight or to see other checkoff research projects, please visit the National Soybean Checkoff Research Database.