Research Highlights

Kansas Research Project Addresses Management Questions Including Insecticides and Fungicides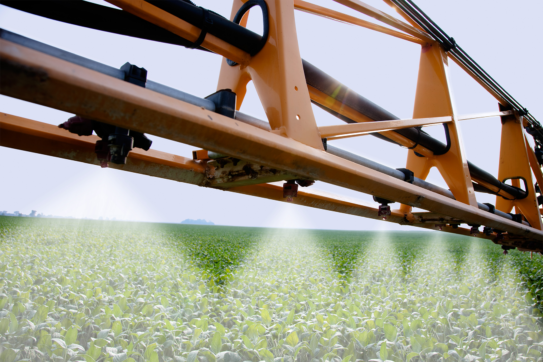 By Carol Brown
For a three-year research project focused on testing products and methods in Kansas, results came down to simple yes or no answers. James H. Long, retired agronomist at Kansas State University, has been looking at various on-farm issues including pest management systems and product additives. Topics were suggested to him by Kansas farmers and the Kansas Soybean Commission, which funded the research project.
"Being a private consultant now, I try to respond to questions farmers are asking," says Long. "I tend to do smaller experiments that will tell us if our management works or not."
Long's project, Increasing Efficiency and Cost Effectiveness in Intensively Managed Soybeans, focused on season-long management of the crop and how methods or products would protect or increase yield.
"My concept of 'intensively management soybeans' is that we use everything we have available to achieve high yield with a profit," says Long. "We looked at treatments that would be applied at planting, such as seed treatments or in-furrow applications of insecticides and fungicides, then season-long management of pest-like diseases and insects at various growth stages."
One component of the project was looking at best management practices for predicting insect and disease issues. Long confirmed that regular crop scouting is still the best way to manage these issues, which can save farmers time and money.
"If we can scout fields to know when insect populations are building and predict when we might have a problem, that should be part of the decision-making process," he says. "In addition to the threshold-level treatment recommendations developed by experts, there are simple things to do as well, such as live traps or trap crops. These are old concepts, but they can provide an early warning system."
By regular scouting and advanced planning, insecticides or fungicides can be applied to fields just as damage threshold levels are reached. Long says that in modern agriculture with typically large acreages, if farmers wait until after insect threshold levels are reached before deciding to spray, issues could arise such as insecticide availability, getting on a certified applicator's schedule and rain delays.
Other topics Long explored included adding novel compounds such as sugar and aspirin, and the use of generic compounds in fungicides.
When adding sugar to spray fungicide, he found that it can make the product more effective, but there were not large physiological effects that other people have touted. He did see some increased control of Septoria and frogeye leaf spot, but yields were mainly unchanged.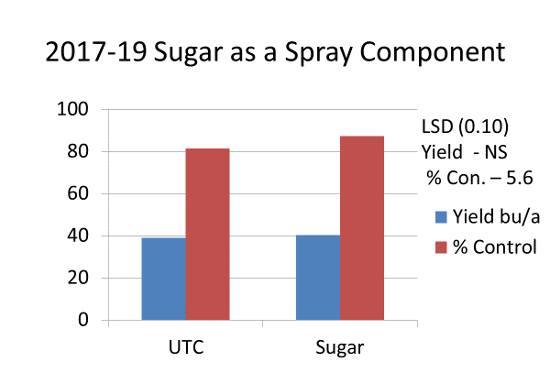 Long also compared generic compounds added to insecticides and fungicides. All research plots included seed treatments and were sprayed at R3 and R5 stages. Long saw that generic treatments do an adequate job under regular management but there are times to use newer products.
"If you have a specific problem, for instance some diseases are becoming resistant to older fungicides, we need those name-brand products such as Syngenta's Trivapro and BASF's Priaxor," Long says. "There's a place for generics, including mixtures with new products, but the generics shouldn't be used exclusively. There's a reason why these products exist. They are great products, and we need them."
He also looked at Priaxor as an in-furrow treatment several years ago and saw good results in suppressing charcoal rot, which lasted most of the season. It alone helped keep charcoal rot from reaching damaging levels. This is good news for Kansas farmers as charcoal rot is one of the leading soybean diseases in the state.
Long says his results aren't earth-shaking, but they are answering questions farmers have.
"I know it sounds common sense, but there are things we can do that are a matter of just paying attention," he says. "For instance, when you're driving home on a summer night after a day in the field, if you see a lot of moths flying through your headlights, those may be corn ear worm/soybean pod worm. You need to be looking closely at that field. It may sound simplistic, but you need to pay attention to things like this to be successful."
Long's research experiments generally resulted with answers to the question, 'does this work or not?' With today's farmers' complicated crop management plans, sometimes 'yes or no' can be the best possible answer.
Published: Jun 14, 2021
The materials on SRIN were funded with checkoff dollars from United Soybean Board and the North Central Soybean Research Program. To find checkoff funded research related to this research highlight or to see other checkoff research projects, please visit the National Soybean Checkoff Research Database.