Research Highlights

Irrigation Benefits: Improved Soybean Yield and Increased Seed Protein Concentration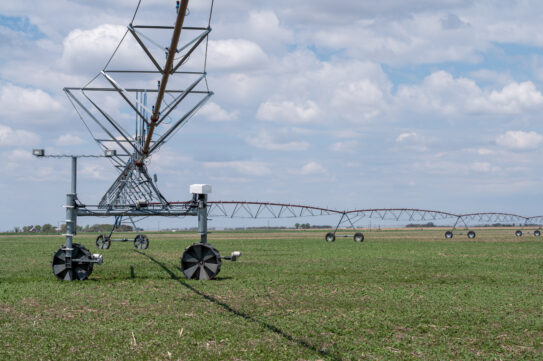 By Carol Brown
Soybean farmers continuously strive to improve yield and crop quality. But over the last several decades, farmers have seen that as yields increased, soybean seed protein concentration has declined. This would seem to be especially true in irrigated, fields, as yields are typically higher than dryland soybeans.
However, Patricio Grassini and Nicolas Cafaro La Menza at the University of Nebraska are finding another benefit of irrigated soybeans in addition to higher yields — seed protein concentration remains high or even increases.
"We have spent many years trying to understand what management factors impact farmers to produce higher yields. In recent years, we have been paying more attention to protein," says Grassini, associate professor of agronomy and horticulture. "To increase yield, either through genetics or management practices, the seed protein declines. This trade-off between protein concentration and yield is very difficult to break."

Grassini is lead project investigator of a two-year research project just wrapping up funded by the Nebraska Soybean Board. The project explored the relationships between soybean yield, irrigation, and seed protein concentration. The research team, which included 20 Extension educators for the University of Nebraska–Lincoln, collected soybean samples from more than 90 farmers across the soybean growing regions in the state. Samples were submitted from both dryland and irrigated fields in 2019 and 2020 with more than 1,200 samples amassed. But the results were not in line with their thinking.
After comparing soybean yield and seed protein concentration in dryland and irrigated fields, they found that irrigation did increase yield on a field basis. However, contrary to their hypothesis, they found that seed protein concentration was also higher in the irrigated fields compared to the dryland fields, even though the yields were higher in the irrigated fields.
"This is good news for Nebraska farmers because it means irrigated fields can produce high yields and not reduce seed protein concentration," says Cafaro La Menza, a post-doctoral research associate working on the project. "This is an important discovery, because in Nebraska, nearly half of soybean production takes place under irrigation."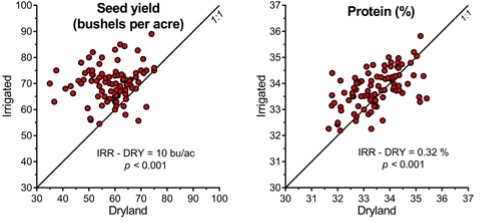 Soybeans are grown under irrigation also in other areas of the country and this finding could have positive implications for growers across the Midwest and beyond. Although farmers are currently not paid by the protein content in their soybeans, this may become a factor.
"Farmers currently do not get paid directly by elevators for their seed protein concentration, but that may change in the future," Grassini says. "As seed protein concentration keeps going down over time — as has been the case over the past 50 years — countries that import soybeans from the United States are going to start looking more closely to what the U.S. sells. The quality of our soybeans has implications in the markets that we may or may not be able to reach."
Irrigation is a management practice to focus on as it has allowed farmers to produce high, stable yields of various crops over the years, Grassini says. Among the numerous practices commonly followed by farmers, irrigation had the largest impact. Increasing both yield and seed protein concentration was nearly impossible to achieve with the other management practice they explored.
Grassini would like next to dig deeper in the irrigation–seed protein relationship.
"How does irrigation break this trade-off between seed yield and seed protein concentration?" Grassini asks. "If irrigation could do this, it could lead us to other opportunities for soybean crop improvement, which could mean more farmers may want to implement irrigation on their farms."
Nebraska CropWatch article: https://cropwatch.unl.edu/2021/what-have-we-learned-about-soybean-seed-constituents-irrigated-and-dryland-producer-fields
Published: Dec 13, 2021
The materials on SRIN were funded with checkoff dollars from United Soybean Board and the North Central Soybean Research Program. To find checkoff funded research related to this research highlight or to see other checkoff research projects, please visit the National Soybean Checkoff Research Database.