Research Highlights

Increasing Soybean Meal Use in Aquaculture Diets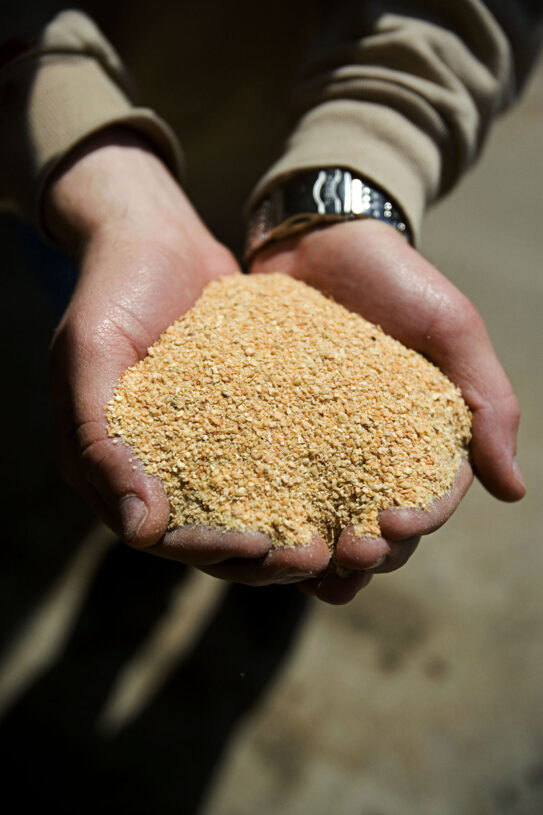 By Sarah Hill
Soybean meal has long been a staple of diets in the aquaculture industry. One researcher from the University of Idaho, funded by the South Dakota Soybean Research & Promotion Council, is testing just how much soybean meal feed formulators can include in aquaculture diets without compromising the growth or gut health of the fish.
Current Situation
Only a small amount of soybean meal is used in aquaculture diets when animals are young, according to Vikas Kumar, assistant professor of research in fish nutrition and nutrigenomics, University of Idaho. Once fish reach the fingerling and adult stages, more soy is added to the diet. Aquafeed producers supplement the diets with fish meal, which has excellent digestibility but is a costly ingredient with limited supply.
Aquaculture diets have changed significantly since the 1990s, according to research done by Kumar's team. In the 1990s, fish meal was a major source of protein in aquafeed, but since then, the use of soy products in aquaculture has significantly increased. Plant proteins, mostly sourced from soy, only comprised about 20% of aquaculture diets. Today, that amount has more than doubled. Kumar's team anticipates that the proportion of plant protein could expand another 15%, to make up nearly three-quarters of the protein in aquaculture diets.
Why Soy?
Soy is an excellent protein source for aquaculture diets, being less costly than fish meal and sustainably produced.
"At commercial levels, in general we don't add more than 10-20% soybean meal for salmonids," Kumar says. "Previous research has shown that using more than 20% soy in aquaculture diets usually causes a lot of problems, such as gut inflammation in rainbow trout. There's one section of the animal's gut where most of the nutrients are absorbed, and that's where the most inflammation has been found."
Kumar's team designed an experiment evaluating seven Atlantic salmon diets, each with varying levels of soybean meal, up to 40%. Other diets in the experiment contained various amounts of soybean meal combined with whole insect larval meal made from black soldier fly larvae, which provides valuable fat and protein to the fish. The insect meal has a high protein content while also offering lauric acid and antimicrobial properties to the fish.
Outcomes and Future Research
"We found that the diet with 30%soybean meal and 5% insect meal had the best feed efficiency and growth for the fish," he says. "The diets with high amounts (40%) of soybean meal with high inclusion (10%) of whole insect larval meal weren't so good."
One parameter that didn't statistically change during the experiment is protein efficiency ratio, which estimates protein quality based on the increase in the fish's body mass.
"While the soy causes inflammation, the insect meal reduces inflammation in Atlantic salmon," he says. "The growth of the fish was still good." Kumar's past and current research indicates that insect meal could be considered as a complementary ingredient to enhance soybean meal utilization in aquaculture diets.
By greatly expanding the amount of soybean meal in aquaculture diets, soybean growers will find a higher demand for their soybeans, making soybeans even more valuable as a commodity.
The next research goal for Kumar's team is to explore how consumers may respond to eating farmed seafood that has been fed insect meal. They also plan to examine the food quality of those fish.
Published: Jul 17, 2023
The materials on SRIN were funded with checkoff dollars from United Soybean Board and the North Central Soybean Research Program. To find checkoff funded research related to this research highlight or to see other checkoff research projects, please visit the National Soybean Checkoff Research Database.