Research Highlights

Improving Profitability in Double-Crop Soybeans Through Management Strategies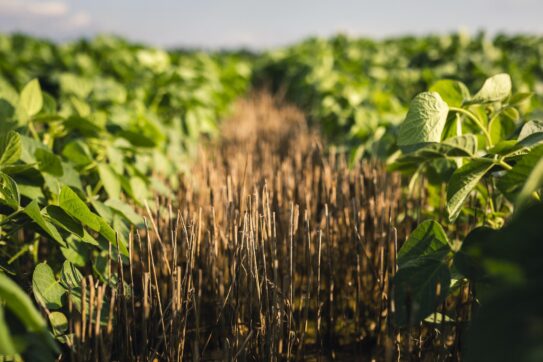 By Carol Brown
For Oklahoma farmers who grow soybeans in a double-crop system, chances are there is room for improvement. Josh Lofton, Oklahoma State University cropping systems specialist, is conducting research to show growers how they can fine-tune the system for profitability.
"We're looking at critical management strategies to help farmers with minimizing plant stress resulting in optimized productivity and profitability," Lofton said.
Lofton's research focuses on bigger-picture issues including yield, economics and soil health, through a project supported by the Oklahoma Soybean Board. The project began in 2019 and continues this year; Lofton and his research team will be gathering more data following the upcoming harvest.
So far, results have shown several key issues in which farmers should be aware.
"We advise growers in a double-cropped soybean system to apply a pre-plant, long-term residual herbicide with their burndown program," Lofton said. "It's an input that is often omitted in a double-crop system. We found in our data by including the residual herbicide they can get as much value, if not more, as in full-season soybeans."
Residue management is also a component in Lofton's research project. Farmers manage wheat residue in various ways — some cut the residue close to the surface, some will use stripper headers that leave a lot of tall straw, and some even burn it off, Lofton said.
"But we have seen wheat residue doesn't negatively or positively impact soybean yield," he said. "It's more important to get the soybean planted as quickly as possible to get the soybeans off and running."
Farmers can plant soybeans within hours of the wheat harvest, as long as the soil moisture is adequate, Lofton said. Many farmers use a no-till system and if they have a good no-till planter set up, they can plant right through the residue with little issues of achieving a good stand.
"No-till isn't as pretty as tilled or mowed wheat, but more often than not, those management strategies don't translate to yield," he said. "I always say no-till looks bad until you look at your pocketbook. If growers are using a double-cropped system, they should look at the equipment to make no-till work."
Managing residue for soil health is a research focus as well. Lofton and his team are exploring if soil health is negatively impacted because they are harvesting two crops in the same season. They are hoping to find that the wheat acts like a traditional cover crop, which is commonly used to increase soil organic matter and improve water infiltration along with other benefits.
Other management tips
Lofton advises farmers that a yearly inoculation is of great value, especially in double-cropped soybeans. He has seen better nodulation and better leaf nitrogen levels when inoculation is continued.
"It's a cheap input for a great safety net," said Lofton, "I always encourage growers to use the inoculant, especially in high-residue situations."
He also reminds farmers to scout for stink bugs. They are one of the greatest hidden yield robbers in Oklahoma, he said, and farmers are not always thinking about them.
"Fortunately, and unfortunately, we don't have yearly stink bug pressure," Lofton said. "So, it sneaks up on growers. They need to scout for them and not get lulled into a false sense of security because they didn't see them the previous year."
Oklahoma farmers who use the double-crop soybean system may see improvements in yield and profitability by making these management adjustments.
Download a fact sheet on double-cropped soybeans: https://extension.okstate.edu/fact-sheets/management-strategies-for-double-crop-soybean.html
Published: Nov 23, 2020
The materials on SRIN were funded with checkoff dollars from United Soybean Board and the North Central Soybean Research Program. To find checkoff funded research related to this research highlight or to see other checkoff research projects, please visit the National Soybean Checkoff Research Database.