Research Highlights

Improving Furrow Irrigation Efficiency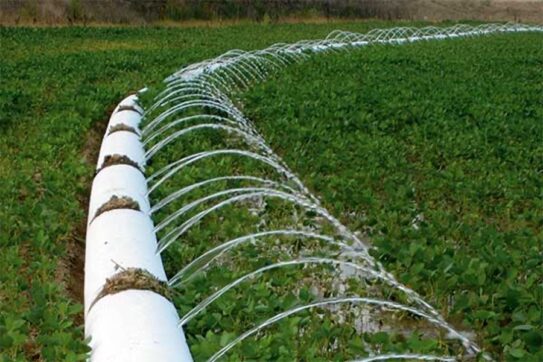 By Laura Temple
Tools created with advancing technology should make tasks easier and more efficient. New irrigation technologies and tools can do just that. But understanding and learning how to use new tools can be complicated and confusing.
"New techniques and tools can increase water use efficiency in the furrow irrigation systems farmers rely on in the Mississippi Delta," says Drew Gholson, an assistant professor for agronomy and irrigation at Mississippi State University. "But farmers need unbiased information to figure out what tools fit their operation best, and they need support to figure out how to use those tools confidently."
Thanks to soy checkoff funding from the Mississippi Soybean Promotion Board, Gholson is evaluating new furrow irrigation tools for soybean fields and sharing what he learns about using those tools effectively with extension agents and farmers. The soy checkoff has been supporting the Row-Crop Irrigation Science Extension and Research, or RISER, program since 2014. Gholson joined the program in 2019.
"We do this research on farms to be sure new tools and technologies work in real-life situations," he says. "We compare water use efficiency and soybean yields between the tools we are evaluating and what cooperating farmers have been doing."
Sensors and Automation
Gholson's current research focuses on new irrigation tools on the market. His goal is to determine how much water a tool can save and if the economics will work for farmers.
"Management and decision making is what saves water," he explains. "Anything that can help farmers do that can improve their water use efficiency."
He is comparing different types of moisture sensors to improve the timing of irrigation initiation and termination. An online Soil Moisture Monitoring Showcase allows farmers to compare different types of soil moisture sensors, their dashboards and other details to help them decide which products make the most sense for them. County extension agents have been equipped to provide individual support to farmers as they adopt moisture sensors.
"We've found that having someone alongside them as they learn about this technology builds confidence in farmers," he says. "They learn to trust the soil moisture sensors and their ability to use them,"
Gholson is also investigating automated water pump control systems. These systems install actuated valves on pumps that can be controlled remotely on mobile phones or tablets. Because each well usually serves several fields, farmers usually have to manually change the pumps to switch watering between fields. Automated systems allow farmers to turn water pumps on and off and to swap sets, redirecting the flow, remotely.
"This research seeks to answer questions about the reliability of these systems and how well they work when tied into existing systems," he says. "Farmers want to know if pump control automation is worth the investment."
Implementing Proven Technology
At the same time, Gholson is encouraging the adoption of practices that the RISER program has already proven to save water and money while maintaining soybean yields. In addition to using soil moisture sensors, the verified tools include computerized hole selection for irrigation piping and surge irrigation.
County extension agents have been trained to use a free computer program that takes in factors like field size, shape and elevation, water pressure, water flow rate and more to optimize irrigation. The program then calculates the ideal size of holes to punch in the pipe that carries water across the top of fields.
Surge irrigation pulses water to improve flow to the end of the field. Valve placement allows changes in water pressure to get water to the root zone. First, water soaks into part of a field. Then, the system uses a surge of water under higher pressure to allow later irrigation to flow across the top of the already-irrigated area more quickly.
"This improves the uniformity of watering," Gholson explains. "Surge irrigation can improve water use efficiency 20 to 30%."
He produces information in a wide range of formats, from training seminars to videos, to equip farmers and their advisors with the skills to effectively use these technologies. As he learns more about additional tools, like soil moisture sensors, he incorporates that information into his educational outreach.
Published: May 15, 2023
The materials on SRIN were funded with checkoff dollars from United Soybean Board and the North Central Soybean Research Program. To find checkoff funded research related to this research highlight or to see other checkoff research projects, please visit the National Soybean Checkoff Research Database.