Research Highlights

Impact of nematodes in Southern U.S. soybean fields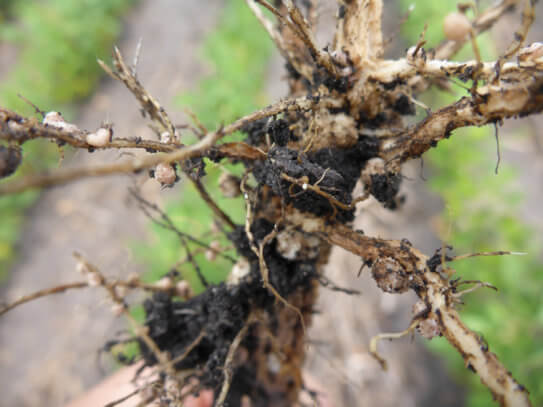 Investigation on Occurrence, Distribution and Impact
By Dr. Don Hershman, University of Kentucky
The southern soybean production area is unique in the presence of multiple nematode pests, recent shifts in crop production due to economics and soil types. Soybean cyst nematode (SCN), Heterodera glycines, is without question the most damaging nematode of soybean in the U.S.; however, in the South, other nematodes, particularly various species of root knot nematode (Meloidogyne spp.) and reni­form nematode (Rotylenchulus reniformis) can be as damaging and even more damaging than SCN , depending on the state. Typically, nematodes other than SCN tend to thrive and cause the greatest damage in light textured (sandy) soil types. Some are also pests of other commonly grown crops in the South, such as cotton and peanut, so this tends to enhance nematode problems in many southern states.
In Kentucky, SCN is the dominant soybean nematode. Northern root knot nematode exists in some fields, but its occurrence is not widespread in production fields. Reni­form nematode has never been systematically sampled for in Kentucky, but we have assumed the nematode does not occur because of the reported inability for it to survive outside of the Deep South. Other plant parasitic nematodes are not problem­atic, apparently because of the rarity of sandy soil types and/ or the disposition of farmers to not grow soybean in extremely light textured soils.
Much of the information on the distribution of various plant parasitic nematodes affecting soybeans in southern production regions is outdated. Similarly, nematode damage thresholds are old and need to be updated to reflect current nematode distribution patterns, cropping practices and cultivars. In response, a group of scientists developed a grant proposal en­titled: Investigation on the Occurrence, Distribution and Impact of Nematodes in Soybean Fields in the Southern United States. This research project was funded jointly by the United Soybean Board and Southern Soybean Research Program in 2011.
The project includes: 1) a survey of 100 fields per state to establish presence of individual and multiple nematode genera [root knot (Meloidogyne incognita/M. arenaria), reniform, and soybean cyst] in Alabama, Arkansas, northern Florida, Geor­gia, southern Illinois, Kentucky, Louisiana, Missouri, Missis­sippi, North Carolina, South Carolina, Tennessee, Virginia and, 2) field and microplot studies aimed at measuring the yield impact of root knot and reniform nematodes singly and in combination(s), and to redefine economic thresholds using cur­rent soybean cultivars.
Data from this study will be used to revamp recommenda­tions for managing nematodes that affect soybean. It is an­ticipated that data will also be used as the basis for developing new soybean varieties with resistance to important nematodes.
The nematode survey was completed mostly during 2011. As expected, the distribution patterns of nematodes where highly variable, depending on the state. Overall results will be disclosed at a later date, but findings for Kentucky confirmed that SCN is still our predominate nematode pest species, that root knot nematode is rare and that reniform nematode does not occur, even in "high risk" very sandy soil types. Studies involving root knot and/or reniform nematode targeting goal 2 of the research proposal are currently being conducted in all involved states except Kentucky. Kentucky is not participating because of the demonstrated lack of root knot and reniform nematode problems in the state.
Published: Jan 1, 1970