Research Highlights

Ice Cream Lovers: Frozen Dessert Using High Oleic Soybean Oil on the Horizon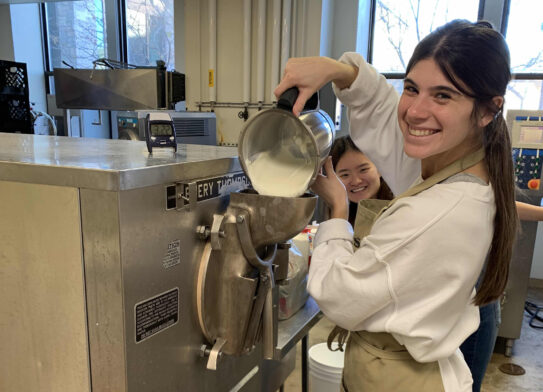 By Carol Brown
Ice cream is one of America's favorite treats. According to World Atlas, the United States is the second leading country in ice cream consumption, with nearly 22 quarts (20.8 liters) consumed per capita annually. New Zealand is at the top with a little over 30 quarts (28.4 liters) consumed per capita each year.
There is a growing demand by consumers for plant-based foods such as veggie burgers and milk from nuts like almonds and cashews, to name a few. People are looking for alternative ingredients in their foods that are not from animals for many reasons including allergies, environmental preservation, or personal preference.
University of Missouri Associate Professor Jeab Vardhanabhuti is exploring plant-based alternative ingredients in ice cream to offer consumers a choice in frozen treats. She is working with high oleic, low linolenic (HOLL) soybean oil as a replacement for milk fat in ice cream products.
"When we replace milk fat with a vegetable oil, the properties of ice cream will not be the same," Vardhanabhuti says. "With lower saturated fat content, most vegetable oils cannot function as well as milk fat, so the texture, such as the creaminess and iciness, as well as the melting properties can change. We're developing the formulations that will improve all of these properties."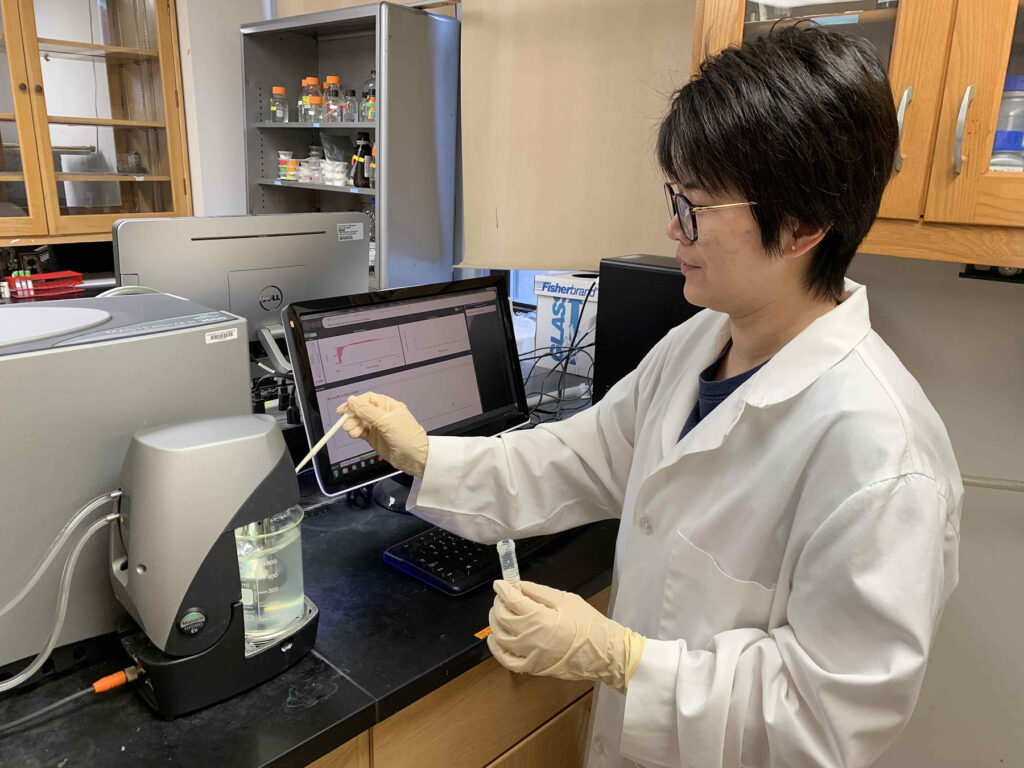 The food scientist conducted preliminary experiments to find the best combination, or recipe, that would produce results as close to traditional ice cream as possible. She and her research team arrived at using soy milk, sugar and different fats including HOLL soybean oil. The properties of HOLL will add to the health benefits of this frozen dessert.
"High oleic, low linolenic soybean oil contains lower saturated fat and high amounts of beneficial monounsaturated fatty acids; and it is authorized by the FDA as heart healthy," she says. "It is a healthier alternative to partially hydrogenated oil traditionally found in most processed foods."
In 2015, the U.S. Food and Drug Administration banned the use of partially hydrogenated oils, the main source of artificial trans fats used in processed food. Trans fats have been linked to heart disease and contribute to high cholesterol. Restaurants and food processors are replacing oils high in trans fats with other ingredients including HOLL soybean oil.
Andrew Scaboo, an assistant professor in plant science at the University of Missouri, is a co-project investigator on this research project, which is funded by the Missouri Soybean Merchandising Council. He is supplying the HOLL soybean oil for Vardhanabhuti's research. He is a soybean breeding and genetics expert and has been a part of the work behind SOYLEIC®, the soybean variety containing high levels of oleic acid.
The ice cream project — or rather, frozen dessert project — is wrapping up its first year of a two-year study. Year One focused on evaluation and selection of replacement ingredients.
"We just completed the descriptive sensory analysis, which means we have trained panelists to help determine sensory attributes of the product as well as sensory consumer testing," Vardhanabhuti says. "We are in the process of analyzing that data and will have these results soon."
Based on those sensory results, she and her team will fine-tune the frozen dessert to improve upon its qualities as an option in the plant-based ice cream market, including a creamier texture and slower melting time. If she is successful, Vardhanabhuti's frozen dessert containing HOLL soybean oil could become another alternative for America's ice cream lovers — and there are a lot of them.
Published: Jan 24, 2022
The materials on SRIN were funded with checkoff dollars from United Soybean Board and the North Central Soybean Research Program. To find checkoff funded research related to this research highlight or to see other checkoff research projects, please visit the National Soybean Checkoff Research Database.