Research Highlights

Growing Soybeans can be Achieved in Western Nebraska With Careful Management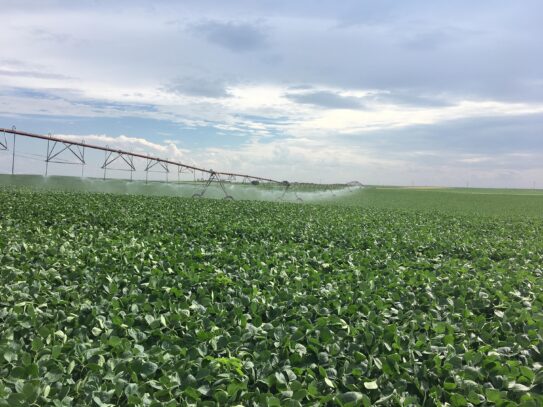 By Carol Brown
Growing soybeans in western Nebraska seems to be a novelty, but these beans could have their place in the crop rotation through careful management practices.
Strahinja Stepanovic, an agronomist at the University of Nebraska, has been studying methods of improving soybean fertility in the region with research projects supported by Nebraska Soybean Board.
"Farmers in western Nebraska mostly grow corn under irrigated pivots and some fields have been continuous corn for a good 20 years," Stepanovic said. "It's been profitable for them; but there have been increasing incidences of pests and diseases in continuous corn. So, they are starting to look at an alternative crop."
But farmers are hesitant to add soybeans to their rotations for several reasons, the main one being economics. The economic factor is always going to be what influences the rotation the most, Stepanovic said. The unknowns of soybean management don't help with farmer confidence either.
"Because soybeans aren't as common here, there's been little to no research done in western Nebraska and farmers are in desperate need for answers," he said. "They want answers to many management questions to ensure they are doing things right."
Trying to find answers to their questions, Stepanovic conducted a number of on-farm and research plot studies. Topics including planting date, nitrogen application, seeding rates, row spacing, and fertility were studied over the last three years. His results uncovered some soybean yield limiting factors and management practices that could help farmers save money.
Research results
"It's not really a question of increasing soybean yield, but more about bringing costs down," said Stepanovic. "One way is to reduce seeding rates. Farmers here have been planting at rates between 180,000–190,000 seeds per acre, which is really high. In our tests, we have not seen an increase in soybean yield even when populations were as low as 70,000 plants per acre."
He also saw no benefit to late-season nitrogen application in any of the studies; but inoculation provided greater benefits overall, especially in the higher pH soils. Good inoculation practices allowed improvement in nodulation to carry the nitrogen supply forward later in the season, so the need for nitrogen is not required, he said.
A planting date study was also conducted, as the common practice for the farmers who did grow soybeans was to plant after their corn was in the ground. Stepanovic found there was a large yield penalty for late-planted soybeans in a range from 0.2 to 1.3 bushel/acre/day after May 1. He noted that the higher the yield environment, the higher the daily yield penalty was for late-planted soybeans.
Farmers are encouraged to make these management adjustments, as a result of Stepanovic's research:
plant soybeans five to 10 days earlier than normal,
slowly decrease seeding rates,
use narrow rows, if seed placement is satisfactory,
discontinue late-season nitrogen application, and
reduce herbicide sprays to two or three applications.
Stepanovic surveyed western Nebraska and Kansas farmers after making these changes and their savings ranged from $30 to $130 per acre, he said. By making these practice changes, farmers can grow soybeans more efficiently and cost-effectively for improved profitability.
For more information about this research, download the report on the University of Nebraska CropWatch website: https://extension.unl.edu/statewide/perkins-chase/Irrigated%20Soybeans%20in%20Western%20NE%20-%20Research%20and%20Outreach%20Report.pdf
For details on the projects, go to the National Soybean Checkoff research Database: https://www.soybeanresearchdata.com/Project.aspx?id=52833
Published: Nov 10, 2020
The materials on SRIN were funded with checkoff dollars from United Soybean Board and the North Central Soybean Research Program. To find checkoff funded research related to this research highlight or to see other checkoff research projects, please visit the National Soybean Checkoff Research Database.