Research Highlights

Finding Flooding Tolerance to Breed Better Soybeans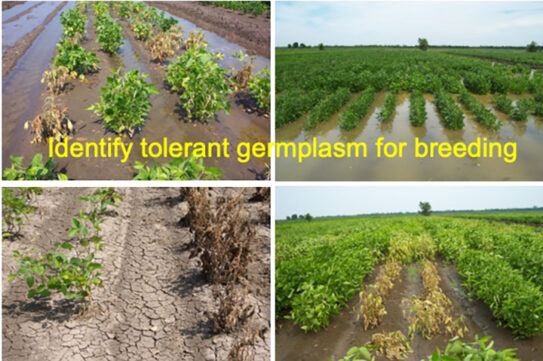 By Barb Baylor Anderson
When dealing with potential yield loss to stresses such as flooding, soybean farmers have to decide whether or not to grow the highest-yielding varieties available or ones that perform the best when flooding occurs. Research funded by the Missouri Soybean Merchandising Council is identifying cultivars with flood tolerance, so farmers can make the best selection decisions.
"We are identifying new sources of flood tolerance from diverse soybean germplasm and incorporating it into high-yielding cultivars to develop new flood-tolerant soybean varieties for the Missouri Delta region and Mid-South environments," says Pengyin Chen, University of Missouri soybean breeder at the Fisher Delta Research Center in Portageville, Missouri. Chen has worked on the issue for four years in Missouri and previously studied it in Arkansas.
"Flooding is a common theme in the Missouri Bootheel," he says. "But we also continue to take a teamwork approach with researchers in Arkansas, Mississippi, Texas and Louisiana."
Chen and his team have screened a set of varieties and exotic plant introductions in groups III, IV and V to identify new sources of flooding tolerance.
"Once we identify prospects, we cross them with high-yield lines to get the targeted traits but also maintain the high yield potential. That way you can get good yields with or without the stress present," he says. "We started working with the trait to determine what controls it by using gene mapping. We are screening progeny for the gene and running the genetic markers, so we know when we have the right gene for the trait without having to go to flooded fields for proof."
Efforts also include mapping genes from wild soybeans with greater tolerance to flooding than cultivated types and making new crosses among flood tolerant cultivated types and flood tolerant wild soybeans. Researchers also yield-test lines under flooding and optimum conditions.
"We have gone through two cycles of breeding with lines achieving 90 percent of the high-yielding variety's potential in absence of flood stress while yielding 20-40 percent more than intolerant checks when flooding occurs. We clearly see the benefits and hope to reach 100 percent of commercial variety yields after one more breeding cycle," says Chen.
Farmers may be two or three years away from having access to flood-tolerant soybean varieties.
"We are the only researchers working on this trait. It is a continuous process always with a new yield bar to reach given the progressive genetic gain over time," he says. "The first target is varieties for the Mississippi Delta where soils don't drain well, but the trait can be transferred to varieties adapted to other areas where flooding or waterlogging is a potential problem."
Photos: Pengyin Chen
Published: Jul 16, 2020