Research Highlights

Finding Best Practices to Maximize Yield and Environmental Stewardship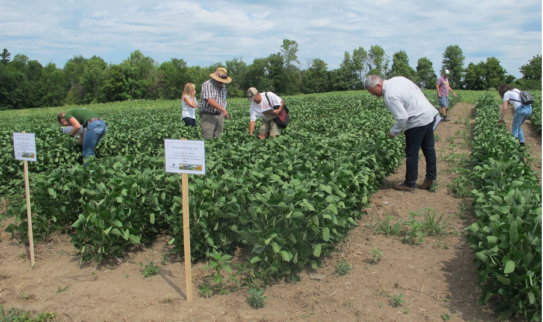 By Barb Baylor Anderson
To overcome today's economic and environmental challenges, soybean farmers need more region-specific information to maximize yields while minimizing environmental impacts. So, to provide direction to develop such recommendations for farmers in the eastern region of the United States, the Eastern Region Soybean Board (ERSB) turned to researchers in Vermont.
"Research on the production side drives the entire soy value chain," says Nick Kercheval, a soybean farmer from Harpers Ferry, West Virginia, and ERSB director. "From work regarding in-field sustainability measures, to the latest science to develop soybeans with traits to meet specific demands of end-users, production research really sets the foundation. Results and updates on much of this work shows how our checkoff investments are being spent for production research and what we can expect in return for those efforts."
"Interest in growing soybeans in far northern regions continues to increase as farmers face declining milk prices, increasing feed costs and extreme climate events," says Heather Darby, University of Vermont Extension agronomy and soils specialist and principle investigator of the checkoff-funded work benefitting farmers in Massachusetts, Maine, New Hampshire, New York and Vermont. "Our research objectives include providing up-to-date information on soybean varieties that produce maximum yields, determining the impact of planting date on yield and quality, and investigating cover crop strategies to extend soil health and productivity."
For the yield evaluation, a trial with 23 varieties from three seed companies spanning maturity groups 0.90 to 2.1 was established to look at population, yield and quality. The planting date trial focused on one early and one mid-group 1 variety, with both planted about every week from mid-May through early July at 185,000 seeds per acre. Researchers explored how soybeans planted later reach maturity, produce yields and respond to pest and disease pressure.
"So far, the research has proven that soybean yields can be optimized across a variety of planting dates and varieties," says Darby. "We have learned that in the far northern regions of the U.S., soybeans should be planted by early June to maximize yield. In most cases, an early June planting out-yields May planting dates because of adverse spring weather conditions. Planting at the end of June becomes risky as fall frosts can occur in early-September."
Darby notes with a growing concern about agriculture's impact on water quality, protecting waterways from nutrient runoff now requires cover crops on annual crop fields in many cases.
"With that increase in cover cropping, there is a need to investigate potential impacts on the following soybean crop and best practices for establishing cover crops into and following soybeans," she says. "Farmers interested in reducing nutrient loading in waterways from soil erosion are becoming more interested in reduced and no-till practices. Understanding how to best combine the two in soybean systems specifically for the Northeast is critical to success."
As an example, Darby observed yield depression of soybeans when planted following spring-incorporated winter rye. "We do not see this impact with winter-terminated cover crops, such as tillage radish, oats, annual ryegrass and crimson clover," she says. "Higher levels of rye biomass seem to impact soybean productivity. New research is underway to better understand it."
Darby says farmers growing beans are still struggling to figure out best options for cover crops, which is why research also has been looking at that element of the farming plan. Interseeding winter rye in late September to early October after soybean leaves have dropped from the plants has proven relatively successful and not affected yields. However, interseeding earlier often leads to variable cover crop establishment and soybean damage from the interseeding equipment.
Published: Dec 21, 2020
The materials on SRIN were funded with checkoff dollars from United Soybean Board and the North Central Soybean Research Program. To find checkoff funded research related to this research highlight or to see other checkoff research projects, please visit the National Soybean Checkoff Research Database.