Research Highlights

Factors to Optimize Soybean Planting Rates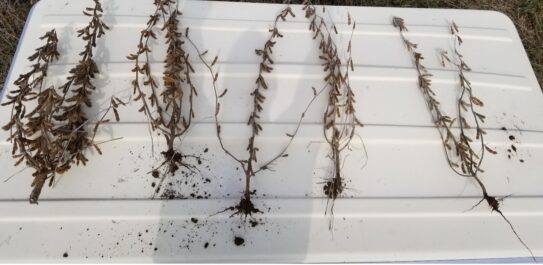 By Laura Temple
How low can you go — with soybean seeding rates?
Soybean farmers and researchers want to know if soybean seeding rates can be dropped while still maintaining yields. Del Voight, a senior agronomy educator for Penn State Extension, says the Pennsylvania Soybean On-Farm Network, funded by a checkoff investment from the Pennsylvania Soybean Board, was developed to answer such questions.
"Some have suggested that lower plant stands for full-season soybeans may actually promote pod development while reducing potential risk for white mold and cutting input costs," Voight says. "A multi-year Soybean On-Farm Network project allowed us to use field-scale research to validate what we learned about soybean planting populations, stands and yield in small plots."
He led research exploring soybean seeding rates from 2016 through 2021. The trials used soybeans treated with fungicide and insecticide to take advantage of technology that can improve crop stands.
Small, replicated plots at the Penn State Southeast Agriculture Station in Manheim were planted at populations of 25,000, 50,000, 75,000, 100,000, 125,000 and 150,000 seeds per acre. In these trials, Voight says the data suggested that final stands of about 80,000 plants per acre achieved 90% of yield potential.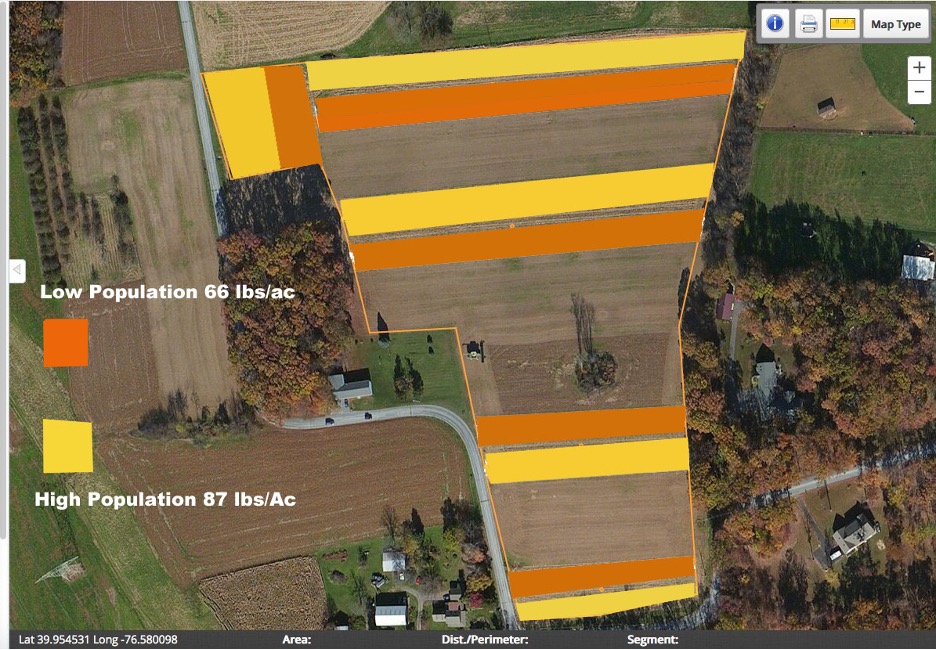 More than 20 growers participated in on-farm trials, using seeding rates of 100,000, 140,000 and 160,000 seeds per acre. The cooperating farmers planted large plots of at least 2 acres each. He reports that yield results showed no significant decreases between the seeding rates.
"The number of pods per acre stayed the same," Voight explains. "Soybeans produced more pods per plant at lower populations rates."
Conditions for Reduced Planting Populations
Based on several years of research in a wide variety of growing conditions, Voight believes growers can consider dropping seeding rates in some fields or areas, depending on a few factors. He recommends to:
Use seed treatments to improve germination rates.
Plant early to allow soybean plants more time to add branches and produce pods.
Select soybean varieties prone to branching.
"Under these conditions, growers may be able to reduce planting populations to about the 100,000 seeds per acre rate to achieve a final stand of about 80,000 plants per acre at harvest without sacrificing yield," he says. "If replant conditions exist, this research suggests that if plant populations are at that level or higher, replanting is not needed, provided stands in the area in question are relatively even."
Voight also thinks fields with adequate soils, or deeper, more productive soils, are more likely to allow fewer soybean plants to develop more pods.
"Very few research plots were in poorer, less productive Pennsylvania soils," he says. "That was one flaw in our research because it focused on the southeast region of the state. But I do think that if growers have adequate soils, they can consider reducing plant populations."
He notes that ideal population rates likely vary between soybean varieties. However, the time and resources required to determine that information for every new variety would slow the release of new varieties. The advantages of access to new genetics outweigh the benefits of researching ideal planting populations by variety.
"Some areas of fields experience limited issues with lowering plant densities," Voight adds. "Other areas of fields tended to perform better with higher population densities."
Published: Oct 17, 2022
The materials on SRIN were funded with checkoff dollars from United Soybean Board and the North Central Soybean Research Program. To find checkoff funded research related to this research highlight or to see other checkoff research projects, please visit the National Soybean Checkoff Research Database.