Research Highlights

Exploring the Feasibility of Soybean Desiccant Use in Minnesota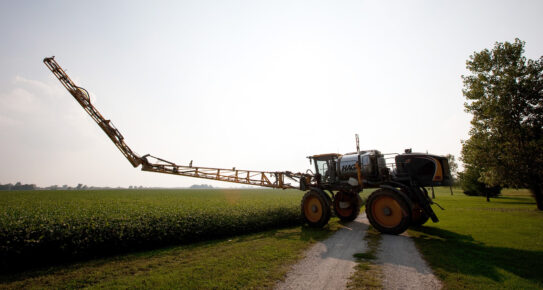 By Carol Brown
Producers in southern soybean-growing states use desiccants to drive earlier soybean harvests, and they are becoming a curiosity for farmers in northern areas. Could northern farmers also use these products to hasten soybean harvest? Agronomist Seth Naeve is exploring how desiccants behave in Minnesota to provide science-backed answers for those curious farmers.
"Desiccants are also known as harvest aids," says Naeve. "It is a chemical product applied to a crop to synchronize crop maturation. It's used in a lot of vegetables and crops like seed corn to finish things off quicker and more evenly."
The University of Minnesota professor and extension soybean specialist is looking at the effect of desiccation from several aspects through a research project funded by the Minnesota Soybean Research and Promotion Council.
There are advantages to using a desiccant, but there could also be drawbacks. Advantages include earlier harvest time, increased harvest efficiency and reduced yield losses. But if the desiccant isn't handled or applied properly, significant crop damage and yield loss could result. Naeve is exploring whether the benefits could outweigh the risks.
"In the northern climates, soybeans respond to their environment. In the fall, shortening days and cold nights push the crop to maturity," Naeve explains. "This doesn't happen to the same extent in the south, where there are warmer temperatures and even some longer days during the fall. Soybean crops in the southern U.S. don't have the same kind of environmental triggers for soybeans to mature. It's not uncommon for southern farmers to use these harvest aids to get uniformity for good yields."
Desiccants are usually sprayed on the maturing crops about two weeks prior to harvest, but Naeve says this could be tricky as some products have required pre-harvest intervals. Farmers need to be cognizant of application timing so they don't end up outside the labeled rules.
"The primary concern is that residual chemicals may have a negative effect on the plant, like moving into the seed where livestock or humans could consume it," he says. "There is a variety of these desiccant products on the market and some have longer pre-harvest intervals, which might not be very useful if they were applied too early."
Desiccant value could increase in the northern states as farmers plant longer maturing soybean varieties or early varieties for harvest before a cover crop or fall manure application.
Naeve's research project will compare different desiccant products and their application timing on soybean yield. He'll be looking for the earliest a desiccant can be applied without resulting in a yield loss. He will also document pre-harvest pod shattering, grain loss, grain quality, as well as application timing with soybean dry-down and how well the desiccant advanced the crop to harvest.
He and his research team will conduct the studies on private farmland as well as on university research farms, for a total of five locations in Minnesota.
"There are situations and seasons where soybeans tend to remain a little green and be difficult to harvest," he says. "When there are warmer fall conditions where we don't have an early or even a normal hard freeze, or if farmers had to delay planting — all could lead to harvest challenges in the North and desiccants could be of help. They won't be needed every year or on every acre."
In the South, desiccant application recommendations are to apply no earlier than reproductive stage 6.5, which is late in maturity, but it isn't at the end of the maturity scale. Naeve says that yields aren't reduced when spraying desiccants at R6.5 in the southern states. But in the North, soybeans can continue to add yield at R7 and possibly beyond, as there are variations in seed maturity within the canopy, with yellow seeds down low and green seeds remaining at the top.
"I feel there is greater risk of yield loss from desiccant use in the North because soybeans are taking advantage of the warm, fall weather by continuing to add yield," he comments. "It's probably the opposite in the South, because the heat and humidity could reduce yields."
The research, just getting underway, is also part of a larger Science for Success project, with scientists from approximately a dozen states conducting the same research and pooling data for more substantial results.
"If farmers are going to experiment with desiccants, we all need to have a better understanding of how soybeans respond to them in different regions," says Naeve.
Published: Sep 25, 2023
The materials on SRIN were funded with checkoff dollars from United Soybean Board and the North Central Soybean Research Program. To find checkoff funded research related to this research highlight or to see other checkoff research projects, please visit the National Soybean Checkoff Research Database.