Research Highlights

Evaluating Sulfur Synergies in Soybean Management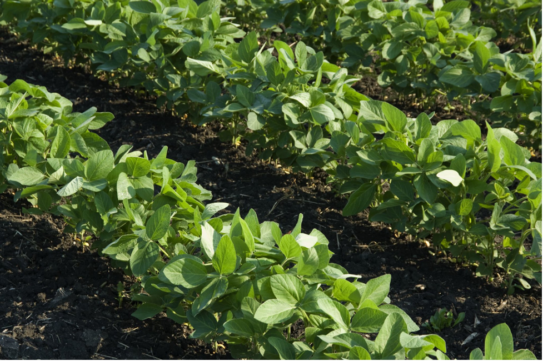 By Barb Baylor Anderson
Soybeans need large quantities of the macro-nutrient, sulfur (S), to maximize yield potential. But researchers have discovered sulfur deposition from the atmosphere has been declining over the last few decades as air quality improves. Where 10 to 18 pounds of S per acre were deposited from the atmosphere to Indiana soils in 2001, Purdue University researchers say only four to eight pounds were deposited in 2015. As such, Indiana soils may be in need of S applications.
"Soybeans take up 0.35 pounds of S per bushel, so 50- to 75-bushel soybeans need 17.5 to 26 pounds of S per acre. A little more than half, 9 to 13.5 pounds, is removed from the field in the grain," says Shaun Casteel, Purdue University Extension soybean specialist, who is principle investigator for a sulfur research project funded by the Indiana Soybean Alliance (ISA). "Organic matter in the soil can help make up the difference in crop need and deposition from the atmosphere, but evidence is mounting that more S is still needed in some fields."
Casteel has documented substantial yield responses of soybeans to sulfur applications over the last few years – some six to 13 bushels per acre. He has been looking for synergies in soybean management to optimize S applications, where needed, for improved yield and quality responses.
Through the research, Casteel has evaluated management practices to alleviate S deficiency in the most responsive, cost-effective manner and determine best options to manage S. First-year results documented 10-plus bushel responses to ammonium sulfate, MES10 (12-40-0-10S) and pelletized gypsum, followed by six-bushel responses to other S sources in an S-deficient field. 
"The optimal foliar S application rate was about four pounds of S per acre regardless of growth stage applied with more than an eight-bushel yield improvement in an S-deficient field," he says. "Synergies in management seem to align more with combined applications of AMS prior to emergence and foliar protection at R4 than seed-applied inoculant and AMS application prior to emergence."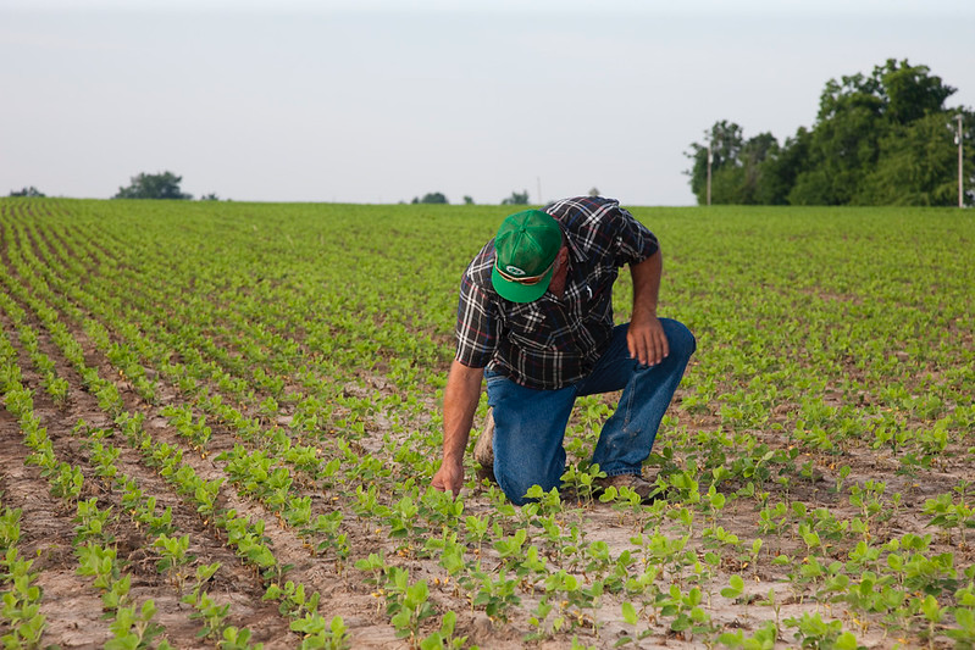 Casteel notes, however, that determining sulfur needs is not easy with soil testing. Instead, he suggests farmers monitor soybeans to decide if they are responsive to sulfur applications.
Specifically, he advises applying reference strips of soluble sulfur as close to planting as possible to compare plant response to sulfur with areas deficient in sulfur. Observations can include aerial imagery, leaf nutrition samples of treated and untreated strips and yield.
"These observations have to be coupled with field conditions, soil properties, timing of planting and fertilizer application and subsequent weather and soil conditions," he says. "Reference strips and conditions should be repeated and documented over several years to determine if fields are truly sulfur deficient or situationally deficient. Farmers can then determine if sulfur is needed and see if in-season foliar protection applications could further exploit the S benefit."
Another option is to take leaf samples at V5, R2, and R3 or R4 stages to determine if sulfur has been taken up in sufficient quantities and if the balance of nitrogen to sulfur is maintained. For R2 to R3, Casteel says leaf sulfur should be below 0.25 percent S with a leaf nitrogen-to-sulfur ratio at or above 18:1 for soybeans to be likely to respond positively to an S application.
"Investing checkoff dollars in crop production research is one of the best things farmers can do for themselves," says ISA board member C.J. Chalfant, who farms near Hartford City, Indiana. "In the past 20 years, soybean yields in Indiana and across the Midwest have seriously improved. Most of the improvement has come through better practices and technologies that have come through crop production research. I think we've only scratched the surface of what is possible. I believe the more research we do, the more bushels we will find."
Looking to the future, Casteel says several new or formulated sources of S fertilizers are being developed. At the moment, the best product or strategy to supplement soybeans with sulfur is to apply soluble sulfur as close to planting as possible through early vegetative stages, V3 or V4. 
"We are exploring applying liquid sulfur in a surface band at planting two inches from the seed slot," he says. "Results are promising, but the target S rate is much lower, closer to 10 pounds of S per acre, than the broadcast reference strips of granular AMS at 20 lbs. S per acre. Sulfur also interacts with other nutrients applied at the same time, including phosphorus and potassium."
Additional interactions with micronutrients like manganese and the synergy with a baseline sulfur application and in-season foliar protection still need to be explored, he adds, and the frequency and distribution of soybean responsiveness to sulfur still needs to be quantified.
Published: Jan 25, 2021
The materials on SRIN were funded with checkoff dollars from United Soybean Board and the North Central Soybean Research Program. To find checkoff funded research related to this research highlight or to see other checkoff research projects, please visit the National Soybean Checkoff Research Database.