Research Highlights

Enhancing Productivity, Drought Resilience and Environmental Quality Through Soil Health

By C. Wayne Honeycutt, Soil Health Institute

Drought is one of the biggest problems facing the soybean industry. The impact of climate change on agricultural water availability is projected to suppress soybean yields by approximately 9% by 2040, 12% by 2060, and 14% by 2080. This $315,328 project addresses the problem of reduced agricultural water availability by studying soil carbon. It is well-known that increasing the amount of organic carbon (organic matter) in soil improves its ability to hold plant-available water. It is also known that increasing soil organic matter generally speeds the rate at which water infiltrates into the soil, resulting in less nutrient runoff to nearby waterways. This research will help soybean farmers determine which management practices (such as tillage, cover crops and rotations) will help them improve the water-holding capacity and water infiltration of their particular soils. 

This project is developing a field-validated Soil Health Module for the COMET-Farm Decision Support Tool that will enable soybean farmers to make management decisions that will enhance their soil health by improving the plant-available water-holding capacity and water infiltration of their soils. Soybean growers who use this Decision Support Tool will realize additional benefits of soil health management practices, including a reduction in runoff and erosion and thus a reduction in the loss of valuable soil nutrients and contamination of waterways. The Decision Support Tool will be field tested before release to ensure that it is both useful and user-friendly. The goal is to create a valuable tool that will be put to use, not put on a shelf.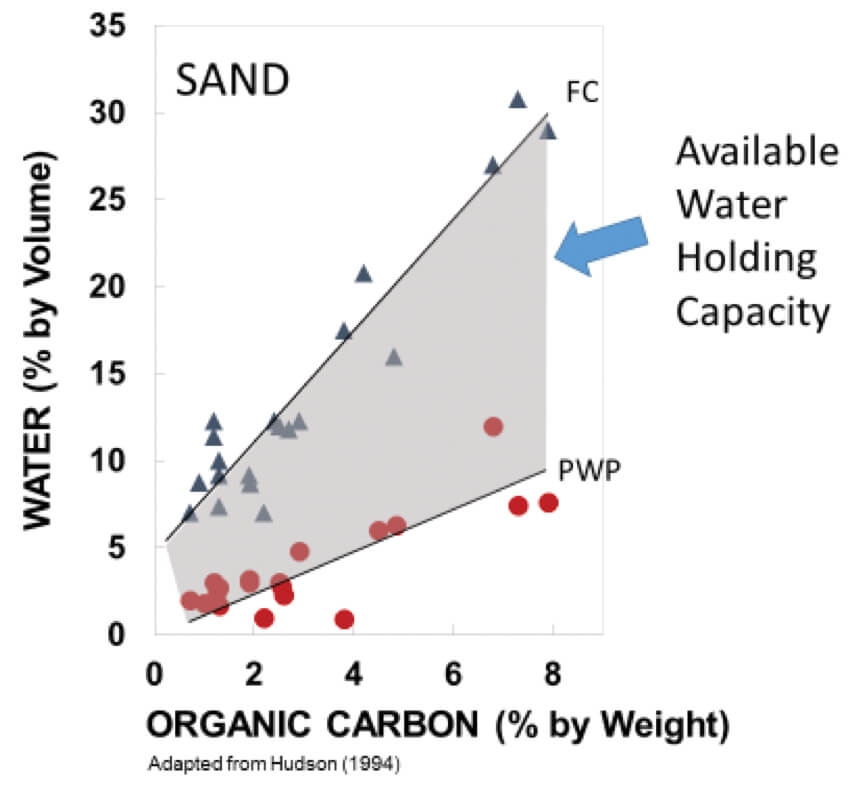 Preliminary research has shown that the current understanding of the complex relationships between soil properties and plant-available water is limited, and existing data is insufficient for the creation of a detailed tool. There is a need to develop new equations to feed a Decision Support Tool, and work has begun to develop them. These newly developed equations show that decreasing soil bulk density (improving soil tilth) increases plant-available water. Additionally, over 120 long-term agricultural experiment sites have been sampled for a soil health measurement project, which will be used to improve the equations that relate soil organic matter to soybean drought resilience. In addition, connections with growers and other producers have been established, which will prove invaluable when it is time to promote the adoption and use of the Decision Support Tool.
The Decision Support Tool will directly benefit soybean growers. It will be an easy-to-use, accessible tool that will help growers make management decisions without significant added time burden. It will allow farmers to clearly understand the benefits of soil health management practices, and will provide insight on specific ways growers can build drought resilience. This will enable soybean growers to build the long-term health of their farms, not only ensuring they are viable for soybean production well into the future but also producing more stable yields and profits.
Published: May 12, 2020