Research Highlights

Electrocution May Be a Viable Method to Control Weed Escapes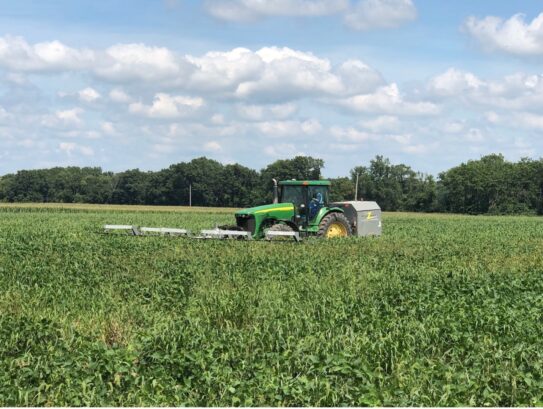 By Carol Brown
Farmers everywhere face a common foe: weeds. All producers have management systems to reduce weed pressure in their fields. Even when management systems are effective, there are times when weeds get by the chosen control methods.
University of Missouri State Extension Weed Scientist Kevin Bradley leads a project supported by the North Central Soybean Research Program that looks at an alternative way to kill weeds as part of an integrated management strategy. The two-year project focused on the feasibility and effectiveness of electrocuting weeds.
"In this project, we are evaluating electrocution as a rescue treatment for weed escapes," Bradley says. "If weeds such as waterhemp get past the herbicide treatment and grow above the soybeans in late summer, there currently isn't a treatment that will be successful at eliminating those species."
This is where electrocution enters the scene. The University of Missouri weed science program purchased a Weed Zapper implement comprised of a boom that attaches to the front of a tractor and a generator pulled behind the tractor to deliver electricity to the boom. As the tractor is driven across the field, the Weed Zapper electrocutes the weeds that come in contact with the boom.
The research team includes weed scientists in Missouri, Illinois, Indiana, Iowa, Kansas and Nebraska. They tested electrocution at sites in each of these states, focusing on challenging weed species including waterhemp, Palmer amaranth, giant ragweed, and others. It was somewhat of a tricky project logistically as the Weed Zapper needed to be transported to each of the project sites and weed species grew at different rates across the varying geographic locations.
"There are issues and blessings in conducting multi-state research like this. Trying to keep all the variables consistent is difficult," remarks Bradley. "But the advantage is we get to test across a wide range of environments, which is more like what farmers would experience in the real world."
Bradley and his colleagues recorded weed density and height at each site and measured soil moisture and weed moisture at the time of electrocution. They drove the Weed Zapper at 3 and 5 MPH speeds across the experimental fields, noting the resulting level of weed control seven and 14 days after electrocution.
The team is in the process of analyzing data from the two crop years to find anomalies and consistencies across the variables. So far, they found differences in effectiveness between weed species as well as locations. Across all sites and years, electrocution provided the greatest control of giant ragweed and waterhemp, ranging from 70-80%.
They are also looking at the boom height of the Weed Zapper, as it needs to ride above the soybean canopy. But at what height should it be for ultimate weed-killing effectiveness?
"We are trying to find out why sometimes we had 90% control and at other times only 60% control," explains Bradley. "We've learned one of the things that makes a difference is the height of the boom and where it is making contact with the weed. We can kill a 4-foot tall waterhemp plant if we electrocute it at a 1-foot height. But if the boom is up at about 3-1/2 feet, the control is very different."
The research team included other weed control methods as a comparison. Each site selected a treatment to compare including inter-row cultivation, mowing, and rope wick herbicide application. All the comparison treatments performed as well as electrocution.
The team agrees that electrocution is a viable option for eliminating weed escapes, but details need to be fine-tuned to achieve the best control. Weed moisture and density in the field, as well as boom height placement, affect how well the Weed Zapper performs — which Bradley hopes to continue to study.
Published: May 8, 2023