Research Highlights

Dust in the box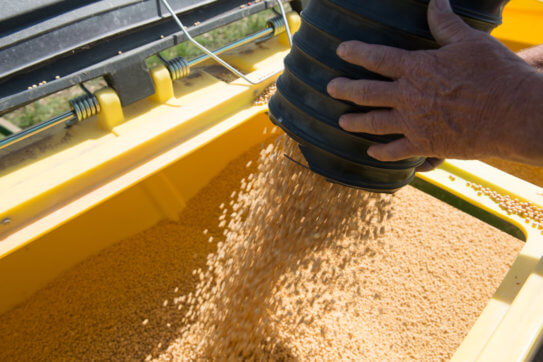 By Matthew Wilde, Iowa Soybean Association senior writer
A gray steering wheel. Dirty, stained clothes. A grayish film on electronics. And health concerns.
Iowa Soybean Association (ISA) director Dave Walton no longer deals with these issues when planting. He quit using an 80/20 graphite and talc blend in his planter to keep seeds flowing and parts from wearing out.
Walton now uses DUST, a soy-based dry planter box lubricant sold by Low Mu Tech of Calamus. The Wilton farmer says it's a safe, clean product with excellent lubricity that has another big advantage over competitors — it increases soybean demand.
The United Soybean Board (USB) invested about $300,000 in soybean checkoff funds to determine if DUST is a viable alternative to graphite, talc and Bayer's polyethylene-based Fluency Agent for planters. Initial findings from lab and infield tests from four universities show the soy product works as well or better than the competition.
Walton tested DUST and is sold on the product as a new use for soybeans.
"We've been using it as a complete replacement for graphite and talc," he says. "I don't come home all dirty since graphite sticks to everything. It's a soy-based product that's 100 percent natural, so there are no environmental or health issues."
Walton contends there's no difference in planter performance with DUST. The seeding rate was more consistent with the soy product, he says.
"And best yet, the increase in soybean demand could be in the millions of bushels," Walton adds.
Four to 5 million bushels to be exact, according to Low Mu Tech and USB officials. That is if DUST can capture 40 to 45 percent of the planter box lubricant market.
Brian Tulley, the co-founder of Low Mu Tech, says its achievable. But it will take time.
Growing sales
DUST became commercially available last year — officially introduced during Commodity Classic in Anaheim, California — after 7 years of development and testing. First-year sales were about $100,000, which covered 35,000 to 40,000 acres of various crops.
Tulley believes sales will take off as farmers learn about the soy-based product.
"Farmers can use a competitively priced alternative that they are growing and increase demand for their products," he adds.
DUST solves old problems with an innovative solution using soybeans, Tulley continues. It is a soy protein isolate mixed with soy lecithin. The powdery substance allows seeds to efficiently flow and lubricate parts at the same time.
Seeds, especially coated ones, tend to clump together due to static electricity that's generated by moving parts in planters. It increases skips and multiple seeding. Humidity is created in air-based seed metering systems that can cause seeds to stick together, too.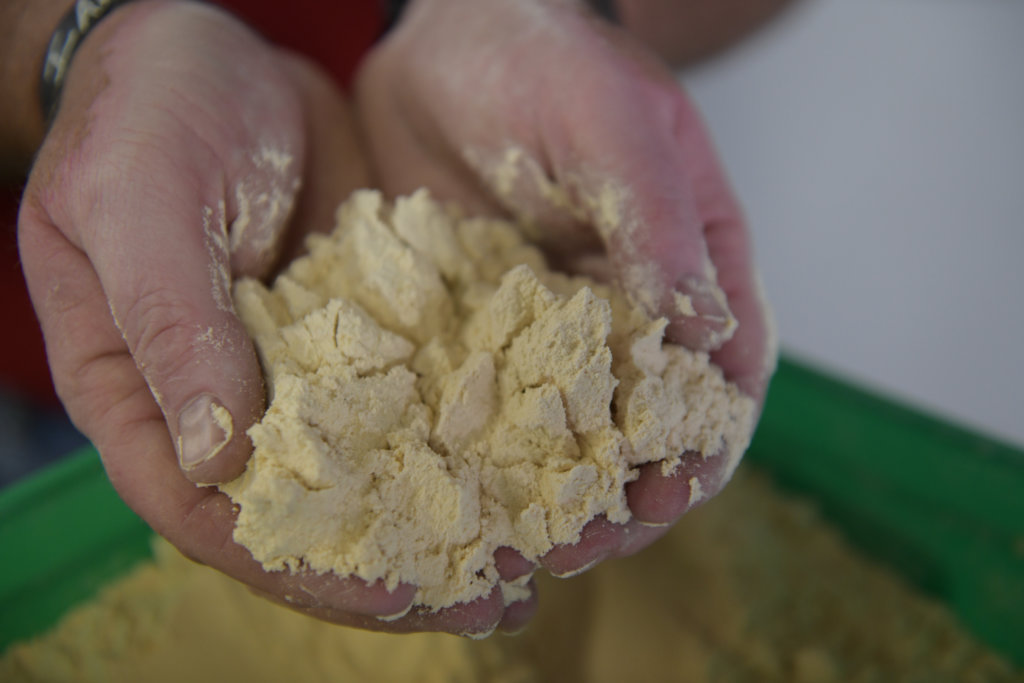 Talc and more recently Bayer's Fluency Agent are predominantly used to increase the odds of singulation, or one seed being planted at a time. Graphite reduces wear on components like finger pickups. A blend of both minerals is typically used during planting.
DUST has comparable or better singulation and lubricity characteristics as competing products, research shows. This bolsters planter efficiency and uniform stands, Tulley says. DUST also provides plants a kickstart.
The soy-based product winds up in the root zone of plants. The protein provides a food source for microorganisms in the soil.
"Our claim is we help get the seed into the ground," Tulley says. "And, we give the microbes in the soil an easily digestible protein to get them excited, and plants grow faster."
Checkoff funding
It was an easy decision to allocate checkoff funds to study and help a soy-based product gain commercial acceptance, says Keith Cockerline, director of industrial uses for SmithBucklin. The company is the primary contract that manages USB projects.
"DUST is a project I really, really like," Cockerline says. "It's a planter box lubricant that doesn't have some of the drawbacks of talc and graphite and it's eco-friendly."
He says DUST is less abrasive than talc, which can cause seed coatings with insecticide to rub off, which could harm pollinators. Graphite is labeled as a carcinogen.
The USB likes to fund projects that increase demand for soy, give farmers an opportunity to create a more sustainable footprint and improve producer health, Cockerline says.
"That's important to farmer-directors," he adds.
DUST is available in 11-pound buckets or 35-pound bags. The cost is $49.50 and $100, respectively. The recommended amount is 1 cup per 80,000 kernels or using at the same rates as graphite/talc blends.
The product is recommended for soybeans, corn, milo, cotton, pinto beans or any seed that requires lubricant in the planter box.
"Soybean farmers are always looking for the next big thing in demand and DUST could be it," Walton says. "There's great potential."
Published: Jan 1, 1970